Fish Fins Inspire Robotic Gripper Design
Fish Fins Inspire Robotic Gripper Design
The design of a super-gentle robotic gripper made with layered polyamide was inspired by fish fins.
It can grip irregularly shaped fruit or fragile chocolate eggs without damaging a light aluminum foil wrapping.
The Festo FinGripper consists of a bellows-like pneumatic actuator and three gripper fingers arranged in the pattern of the tail fin of a fish. The structure consists of two flexible bands that meet to form a triangle. Stays are connected to the bands by articulated joints.
Fish Fins Inspire Robotic Gripper Design"Lightweight polyamide parts contribute to the flexibility of the Festo FinGripper. Source: Festo"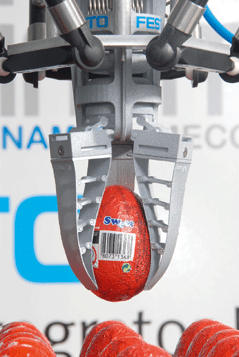 288328-Lightweight_polyamide_parts_contribute_to_the_flexibility_of_the_Festo_FinGripper_Source_Festo.gif
The gripper adapts to the shape of a work piece when pressure is applied laterally - much like a human hand, but faster.
"The flexible design of the FinGripper even allows chocolate eggs to be gripped if they are leaning to one side or are incorrectly positioned," says Federico Nardone, a design engineer for FluidoDinamica, an Italian systems integrator.
The proportional pneumatic valve ensures correct pressure and allows acceleration and pressure ramps to be applied. Cylinder pressures can be adapted to production or sorting processes with variable flow rates provided by proportional valves. Everything is connected to a robot controller.
FinGripper is manufactured by automation specialist Festo AG of Esslingen, Germany using additive manufacturing. Layers of polyamide powder are applied in thicknesses of 0.1 mm to create a three-dimensional component. This reduces weight of the component by 90 percent compared to a conventional metal gripper.
Festo built a factory in Esslingen to build lightweight components with additive manufacturing. Three processes are used there: SLS of plastic powders, laser melting of metals such as aluminum, and fused deposition modeling (FDM) for polymers.
This was taken from Packaging Digest's sister publication Design News. It was written by Doug Smock, Contributing Editor, Materials & Assembly.
Sign up for the Packaging Digest News & Insights newsletter.
You May Also Like
---