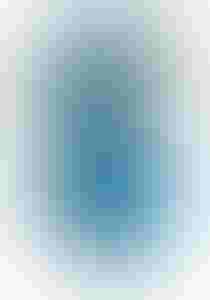 Seed counter
The "SEED CALC" counter is designed with seed-count packaging trends in mind. It calculates the correct target weight in open-mouth bags with various seed counts including the popular 120,000 or 140,000 seeds. The operator can enter the variables into the TE-100 controller, and the scale will automatically set the target weight and set points accordingly. The three entries required are Sample Seed Count, Sample Weight and Seeds Per Bag. The data are converted by the T-4000 controller into the proper weight needed for the given parameters. For example, a 1-lb sample contains 2,700 seeds. If the required seed count in the bag were 140,000, the TE-100 would automatically set the target weight at 51.85 lb. The operator can manually input the setpoints at any time if the "seed calc" operation mode is not required.
Taylor Products, 888/882-9567.
Sign up for the Packaging Digest News & Insights newsletter.
You May Also Like
---