Recycled PET packaging fits designer toothbrushes
Recycled PET packaging fits designer toothbrushes
One could say that Radius Toothbrush Co., Kutztown, PA, really puts its money where its mouth is. The maker of award-winning toothbrush designs has begun to gear its production toward environmental sustainability, including its choices of packaging. Recently creating a package that uses sustainable films, the company strives to do everything in an ecologically sound way, says president Kevin Foley, who started the company in 1982 with partner James O'Halloran (who has since retired). Both architects, Foley and O'Halloran were fascinated by the idea of marketing a functional and enjoyable toothbrush. So they transformed a 20,000-sq-ft, 1860s grain mill in Kutztown into a toothbrush plant.




Their unusual but ergonomic toothbrush design had a whopping 5,500 thin bristles and came in right- and left-handed versions. The body of the toothbrush was made of cellulose, and the head was a large oval shape to lower pressure on the gums. The idea of actually making a handle that responds to the right and left orientation was strange to the dental community, according to the company, and its design didn't fit into the little slots toothbrushes are sold from or are inserted in at home.




But the Radius toothbrush's popularity took off and by 1992, many toothbrush brands took on its signature oval head shape, though most other brushes aren't as large.
Since 2007, Radius has taken an environmental approach to the brush's packaging, and began making the packaging for its architectural toothbrush from "recycled soda bottles." It chose SmartCycle™ transparent PET 150 thermoforming film from Klöckner Pentaplast (www.kpfilms.com) as the blister portion of a carded blister-pack. SmartCycle PET 150 is made from 50 percent recycled PET bottles. "It's slightly more expensive," admits Foley. "But our customers don't want cheap. They care more about the environment. SmartCycle works quite well on our machines. There's no waste."
Developed in 2006, SmartCycle films surpass U.S. Food and Drug Administration regulations for direct-food contact, according to Klöckner Pentaplast, and are certified to meet domestic packaging regulations. In addition, it says the films exceed California and Oregon rigid plastic packaging container regulations.
Packaging made out of SmartCycle carries a special identifying mark to help increase public awareness of PET bottle recycling. Printed on the Radius toothbrush blister backing card, the mark is in the same petaloid shape that's found on the base of most PET soda bottles—sort of a four-leaf clover. Each clover leaf represents a stage in the recycling process: Collecting; sorting; reprocessing; extruding; and thermoforming. Radius hopes consumers will recognize the mark and factor packaging bearing the mark into their purchasing decisions.
"Plastic bottles have to be seen as a resource, not as garbage," says Michael Brown, brand founder and managing director of Packaging 2.0 LLC (www.packaging2.com), which holds the SmartCycle license. Today, Brown collaborates with Klöckner Pentaplast as the exclusive global supplier of his creation, SmartCycle packaging films. "SmartCycle helps to reinforce recycling behavior," he says. Brown would like to see the current recycling rate go up to 75 percent and decrease landfill volume at the same time.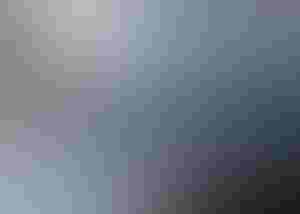 Thermoformed blisters for the toothbrushes index through a blister-sealing system where the brushes are manually loaded.
Leaves less of a footprint
It didn't take much persuading on Brown's part to convince Radius that SmartCycle was worth investigating. Brown recommended that Radius consult with Universal Protective Packaging, Inc. (www.uppi.com [UPPI]). UPPI is a thermoformer located in Mechanicsburg, PA—about 50 miles from the Radius plant—that already works with SmartCycle materials. Tim Ritter, UPPI's vp of engineering and marketing, says he likes the machinability of the SmartCycle film, which UPPI runs on Sencorp ( www.sencorp-inc.com) 2500 forming equipment.
"It's consistent," Ritter says. "One reason we won the Radius bid is because we could show them other SmartCycle jobs we have done and why the jobs were successful."
Klöckner Pentaplast manufactures the film from water and drink bottles using a proprietary process and a resin that meets the same FDA standards as those for virgin resins, according to Brown. When he conceived the idea of making PET film from post-consumer-recycled (PCR) bottles, Brown approached Klöckner Pentaplast and didn't look further. Ritter says UPPI uses a fair amount of SmartCycle film. "It performs as well as virgin PET and it gives a second life to raw material on a daily basis," he says. "Consumers can feel good about it because it leaves less of an environmental footprint."
Too many travel cases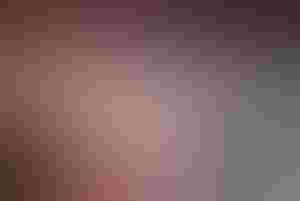 Incorporating a footed stand and a hanger hole, the PCRPET blisters are made from water and drink bottles.
Foley mentions that he had already begun searching for sustainable packaging before he met with Brown or Ritter. Previously, the toothbrushes had been packed in an injection-molded travel case with a wall clip that held the toothbrush head in place. "The case could be used over and over," Foley remembers, "but it was heavy to ship and used a lot of energy to deliver. Many customers complained about having too many travel cases."
Experimenting with more sustainable alternatives, Radius had developed molds for a thermoformed blister-pack container by the time it talked with UPPI about signing onto the project.
The molds only needed a few, slight modifications to run on UPPI's forming machines. The resulting blister is sealed on the edges of cardstock made of 35-percent recycled paper. Incorporating a die-cut hanger hole and a footed "stand" so that the toothbrush can be displayed upright on the store shelves, the blister mold has a depth of 1 in.
To package the brushes, Radius uses a six-station Model DS6C rotary blister sealer from Visual Packaging (www.visualpackaging.com) and 15-mil-thick forming film from UPPI. The toothbrushes are manually loaded into machine, along with each thermoformed blister (supplied to Radius from UPPI), and the machine automatically indexes the blisters to sealing, cutting and ejection stations, returning to them to their original position on the machine, ready to be shipped. Radius ships hundreds of thousands of toothbrush packs a year, both domestically and internationally.
A handle on energy savings
Foley says the company saves 5,900 gal of diesel fuel a year shipping its toothbrushes in the SmartCycle package because it's so light. "It holds up well at retail and creates a beautiful, clear display of the product."
The Radius team is planning more SmartCycle packaging concepts and UPPI and Klöckner Pentaplast will be there to sink some teeth into the next toothbrush packaging project Radius envisions.
Sign up for the Packaging Digest News & Insights newsletter.
You May Also Like
---