Danone's new yogurt jar conveys 'natural' and premium
Danone's new yogurt jar conveys 'natural' and premium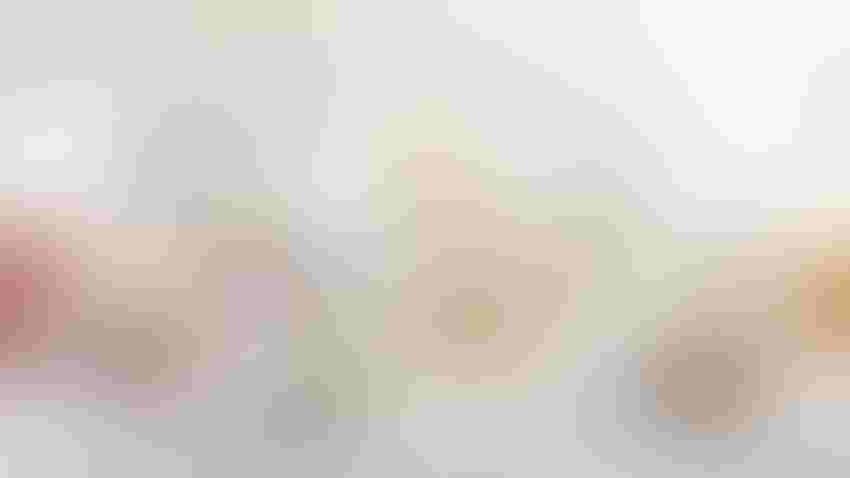 Danone Argentina selected PET for its new yogurt jar because it is accepted widely for recycling in Argentina.
As the packaging professionals at Danone Argentina thought about how to package the company's new, all-natural La Serenísima Original yogurt, they knew the packaging design had to communicate the product's premium quality. But they also wanted a protective, durable single-serving package that would be easy to recycle.
The solution to their food packaging challenge is a polyethylene terephthalate (PET) jar topped with an aluminum-based seal and clear overcap. The jar is decorated with a shrink label, and the resin formulation includes an ultraviolet blocker. Danone developed the package in partnership with Amcor, which supplies the jars.
La Serenísima Original yogurt launched in Argentina late last year. It is available in six flavors: natural, natural sweetened, blackberry, lemon and ginger, strawberry and sweet squash. To fill the product, Danone has installed a Stork Food & Dairy Systems line with an annual production rate of 40 to 50 million units.
Maximiliano Sassone, research and innovation director at Danone Argentina, discusses the package and product.
What was the inspiration for this package design?
Sassone: For La Serenísima Original, the inspiring concept was the glass pot that was used for the original La Serenísima, the product that revolutionized the category in 1963. The new product's appeal includes premium-looking packaging that is durable and increasingly sustainable. The new PET jar, designed by Amcor, supports the 100% natural positioning of Danone's La Serenísima yogurt with featured engraving, a finely finished base and a body-wrap label.
Why did Danone decide to use PET for this package?
Sassone: Aligned with our vision, last year Danone entered into an agreement with the Ellen MacArthur Foundation, which is dedicated to accelerating change towards the model of a circular economy. Following this, we have designed this packaging with the following criteria:
• Residual value: PET is a material that has value once discarded. By choosing PET, we are entering material into the recycling circuit, where there is demand for it.
• Maximum efficiency in distribution logistics: The choice of PET minimizes fuel consumption by maximizing the load.
• Social aspect: By choosing PET, we are capitalizing on Aguas Danone's effort to articulate the actors in the recycling circuit. [Aguas Danone is Danone's water division in Argentina.] This means making private-public alliances to empower waste pickers—improving working and living conditions and recognizing the role they play in waste management in the cities—and increase recycling rates in Argentina, with the support of the Danone Ecosystem Fund (a fund through which Danone invests in strengthening actors involved in the Danone ecosystem, like farmers, micro-distributors, urban recyclers and caregivers, among others). By choosing PET, we are choosing to join this movement, boosting the inclusive recycling chain with our packaging.
• Safety in production and consumption: PET is a safe material to work in production lines and to handle during consumption.
Is Danone's PET jar a custom design?
Sassone: Yes. Danone developed this packaging in collaboration with the global packaging company Amcor. The jar is a transparent, 200-mL PET jar with a wide-mouth opening and an aluminum-PET-aluminum seal with a 65-mm overcap in clear polypropylene (PP).
Can you tell us about Danone's new packaging/filling line for this product?
Sassone: Danone is filling this jar in Longchamps Plants, Buenos Aires, Argentina. For this project, we invested in a new line, adapted according to the requirements of food safety and the new-format PET jar.
For the filling process, we achieve the best food-safety standards. The line is composed of a disinfection station, filling-and-sealing machine, capping machine and secondary-packing machine (which packs corrugated crates).
Amcor invested in a new injection mold to produce the PET preform, as well as in a new packaging line to produce the PET jar at Amcor's plant in Pilar, Buenos Aires, Argentina. This packaging line features a new blowing-and-wraparound machine and a shrink-pack machine to ship the cup in safe condition to Danone.
How does the production speed of Danone's line compare with a typical yogurt-cup filling line?
Sassone: The capacity is similar to other preform yogurt-packaging lines.
Does the full-body shrink label come off easily so the containers can be recycled?
Sassone: Yes. When we designed the packaging, that was one of our priorities. We wanted a package developed under the concept of a circular economy. To have it come off easily, we are using a wraparound, biaxially oriented polypropylene (BOPP) label. We decided to choose PET because it already has a developed recycling market in Argentina. By doing this, we feed an inclusive recycling chain.
How important is recycling in Argentina?
Sassone: In our country, it is not very different from what's happening in the rest of the world. At Danone, we will continue our portfolio transition to a circular economy because it is part of our vision and commitment towards the preservation of our planet. With La Serenísima Original, we have the opportunity to be the first yogurt brand in Argentina to speak about the circular economy and closed-loop recycling.
Why did you add an ultraviolet blocker to the PET resin?
Sassone: One of our top priorities was to guarantee the best quality of the product throughout the whole chain. To prevent oxidation of the product on the shelf, we added an ultraviolet blocker in the PET resin.
How difficult was it to maintain the PET's clarity when adding the ultraviolet blocker?
Sassone: We don't have any issues with maintaining the clarity, because the ultraviolet blocker is clear like the PET.
What is the product's shelf life?
Sassone: The shelf life is similar to other refrigerated yogurts.
Are the PET jars sold as singles only or also in multipacks?
Sassone: La Serenísima Original is sold in single jars.
When did the product launch in Argentina? Where else will it be sold?
Sassone: We launched La Serenísima Original in December 2018. We are evaluating other markets in Latin America.
How have Argentinian consumers reacted to the PET package?
Sassone: So far, the reaction has been very positive, and we are taking the initiative to talk about the circular economy in the category.
What companies supply the foil seal and clear overcap for this package?
Sassone: Amcor is our third-party supplier [for both].
********************************************************************************
You'll find a generous amount of packaging options at PackEx Toronto 2019, June 4-6, from robotics to semi-automatic equipment and fresh ideas in containers and design. Plus join in free education at Centre Stage. For more information, visit PackEx Toronto.
Sign up for the Packaging Digest News & Insights newsletter.
You May Also Like
---