Ludlows borrows food packaging concept for single-serve gelatin shots
Ludlows borrows food packaging concept for single-serve gelatin shots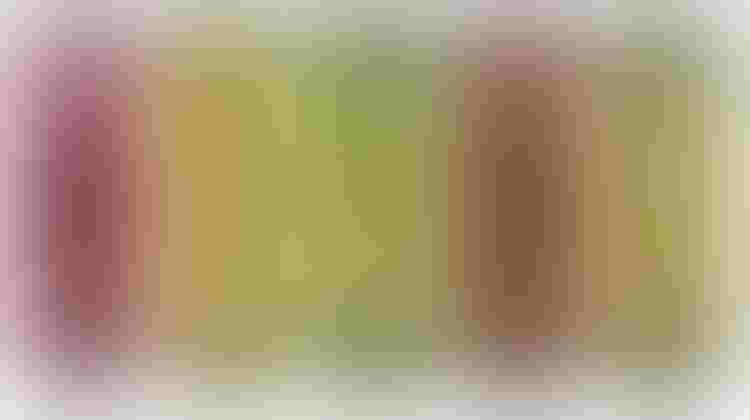 Ludlows differentiates with bright, upbeat, fun colors on its cartons and foil lids.
Ludlows Cocktail Co. is out to re-invent the Jell-O shot, that food-alcohol hybrid that many drinkers leave behind when they graduate from college. The company's silver bullet is Ludlows Jelly Shots, a sophisticated, artisanal product line with a packaging design to match.
The upscale gelatin shots are packaged in single-serve rigid containers. These 50-ml polypropylene cups are packed vertically into six-sided cartons. Each carton holds a stack of five cups sealed with rotogravure-printed foil lids; two vertical die-cut windows (open, without film) on the carton offer a good view of the product. The cups can also be sold individually, as the lids are printed with all necessary legal copy for individual sale in a counter display.
The ready-to-serve, 30-proof gelatin shots, which are made with natural ingredients and premium spirits, come in five classic-cocktail flavors: Fresh Lime Margarita, Meyer Lemon Drop, Old Fashioned, Planter's Punch and Moscow Mule.
To differentiate the Ludlows Jelly Shots brand from brightly colored conventional gelatin shots—without making the brand seem too serious—the company uses light, upbeat, fun colors on its cartons and foil lids. In addition, the selective use of black dresses up the cartons. The color contrast adds visual interest, and the glossy black provides a premium touch.
Woodcut-style illustrations on the cartons depict the relevant inspirational cocktail served in an appropriately shaped glass; an anecdote about the cocktail appears below the image. The cartons are offset printed in six colors and topped with an acrylic coating.
The product is gaining attention in the market. Ludlow's will be featured on an episode of "Food Fortunes" on The Food Network on Mon., March 23, at 10:00 p.m. eastern time. In the episode "A Pinch of Pennies," the investors will hear about how this gelatin shot is all grown up.
Adam Padilla, president and chief creative officer of BrandFire, which designed the packaging, provides additional insights.
Why did you design the carton with six panels?
Padilla: We thought a hex[agonal] box would stand out more than a rectangular box and is more unique. There were also cost considerations, as we had looked at a cylinder but it was too expensive. The hex box was a good compromise.
Do the carton's angled edges enhance or impair shelf display?
Padilla: The contrasting colors of the panels provide a great color pop, which increases visibility and helps shelf pull.
Where is the product sold? 
Padilla: [It's] sold in over 50 stores throughout California…at chains like Total Wine & More and Fresh & Easy, specialty accounts like the W Hollywood [hotel] and fine wine and spirits stores. 
Do Ludlows Jelly Shots need to be refrigerated throughout distribution and at retail?
Padilla: They are mix of agar and gelatin, so they're shelf-stable at room temp. [They remain] firm with or without refrigeration [but are] sold refrigerated in some stores, like stores near the beach, where people truly are grabbing and going to party. 
Who is the target consumer? How does the package design appeal to this demographic?
Padilla: Female Millennials and moms. The mod colors, "sparkling" foil lids and cursive text are all nods to something modern and fun. The portability of the single-serve cup is key, too—many women who buy the shots sneak them into movie theaters, sporting events and concerts.
Sign up for the Packaging Digest News & Insights newsletter.
You May Also Like
---