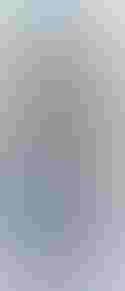 On the ice, hockey teams depend upon the speed and accuracy of their players to score a goal. Likewise, in the consumer-packaged goods market, companies must rely upon the same attributes in their marketing programs to win over the customer from the competition. Recently, Pepsi hit a slap shot with a regional point-of-purchase standee display commemorating the retirement of Colorado Avalanche NHL hockey goalie Patrick Roy. The highly customized promotion slid with the speed of a puck on ice into regions where the Avalanche are lauded and met its goal with such accuracy that Pepsi ordered a second run of the display just over one week later.
This short-run, highly targeted marketing piece was made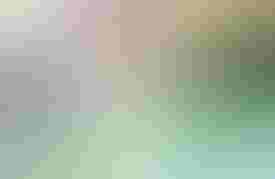 Using digital technology, files can be sent directly from the PC, top of page, right, to the printer, eliminating film and plates. The ink-jet printer, above, can deliver full sheets up to 63 x 112 in.–ideal for POP display applications.
possible through the use of one of the first large-format, digital ink-jet presses in the country, run by Menasha Display Group, LLC, Mequon, WI. Menasha Display, which presently runs two CORjet™ flatbed ink-jet printers from Belcom North America Group LLC, began its digital program more than two years ago, when it became a beta site for the CORjet. Today, the converter is turning out colorful–and often complicated–point-of-purchase displays and miniflute boxes for a rapidly growing list of customers demanding short-run jobs printed just-in-time.
Setting a course for digital
Menasha Display, a wholly owned subsidiary of Menasha Corp., Neenah, WI, operates out of a 75,000-sq-ft facility in Mequon. Acting almost as a print broker for the parent company since January, 2001, Menasha Display directs display jobs to its 31 sister facilities–comprised of specialty printing plants, corrugated plants and one mill–throughout the country. The emphasis is on producing the job closest to its point of distribution. "If there isn't a plant that fits a customers' needs or location, we outsource it," explains Greg Hauber, managing director, Menasha Display.
Using digital technology, files can be sent directly from the PC, top of page, right, to the printer, eliminating film and plates. The ink-jet printer, above, can deliver full sheets up to 63 x 112 in.–ideal for POP display applications.
The Mequon headquarters houses a high-quality design group, as well as a retail research center, that can take a customer's project from the concept forward–both structurally and graphically. All digital display printing using twin CORjet presses is done at this site as well.
But digital printing wasn't always in Menasha Display's plans. It was a visit to the world's premier printing and converting tradeshow held every four years in Germany that changed things. "We first saw the printer at DRUPA 2000," Hauber recalls. "By the end of January, 2001, we made the commitment to jump in as a beta site."
Tests were conducted on a range of corrugated, foam core and SBS-board materials, as well as on precoatings that allowed the substrates to accept the CORjet printer's inks. "The testing was very successful. We had great results with B-, C- and E-flute," Hauber says.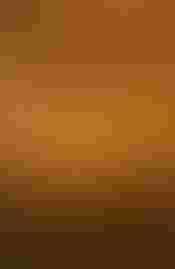 Through the use of the printer's six printhead arrays (one shown above) water-based inks are noncontact-printed onto the substrate at speeds to 3,600 sq ft/hr. After printing, displays are die-cut using an automated die-cutter, below, controlled via a CAD program.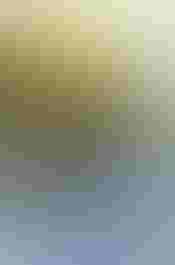 Simultaneously, Menasha Display carried out extensive research into the market for digital printing. The trend toward shorter and shorter runs had become obvious five years earlier, but up until the introduction of the CORjet, there was no economical way for Menasha Display to answer that need for its customers.
"There was also the speed-to-market idea," explains Deb Runte, director of retail research for Menasha Display. "When you've got a competitive threat in the retail environment, for example, you've got to be able to respond quickly. Traditional technologies don't offer the rapid turnaround time of digital to put new displays or packaging into stores quickly."
Menasha Display broke new commercial ground when its digital printing operation officially began in August, 2001. The first of its two CORjet (first introduced as the BEL2000) printers was installed in Mequon that summer. Originally developed by Israeli-based Aprion Digital (now a part of Scitex Vision Ltd.), the equipment is represented in the U.S. by Belcom. The second unit went into production at Menasha one year later.
As with every startup technology, a few bugs needed to be worked out. Reliability was a weakness in the first beta-test machine, as well as repeatability. Hauber attributes the problems primarily to Aprion Digital's experience more with fine paper substrates rather than corrugated. "They intended the machine for the packaging market," he says, "but didn't understand it. Now, the printers hum. The reliability is there, and we have virtually no issues with them."
Standing-ovation standee
Last October, Pepsi-Cola approached Menasha Display about converting the regional floor standee it had designed in-house to accompany a limited run of commemorative soft-drink cans celebrating the career of retiring Avalanche hockey player Patrick Roy. The 36 x 82-in. display, rife with printing challenges, turned out to be an ideal candidate for digital printing, according to Scot Tennyck, Menasha Display's digital product manager.
"Traditionally, a job like this would be run on a litho press," Tennyck explains. "However, litho presses can only accommodate sizes up to seventy-seven inches, which meant that digital and screen printing were the only other options. Because of the job's limited run length [120 displays], digital won out. In addition, the quality achieved using digital is superior to screen; it's what we're calling near-litho-quality."
Through the use of the printer's six printhead arrays (one shown above) water-based inks are noncontact-printed onto the substrate at speeds to 3,600 sq ft/hr. After printing, displays are die-cut using an automated die-cutter, below, controlled via a CAD program.
Supplied with a digital file of the job ready-to-print, Menasha Display produced a proof for Pepsi using the CORjet. Once approved, the job was turned around in a record three days. Had changes been requested, Menasha would easily have been able to access the original digital file to make corrections and then print a one-off of the new proof.
The standee is made from a B-flute corrugate supplied by Menasha, printed to exacting color specifications made possible by the printer's six-color technology. The CORjet uses the four process colors plus a light cyan and a light magenta to reproduce approximately 95 percent of the colors found in the Pantone Matching System. As opposed to six-color systems such as Pantone's Hexachrome that use a traditional halftone, the CORjet uses a random dot pattern to expand the color gamut. Water-based inks specifically designed for the system are supplied by Scitex Vision.
According to Tennyck, there were several areas of the Pepsi Avalanche display design that required special attention. "There's a huge oval inside of the design that they wanted to look like brushed-aluminum, which is a neutral gray," he explains. "The gray balance in any printing process is difficult to achieve, but especially in digital. At the same time, we had to match the red of the Avalanche uniform, and Pepsi Red and Pepsi Blue, while at the same time maintaining the color of the ice so that it wouldn't become pink or blue.
"It's not as though you can 'dial-in' different areas with digital like you can with traditional processes," he adds. "We met these challenges with a very good press operator." After being printed at a speed up to 3,600 sq ft/hr, the display was die-cut using a Lasercomb DFS 2000 digital die-cutter, guided by a CAD program. An easel was manually glued to the back using hot glue, and the scored display was folded and shipped in quantities of five.
Success prompts repeat business
Speaking volumes on the success of the Pepsi promotion, a repeat order for an additional 100 floor standees was placed by the soft-drink company just over one week after delivery of the first. "It was obviously due to the quality," says Tennyck.
And, because of digital's unique quick-turnaround capabilities made possible by the elimination of film and plates, the second order was shipped just three days later. "You can imagine," says Tennyck, "using traditional printing processes, you'd have to pull plates, put them back on the press, get the press back to color, run five hundred sheets just to get to color, set up a die again, etc. But with digital, we turned those additional one hundred sheets around in three days."
Ahead of the curve
With more than two years of commercial business under its belt, Menasha Display says it's ready for another digital machine. "On the promotional side of packaging, we really see digital printing replacing traditional manufacturing," Hauber predicts. "As the speed picks up, it's going to let us compete with larger traditional runs at a more cost-effective method. We're very competitive now at an average run of five hundred sheets and under."
Runte credits Menasha Displays' beta-test process with giving the company a competitive edge in the market as an innovator. "We've been continually able to notch-up the quality and the capabilities of the equipment," she says. "We'll continue to be ahead of the curve. Sometimes being first to market has its advantages."
More information is available:
Converter: Menasha Display Group, 262/512-3000. www.menashapackaging.com. Circle No. 224.
Digital printers: Belcom North America Group LLC, 800/526-3321. www.belcomcorp.com. Circle No. 225.
Digital printer, ink: Scitex Vision Ltd., 972-9-8924700. www.scitexvision.com. Circle No. 226.
Corrugate: Menasha Corp., 800/558-5073. www.menasha.com. Circle No. 227.
PMS, Hexachrome: Pantone, Inc., 201/935-5500. www.pantone.com. Circle No. 228.
Die-cutter: Lasercomb GmbH & Co., +49 (0) 7021 7240 0. www.lasercomb.com. Circle No. 229.
Sign up for the Packaging Digest News & Insights newsletter.
You May Also Like
---