Contract packager provides important benefits for energy drink brand
Contract packager provides important benefits for energy drink brand
Quick Energy®, a new energy drink from Viva Beverages LLC, Southfield, MI, is designed to provide instant energy for on-the-go people. The drink contains B vitamins, amino acids and antioxidants, but no sugar, no herbal stimulants and only as much caffeine as a cup of coffee. The healthy ingredients in Quick Energy can be obtained in everyday foods or are nutrients your body makes naturally.




This past September,Viva introduced the product, which is packaged in a two-oz shrink-wrap-labeled bottle that sells for $2.99. The new energy drink is produced for Viva by Surefil LLC, a Grand Rapids, MI-based contract manufacturer, dedicated to running personal care and over-the-counter liquids, lotions, creams and gels.
Packaging Digest visited the Surefil plant two years ago, when it first opened, to do a story about its first packaging line. Since then, the company has expanded dramatically and now has the capacity to produce more than 120 million units annually in bottle and jar sizes ranging from 2 to 48 oz. It also has alcohol registration with the state of Michigan. Surefil runs more than 75 different SKUs in 17 different packages, and that number is growing continually.
"We looked at a number of contract packagers to produce Quick Energy, and Surefil's plant was the cleanest and most sanitary," says Matthew Shiffman, Viva Beverage's director of operations. "Quick Energy is a certified kosher product, so the equipment had to be cleaned and sanitized before and after every run. We were blown away by the great condition of the plant. Surefil also had almost all of the equipment they needed to run our product, and they could get the necessary changeparts with no problems. Other contract packagers we looked at would have had to buy or lease equipment to run our product, and we would have had to make some financial commitments for that."
Another reason that Viva chose Surefil is the superb quality of the water it puts into products. The company installed a reverse-osmosis (RO) treatment system for the water used in products that removes up to 98 percent of dissolved inorganics, more than 95 percent of total dissolved organics and all colloidal and suspended matter larger than 0.05 micron. "This gives Quick Energy the highest-quality water of any competing product on the market," says Shiffman.




For initial test-market production, Surefil ran the Quick Energy bottles on a short-run packaging line that features a six-head, in-line filler from E-Pak Machinery (www.epakmachinery.com). The unit, which runs 26 bottles/min, incorporates air-operated ball valves on the fill nozzles that are controlled by an Allen-Bradley PLC from Rockwell Automation (www.rockwell.com). The operator enters the time that each valve should be open in increments of 0.01 min to discharge the proper amount of product.
After capping, the bottles travel through a new Model 500 Autocapsealer from Marburg Industries, Inc. (www.marburgind.com) that applies the PETG shrink-sleeve labels to the small Quick Energy bottles. The labels, which are ultra-violet, flexo-reverse-printed in five colors,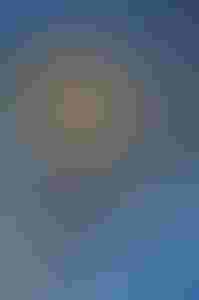 Perforated shrink-sleeve lables provide a vivid shelf presence for the small Quick Energy ®  bottles.
are supplied by Anchor Printing, Inc. (www.anchorprinting.com).




The 2-oz PET bottles and the 20/410 fine-ribbed, continuous-thread closures are supplied by Berlin Packaging (www.berlinpack.com).
Bottles enter the continuous labeler through a wheel that spaces them properly, and a photoeye after the wheel senses the presence of a bottle and triggers the label application. The film label material is supplied on a roll, and a servo drive moves it through the cutting operation. The flat tube of material is opened and cross-creased, and it is then cut through a clear four-mm space between consecutive labels by a guillotine cutter. The opened, cut label is held by vacuum in a slightly cocked orientation above the conveyor, so the leading edge of the moving bottle catches its front edge, and the label is then pushed fully onto the bottle by a plate attached to a descending air cylinder. This design provides continuous bottle movement without requiring the machine to be stopped for label application. The machine is controlled by a PLC that is programmed with the length of the label and controls the servo drive. After the label is applied, the bottles travel through a heat tunnel that shrinks the labels.
Line runs range of products
Surefil is now running the Quick Energy bottle on a line that was described in detail in the December 2006 issue of Packaging Digest. Following is a synopsis of the line. Systems integrator Integrated Packaging Machinery (www.callipm.com) designed the line, developed the line layout, helped select equipment and assisted with the equipment installation. It standardized on controls from Rockwell Automation. To start the packaging operation, the bottles are unscrambled by a machine from New England Machinery, Inc. (www.neminc.com). They then are filled and capped by a monobloc unit from Ronchi America, LLC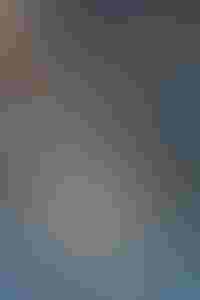 The shrink lables are supplied as a flat tube that is opened and cross creased, and then cut through a clear four-mm space between consecutive lables.
(www.ronchiamerica.com). After the capper, the bottles enter a unit from Marburg that applies tamper-evident bands. This is followed by a pressure-sensitive labeler from Shorewood Engineering, Inc. (www.shorewoodengineering.com). An ink-jet printer from Domino Amjet, Inc. (www.dominoamjet.com) then applies a date and lot code to the bottom of the bottle.
Cases are erected by a machine from Pearson Packaging Systems (www.pearsonpkg.com), and workers manually pack the bottles into the cases, which are then conveyed to a Pearson case sealer. Sealed cases travel past another Domino ink-jet printer for cases and are manually palletized, after which they are stretch wrapped by a machine from Robopac (www.aetnagroupusa.com). Change Parts, Inc. (www.changeparts.com) supplied change parts for a number of the pieces of equipment.
Surefil has made a number of upgrades to the line since PD visited in 2006. Some of the bottles running on this line have oval snap-caps with hinged lids, and the companies want the hinge facing backwards, so Surefil installed a capper from E-Pak Machinery after the Ronchi unit to apply these caps. Caps are loaded into the rotating hopper of a cap feeder from Custom Feeder Co. (www.customfeeder.com) that delivers them open-side down into a chute that carries them to the capper.
Caps properly aligned
Because the caps are oval, they are already in the proper axial orientation, but to ensure that the hinge is facing backwards when the caps are applied, they travel through a starwheel, where fingers turn the caps with the hinge facing frontwards 180 deg so the hinge faces backwards. Gripping belts guide the container securely through the completion unit where a press-down belt snaps the caps into place.
Surefil installed a pressure sensitive labeler from Universal Labeling Systems (www.universal1.com) after the Shorewood labeler to apply specialty labels. Sometimes referred to as violators, these specialty labels are generally small and are used to draw extra attention to products on the shelf. Typical violators may carry messages like "33 percent more product," "wow," "new product" or "try me."
The Model 500 Autocapsealer from Marburg was moved from the short-run line to this line to apply the shrink-sleeve labels to the Quick Energy bottles.
"Any new business venture is a challenge," says Shiffman, "but Surefil has done a terrific job for us. They've understood our needs and have been great about working everything out. They've met all of our expectations as a partner in the copacking industry."
More information is available:
Sign up for the Packaging Digest News & Insights newsletter.
You May Also Like
---