Gravure-printed label lights up Orange County 17032
Gravure-printed label lights up Orange County
OC Energy Drinks, a subsidiary of RG Global and Fusion Solutions, paired up with SleeveCo (www.sleeveco.com) to create bold labels designed to channel the Orange County, CA, attitude and stand out on retailers' shelves while lighting up the dance floor. Designed by CEO Mariano Fusco and COO Bob Glaser, the eight-color, PETG sleeve label for the energy drinks is printed using an 18-in. W.R. Chestnut (www.chesnuteng.com) gravure press and adds an optical brightener that allows the graphics to glow under the black lights often used in nightclubs.
OC Energy launched the drinks and the unusual barbell bottle shape in October 2006 on the Bravo reality show The Real Housewives of Orange County of which former OC Energy CEO Lou Knickerbocker was a cast member. "Lou wanted this iconic shape, so there was no question as to this being OC's proprietary shape," says Glaser.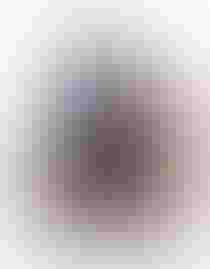 In April 2007, the company started distributing the drink to gas stations, convenience and liquor stores in six New England states. The product line now includes four drinks and an energy gum: 16.9-oz O2 oxygenated water; 10.14-oz KIK-it energy drink; 10.14-oz KIK-it Diet energy drink; and 2-oz Insane XXX Triple-Energy Shot with hangover supplement; and eight-piece premium energy gum.
O2, KIK-it and KIK-it Diet come in resealable PET bottles with full-wrap shrink sleeves that glow under black light. The bottles use standard 28-mm caps from Alcoa Closure Systems Intl. Inc. (www.alcoa.com). "The PET was used to protect the integrity of the products and to help keep the flavor profile maintained at the highest level," Glaser explains.
Insane XXX triple-energy shot with hangover supplement is in a HDPE extrusion/blow-molded bottle made by Century Packaging (www.centurypackaging.com). It sports a "glowing" shrink-sleeve. When OC Energy started up production runs for the 2-oz containers, it found PET packaging was problematic because of limited preform heights. After reviewing its packaging needs, the company decided to go with HDPE because the shot is a one-use only container but plans to change the shot container to PET in the future. Because the bottle design was so different from competing products, Glaser and Fusco needed to overcome several obstacles with the packaging line and bottles before bringing the drinks to market. "The first challenge was obtaining a barbell-shape bottle that was ergonomic and rib-free yet still has load capability," Glaser explains. Getting the graphics to glow in a nightclub was another task. All of the challenges were met, and the line runs 200 bottles/min.
Sign up for the Packaging Digest News & Insights newsletter.
You May Also Like
---