Stretch wrapping the Ranch Hand way
Stretch wrapping the Ranch Hand way
Driving the back roads of the Texas Hill Country, where deer outnumber people, is no picnic; a vehicle requires substantial protection. Deer can often run everywhere, as more than 40 percent of the state's white-tailed deer population is concentrated in a 35-county area.




The chances of a truck encountering a deer at rapid speeds are, unfortunately, high. That's why Ranch Hand Truck Accessories, Shiner, TX, was established there in 1986 to produce truck-grill guards and front-bumper replacements, which still comprise a majority of the company's sales. Operating five company-owned, retail/wholesale outlets in Texas and Oklahoma, Ranch Hand has grown into one of the largest manufacturers of truck and sport utility vehicle accessories in the U.S., with distributors in 43 states and Canada—primarily, new-car dealerships and aftermarket truck accessory retailers.
The guards are growing in popularity, and Ranch Hand recently implemented a 25-percent increase in production. Once it did so, it needed a faster, more efficient and protective way of packaging the guards and other items for shipment.
Producing approximately 200 accessory pieces a day, the company was feeling the squeeze to automate. It began by installing a robotic powder-coating line, remembers Greg Chumchal, general manager. "When we put in the new powder line, we started seeing a bottleneck in packaging. At that time, we were hand-packaging everything, and even with six people wrapping the products, we couldn't keep up," he says.
That's when Ranch Hand installed a customized Lantech (www.lantech.com) Lan-Ringer horizontal stretch-wrapping system, which has more than proven to fill the need. The accessories manufacturer roped in product damage returns by half, corraling labor by nearly $19,000 and packaging costs by $25,000.
Cumbersome to wrap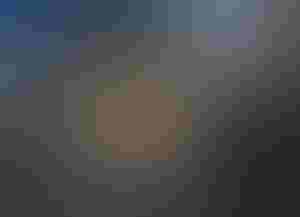 The accessory parts are priced from $575 to $1,300, so they need protection. Above, the wrapper runs at speeds of 30 fpm and 15 revolutions/min.
Ranch Hand makes more than 400 different products for various makes and models of trucks and SUVs. These weigh anywhere from 120 to 400 lb each. Measuring roughly 7 ft long, 3 ft wide and 3 ft deep, the oblong grill guards are large and weigh an average of 130 lb. The front-bumper replacements have similar dimensions but weigh even more, about 270 lb. All of them are difficult to wrap by hand and prompt plenty of backaches. "They're tough because of their shapes and sharp corners," Chumchal says.




The accessories were packaged using foam padding and two large kraft paper sheets, laminated with a spun-wound PP liner. The kraft wrap was secured with bailing twine tied by hand. Not only were the weighty parts difficult to handle, but the kraft provided little protection from the elements should the parts be stored outdoors at a customer's location, Chumchal says. And the wrapping process also took time.
Speedy and pristene
Speed was an issue, but not the only one. The pads cut shipping returns, but Chumchal wanted further improvement. "Ranch Hand products must arrive at the customer's location in pristine condition because most of its distributors are new-car dealerships, where the grill guards are installed on new vehicles," he says. "We can't have the products getting banged around and scratched up in transit," he points out. "The distributors just send them back." With a manufacturer's suggested retail price on the guards pegged at $575 and front-bumper replacements at $1,300, the company's margin could quickly erode with returns.
During a visit to Ranch Hand's manufacturing plant, representatives from Lantech equipment distributor xpedx (www.xpedx.com) noticed Ranch Hand's packaging staff wrestling with the kraft wrap and twine while also handling the products coming off of a paint line. The wrap wasn't holding the internal padding in place, which compromised product protection.
"When they saw the speed of our production lines and the protection needs of our products, they came back with a solution to reduce waste and eliminate as much shipping damage as possible," recalls Chumchal. "Xpedx recommended a new packaging strategy that used scored corrugated sheets to hold the pads in place, followed by stretch wrap applied with a Lan-Ringer."
The earlier wrapping process was done as-needed and offline. When the powder paint coating operation was brought in-house, the Lan-Ringer was added to the end of the line.
Testing, testing, one-two-three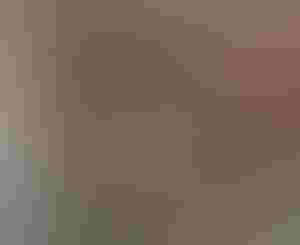 Front-end bumper guards are wrapped in heavy-duty corrugated and then in a custom, 80-ga stretch fi lm developed with a UV inhibitor. The results save 17 percent in materials and labor costs.
Ranch Hand decided to then test the Lan-Ringer wrapping system at Lantech's facility in Louisville, KY, and evaluate how the wrapper would work with test shipments. After the test, it removed the stretch film used and weighed the material to determine the cost of the new packaging. It soon followed with an order for a Model LR-6000 Lan-Ringer and installed the machine in July 2007. "The time we spent with xpedx at Lantech's facility allowed us to test ideas and stretch-film materials, so the end result wasn't a guess," says Chumchal.




Lantech and xpedx were able to develop an economic value for the project up front, so that the cost of the equipment would more than justify the long-term savings it would provide. Says Chumchal, "We knew what the cost of the system and the materials would be, as well as the savings and the payback."
At speeds of 30 ft/min and about 15 revolutions/min, the LR-6000 system wraps products that move through the production process on a conveyor. The film-delivery system is mounted on a ring that has a 60-in. dia (the rings come in 40-, 60-, 75- and 90-in.-dia sizes), through which the product passes. Lantech's patented Power-Thru® conveyor allows Ranch Hand to wrap the parts and conveying them simultaneously.
The conveyor supports the products through the wrap zone, allowing stretch film to be applied with the proper containment force. Stability of the auto accessories is maintained by wrapping the product and conveyor together. The machine wraps loads weighing up to 4,000 lb while the parts move through in a spiral-wrap mode or are stationary in a banding mode on the conveyor. After the product has been wrapped, a cut-and-clamp device cuts the end of the film. To simplify the software/hardware human interface, and make the system easier to operate and troubleshoot, the team equipped the Lan-Ringer with Rockwell Automation (www.rockwellautomation.com) Allen-Bradley Lan-Logix™ logic and a touchscreen-equipped PLC. The system's Power Roller stretch-film delivery system works with 20- or 30-in. film rolls, depending on the auto accessories.
Wrapping parameters, including conveyor speed and the number of wraps per part, are adjustable from the control, allowing loads of random length, width or height to be wrapped on one machine.
Saves labor and materials
"The versatility of the Lan-Ringer lets us handle almost any shape or size part we put through it, so we now wrap 95 percent of our products with it," states Chumchal. Grill guards and front-bumper replacements comprise 75 percent of the company's sales, with back bumpers, steps, headache racks, toolboxes and bed caps rounding out the product mix. "We looked at case packing, but we would need about 400 different cases, which wouldn't be economically feasible," admits Chumchal.
While increasing productivity was Ranch Hand's goal, Chumchal says that the stretch-film wrapping yields a savings in both labor and materials. Labor costs dropped by nearly 17 percent or $19,000 annually, he says, while packaging materials costs were cut by 12 percent, saving $25,000 a year.
The wrapping process now involves the use of three sheets of 32x78-in. corrugated, followed by a 30-in.-wide, 80-ga, stretch film with a UV inhibitor custom produced jointly through xpedx and Pliant Corp. (www.pliantcorp.com). Labor and material savings alone will pay for the machine in less than three years, Chumchal estimates.
A Texas-size extra
And there's a Texas-size bonus: Product returns caused by shipping damage have been cut in half. Customers like the improved packaging structure, too.
"A lot of our distributors store our products outside, and they've told us the stretch wrap provides much better protection from the elements," adds Chumchal "It provides a better degree of visual identification of the contents. We're in the business of protecting truck front ends, so it's nice for customers to see that our own product packaging now demonstrates the best protection possible, too."
Sign up for the Packaging Digest News & Insights newsletter.
You May Also Like
---