Functional & fun packaging at FMI
Functional & fun packaging at FMI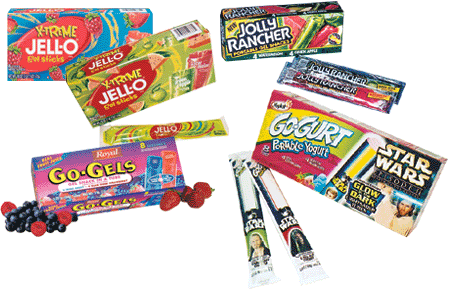 While the emphasis may be on the new food and beverage product introductions, packaging design shines at the annual Food Marketing Institute show. Last year, our editorial team reported that the beverage category had taken top honors for the most innovative product introductions. Although beverages are also in evidence in this year's FMI roundup, squeeze tubes for snacks are proliferating.

Yogurt tubes aglow with movie tie-in
According to General Mills, it has gone to "epic lengths" to bring the fun and excitement of Star Wars: Episode II, Attack of the Clones to a new generation of kids. For a limited time, special editions of some of its cereal, fruit snack and yogurt products are available with packaging and premiums based on the Star Wars saga that are out of this world.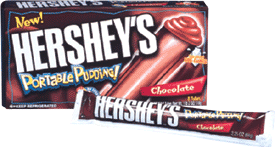 Representing a truly new snacking experience, General Mills' Go-GURT® portable yogurt tubes have been transformed into glow-in-the dark "light sabers," for kids with a passion for galactic dueling. According to Aimee Feldman, General Mills' spokesperson, "Go-GURT Star Wars Edition marks the first time glow-in-the-dark technology has been used in the dairy industry or on any tube snack."
While the standard Go-GURT tubes are a three-side-sealed film construction of 48-ga polyester/low-density polyethylene/proprietary-blend polyolefin sealant from Curwood (see PD, Feb., '00, p.44), General Mills declined to provide details on the technology that allows one area of the Star Wars tube to glow after being exposed to light.
Each tube depicts on its front "panel" a light saber over the top two-thirds, and the picture and name of one of 16 different Star Wars characters on the bottom third. Copy on the product carton instructs consumers to expose the tube to normal lighting conditions for at least 30 seconds "to charge the glow." Due to the unique, glowing property of the film tube, General Mills includes on the carton and on the tube copy that assures that "These special edition Go-GURT tubes are food-safe and completely non-toxic."
Released in early April and available until the end of June, the limited-edition yogurt is offered in six stockkeeping units, each of which offers two flavors per eight-tube carton. Varieties include such kid-friendly favorites as Cool Cotton Candy, Burstin' Melon Berry, Chill-Out Cherry, Strawberry-Kiwi Kick, and others. Each SBS carton features one of six front panels adorned with light-saber-welding Star Wars characters, while back panels use one of four graphics featuring images of Jedi (good guys) and Sith (bad guys).
"Retailers have been very excited about Go-GURT Star Wars Edition and the proprietary technology Go-GURT was able to bring to the yogurt case," relates Feldman. "Customers have also responded positively and are excited about the way the product represents the fun of the Star Wars equity." Circle No. 233.
Flavor and convenience for adults and kids
Top food trends show consumer behaviors and attitudes are focused on "flavor" this year, according to American Demographics (March, '02). Wyler's® Fudge Sticks and Coffee Ices for adults, and Royal® Go-Gels gel snacks for kids by The Jel Sert Co. not only provide great flavor, but they also use convenient and innovative packaging.
Jel Sert says it believes that fun foods are not just for kids, and should be enjoyed by adults as well. "Adults today are looking for foods with taste and nutrition that are also convenient and fun to eat," says Ken Wegner, Jel Sert's president. "We took the key insights from consumer trends and designed unique products to fulfill those needs."
New Wyler's Coffee Ices and Wyler's Fudge Sticks are two exciting ways for adults to indulge in frozen treats. These freeze-and-serve products, packaged in no-mess, easy-slide tubes, are perfect for adults who crave the taste of chocolate or coffee while on-the-go. Coffee Ices are low in fat, made with real decaffeinated coffee and are available in Cappuccino and Mocha flavors. For chocolate-lovers, Fudge Sticks provide a rich and satisfying chocolate taste. They are made with real cocoa and contain just 0.5 grams of fat per serving. Both products come in 2-oz bars and are packaged in 8- and 24-count cartons. For kids, Jel Sert has introduced Go-Gels, a 2.25-oz ready-to-eat, shelf-stable gel snack in a tube. Go-Gels are packed eight in a carton, with four sticks each of two different flavors.
Squeezable snacks
Convenience and enjoyment are assured with new hand-held gel sticks from Kraft. X-Treme JELL-O® gel sticks have six intense flavors in a completely new, hand-held variety that kids will love. With no spoon required, these portable new gel sticks are especially convenient for active, on-the-go kids. Simply tear the top off the chilled stick and squeeze for a burst of fruit flavor. The 2.25-oz squeezable plastic tubes are available in variety packs with flavor assortments of Watermelon, Green Apple, Strawberry, Blue Raspberry, Cherry and Tangerine. The tubes are eight-packed in 18-oz boxes that sell for $2.49 and contain four each of two flavors.
Dessert snacks in a tube
Hershey's and Jolly Rancher,e two of America's favorite candies, are going tubular as dessert snacks, thanks to their packages. ConAgra Foods, Irvine, CA, hopes kids will love the brands as Hershey'se Portable Pudding and Jolly Ranchere Portable Gel Snacks. Packed in handy, single-serve 2.25-oz squeezable flexible film tubes that require no spoon, the snacks are aimed at kids on-the-move.
ConAgra Foods developed the new refrigerated, ready-to-eat snacks through a licensing agreement with Hershey Foods Corp. Produced on vertical form/fill/seal equipment, the tubes are made by a proprietary source from what ConAgra Foods describes as a multilayer metallized filmstock, flexo-printed in at least five colors. They pack the taste of Jolly Rancher fruit flavors in cartons that each combine tubes in two flavors: Watermelon and Green Apple, Cherry and Strawberry, and Sugar-Free Raspberry, as well as Hershey's creamy chocolate. Eight go-anywhere, anytime tubes are packed in a solid unbleached sulphate folding carton, printed in seven colors by an unnamed source. The packages are produced at the company's pudding plant in Menomonie, WI.
Launched in June across the U.S., the portable and fun tube-snacks sell for about $2.69 and $2.89 an 8-count carton. They join yogurt and apple sauce in this new type of flexible package. "It's a totally new sweet snack and dessert alternative," notes ConAgra Foods brand manager Charlene Lee. "Hershey's portable pudding puts an innovative spin on a fantastic, well-known brand, and we know that Jolly Rancher fans will be excited..." Jolly Rancher joins ConAgra's already successful Jolly Rancher Gel Cups that launched in Oct., '00. Both Hershey's Portable Pudding and Jolly Rancher Portable Gel Snacks can also be frozen for a cold treat.

Taking the nutritional pulse of baby boomers
PULSE, a new line of water and nutrients supplements introduced by a subsidiary of Baxter Intl., Inc., addresses the key nutritional needs of Baby Boomers, ages 38 to 56. The initial offering contains specific ingredients that provide benefits for women's health, men's health, and heart health. The PULSE products are the first dietary supplements of this type to be developed and marketed by an established, global healthcare company. At the outset, PULSE water + nutrients supplements, which are packaged in 16.9-fl-oz bottles, will be available in greater Chicago and Arizona.
"Millions of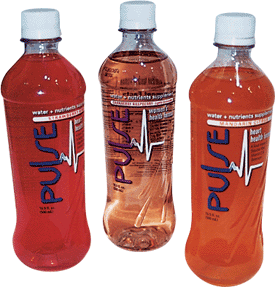 Baby Boomers are now beginning to experience chronic health issues," says Dr. Pamela Peeke, assistant clinical professor of medicine at the University of Maryland School of Medicine, and one of the leading nutritional experts in the country. "Boomer men are at higher risk for prostate cancer. Women in this age group are entering perimenopause and menopause. Both sexes are at increased risk for cardiovascular issues, like high blood pressure and high cholesterol."
The PULSE concept surfaced just last year through Baxter's innovation incubator, Non-Traditional Research and Innovation (NTRI). Baxter launched this formal program in early '01 to incubate and harness nontraditional growth opportunities across its businesses and to leverage related technological expertise that does not neatly fit within Baxter's existing businesses. "PULSE is an excellent example of how an innovative idea, nurtured with focused support and technological know-how, can yield exciting new growth opportunities," says Norbert Riedel, Baxter's chief scientific officer. "It also demonstrates the important role NTRI plays in incubating innovation-friendly business processes, for example, processes that shorten the time to bring new ideas to market." The entire innovation process for PULSE, from initial concept to market, took only 14 months.
The PULSE supplements are being rolled out initially in three formulations: Heart Health Formula; Women's Health Formula; and Men's Health Formula. Each 16.9-fl-oz bottle contains 36 calories.
Cyber lizard invades soft drink market
There's a new lizard in town, and his name is Mr. Green. He's the fun, cool lizard that embodies the spirit of SoBe Beverages, whose Mr. Green Soda Pop hit store shelves in May. Mr. Green is SoBe's first carbonated beverage, and it's loaded with attitude, energy and a taste soft drink fans will love. Mr. Green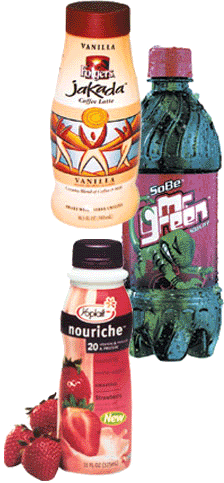 features a delicious blend of flavors and is enhanced with ginseng to give it an extra lift. It is available in 20-oz and 1-L polyethylene terephthalate bottles.
"Mr. Green will bring fun, attitude and excitement to the carbonated soft drink market," says SoBe CEO, John Bello. "It's a soda only SoBe could deliver, and it brings a personality to carbonated beverages that the category hasn't seen before."
Bello continues, "Mr. Green's an energizing soda pop. It has a refreshing blend of flavors and ginseng, and a label that looks like a video game collided with a soft drink bottle."
SoBe's senior vp of marketing Renee Kasbar Coughlin agrees: "SoBe is constantly focused on innovation, and our consumers continue to look to us for unique, fun, great-tasting beverages. SoBe really delivers on that promise in the carbonated soft drink category with Mr. Green."
Mr. Green will be sampled nationally this summer via a dedicated Mr. Green sampling tour, as well as on the touring SoBe Love Buses. The tour vehicles will travel from April through November, visiting concerts, festivals and other popular events nationwide, and will stop at select SoBe retailers for sampling promotions. Brought to market by the Pepsi-Cola distribution system, Mr. Green will be available in grocery stores, convenience stores, mass merchandisers and warehouse clubs, as well as in gas marts, select restaurants/hotels and delis nationally.
'Mountain grown' latte is a sip away
Folgers' Jakada, a creamy latte from Morningstar Foods, a Dallas-based Dean Foods sub., comes in Vanilla, Mocha and French Roast flavors that combine mountain grown coffee and sweetened low-fat milk in a single-serve 10.5-oz opaque white high-density polyethylene bottle. Served cold, the product is merchandised in convenience stores, major grocery and clubstores, as well as mass merchandise outlets, and has a 60-day refrigerated shelf life, according to Morningstar. The company said it will also soon roll out a four-pack.
Folgers Jakada has been available nationally since January under a licensing agreement between Morningstar and Procter & Gamble, which owns the Folgers brand. Morningstar will produce, promote and distribute Folgers Jakada (see PD, Jan., '02, p. 30).
"Folgers Jakada is our latest offering that will cement our position as the national value-added dairy company," reports Bing Graffunder, president and COO of Morningstar Foods. "Jakada's plastic packaging allows this chilled, creamy coffee beverage to be enjoyed at the beach, at the pool, at the park or any place in-between."
Morningstar molds the multilayer HDPE bottle, which measures 6 in. tall, using resin from Solvay that includes a black carbon inner layer that contributes to the product's 60- to 90-day refrigerated shelf life. Each curvy container is sealed for freshness with a foil seal with pull-tab from Hueck Foils, capped with a threaded polypropylene closure from Poly-Seal and sleeve-labeled with a reverse-gravure-printed polyvinyl chloride label from American Fuji Seal. The sleeve label is printed in warm rust and gold tones with illustrations of sun-worshiping dancers. Circle No. 234.
Yoplait shakes up yogurt with drinkable smoothie
And, for smoothie and yogurt lovers, General Mills has introduced Yoplait Nouriche,e a nonfat yogurt smoothie drink, in four flavors, packed in an 11-oz, single-serve bottle. The opaque white HDPE bottle appears to be a multilayer container and is capped with a twist-off closure with mechanical band. The bottle wears a full-body film-sleeve label printed in at least five colors. General Mills is keeping mum on sources. Suitable for drinking on-the-run, the Strawberry, Peach, Raspberry and Tropical yogurt smoothies are said to act as a meal option, as they deliver taste and nutrition. The bottle must be kept refrigerated and shaken before opening. The product began shipping in May to Western and Southwestern regions of the U.S. General Mills says it plans a full rollout soon.
Cold blast in a bottle
A new energy drink in a resealable aluminum can cools fast and stays cold. The first such drink in an

aluminum bottle, the 14-oz RE from Snapple Beverage Group's Mistic Beverages comes in two flavors: Citrus and Berry. Supplied by CCL Container Aerosol Div., the bottle features a unique plastic threaded lug sleeve developed by CCL that is outserted into the aluminum container and will accept a lug-style cap commonly used on glass beverage bottles. "We started looking at new concepts for beverage containers several years ago, and we were thrilled to have Snapple commit to the package, ays CCL's vp of sales and marketing Edward Martin. "We believe it has a bright future as a value-added package." Adds CCL's director of R&D Mark Goda, "This is the first application of our new plastic lug sleeve outsert. From a technical aspect, it makes the package." To achieve the bottle's eye-catching appearance, a metallic basecoat is applied to the cylinder after it is extruded. The spectacular eight-color graphics are then dry-offset-printed on the cylindrical bottle, which is finished with a clear varnish. The bottle then goes through a necking operation to achieve its unique shape. Finally, the lug sleeve is outserted, and the top of the bottle is curled over to retain it in place. "For Mistic's presence in the world of energy drinks, we knew we had to deliver the boldest packaging on the planet," says Kevin Hunt, senior director of Mistic Beverages. Circle No. 235.

Sara Lee is on a roll with crustless bread
Perhaps the biggest breakthrough in baked goods since sliced bread is coming from IronKids bread

from Sara Lee Bakery, St. Louis. IronKids has gone crustless. The special recipe bread in a full-slice,16-oz size comes double-wrapped for extra protection and to enhance freshness. The premade clear inner bag is made of an 80-ga oriented PP film supplied by a proprietary source. Printpack produces the outer bag at its plant in Bloomington, IN, using 1.65-mil Clear Choicee film, printed by flexo in seven colors with in-house-designed graphics of a skateboarder, soccer and basketball players, and a baseball player, among other kids having fun.
"America's kids have spoken, and IronKids Bread has listened," the company says, answering the call to kids everywhere who cut the crusts off of their sandwiches.
Baked and de-crusted at Sara Lee's bakery in Paris, TX, calcium-enriched IronKids Crustless was formally launched at FMI. It will cost consumers about 40 cents more a loaf than the IronKids bread with crust, says Sara Lee's Matt Hall, but "the convenience aspect is worth it." The bread will expand distribution from the South and Southeast and select Midwestern markets to more areas this month, Hall says. The package plays a pivotal roll in the performance of the product, Hall points out. "It's double-wrapped in crisp film, one of the few soft, white breads out there to be packaged in that manner. It's packaged similarly to our super-premium breads." Circle No. 236.
Laundry liquids downsize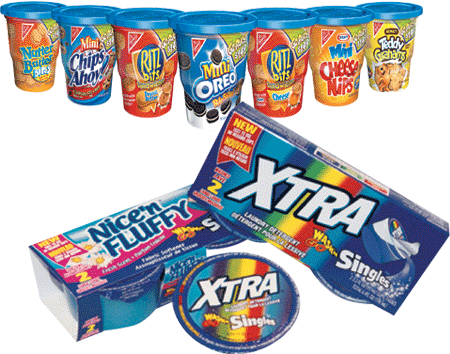 One of the biggest trends PD has noticed is the move to increased container portability, totability and on-the-go accessibility. Some packages answering that call are smaller than before. Now, USA Detergents is lightening the laundry load with new Wash'N Go Singles Xtra laundry detergent and Nice'n Fluffy fabric softener liquids in easy-to-carry, single-use cups. The portable HDPE cups, supplied by Owens-Brockway, are sealed with a six-color-printed foil tabbed lid from H.S. Crocker, and look similar to cups used for portion-packed pudding, gelatin and cut fruit. According to USA Detergents, consumers have said they want a single-use, premeasured cup of liquid laundry detergent. Filled with 3.2 oz of liquid, the Wash'N Go Singles cups are merchandised in twin-packs, unitized by a paperboard sleeve offset-printed by Smurfit-Stone in six colors. The cups are also available in cases of 24 sleeves. North Brunswick, NJ-based USA Detergents, which originally developed Xtra laundry detergent and other value brands in the late '80s, sold the Xtra and Nice'n Fluffy brands in '01 to Church & Dwight, which markets Arm & Hammer products. Church & Dwight also owns a minority interest in USA Detergents and licensed the Xtra and Nice'n Fluffy brands for use in the Wash'N Go application. Copacked by Production Services Too in Hillside, NJ, the products carry a suggested retail price of 69 cents a twin-pack, with a promotional price of two sleeves for 99 cents. Circle No. 237.
Established snacks are on-the-go
Not to be left behind in the race to fulfill busy snackers' frenzy for on-the-go munchies, Kraft Foods' Nabisco Div. provided a sneak peek at its new line of portable Nabiscow Go-Pakse at the FMI show. Scheduled, at the time of this writing, for release in convenience stores in July, and grocery outlets in August, the 4.5-in.-tall "cups" are available in seven varieties of Nabisco cookies and snack crackers. The essence of portability, the white PP snack containers (supplier unknown) are contoured to fit a car's cupholder, and are said to be sturdy enough for transport in bags and backpacks. Made for easy grabbing, the cup comprises a slimmer base that fits easily in one's hand.
Also designed to accommodate multiple snack sessions, the container is reclosable, with a blue-plastic snap-fit lid supplied by Piber Plastics P/L. Underneath, a foil lamination ensures tamper evidence until munch-time.
Striking a dynamic note, full-body shrink-sleeve labels are glossy and colorful, and ease product identification by using the established colors, graphics and logos associated with each of the well-known products. A new logo and symbol conveying the product's "motion" marketing message are printed on the label front, as well as molded into the top of the lid. Circle No. 238.
Lemon peel extract neutralizes the sour lemon taste
A new 6.7-fl-oz plastic bottle of lemon juice dispenses a tiny bit of lemon peel extract each time it is squeezed.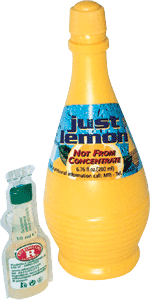 The extract is contained in a small cup that is an integral part of the squeeze head. The cup is designed so that each squeeze picks up a small amount of the extract in the juice. The Just Lemon brand product is manufactured by Milan, Italy-based LAS, which is the largest producer and marketer of lemon juice in Europe. Also new at the FMI show was a 10-mL single-serve, flask-shaped squeeze pouch of lemon juice.
Boca made better
Making it easier for health-conscious Boca fans to portion their intake of ground Boca burger, premeasured quantities of the low-fat meat alternative are now packaged in microwavable film pouches that come three per carton.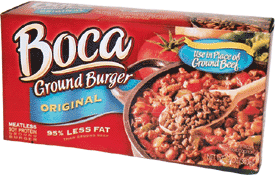 "Boca Ground Burger makes meatless meals easier than ever," says Deanie Elsner, director of marketing for Boca Foods.
Each pouch contains one cup of the ground burger product, which is equivalent to a half-pound of cooked, drained ground beef. Precooked, the pouched Boca burger can be added frozen to a simmering recipe or heated in the microwave or skillet in minutes, says Boca Foods.
The new packaging is available nationwide in the frozen food section of grocery stores and carries a suggested retail price of $3.29 to $3.69 per 12-oz carton.
Nostalgic art perks up coffee canisters

Honoring old-fashioned values in a unique new format, North Andover, MA-based Comfort Foods, Inc. offers its Harmony Bay Classic American Roast and flavored ground-coffee products in shaped canisters bearing the illustrations of one of America's most beloved artists, Norman Rockwell.
"Norman Rockwell represents the heartland of America," says Stephen Liff, Comfort Foods' vp of marketing. "Most of his values are the old-fashioned, traditional values. What our use of his illustrations says about Comfort Foods is that we have a desire to be innovative in the coffee marketplace, whether it is through the use of eye-catching artwork, or the use of a shaped can.
"We realize that if we're going to survive in this competitive climate, we've got to do it differently," he adds.
According to Liff, Comfort Foods is the only coffee manufacturer in the U.S. producing shaped stainless-steel containers. From seasonal to standard varieties, all of the company's gourmet ground coffees can be found in can designs that range from a "barrel" shape to more rounded, contoured canisters. "The shaped can gives our product a distinctive look on the shelf and hopefully conveys to the consumer that it's a higher-quality coffee," explains Liff.
To achieve the custom can contours, Comfort Foods takes straight-walled containers and shapes them in-house using expanding equipment from an unidentified European manufacturer. Says Liff, the stock cans are made from a special stainless steel, formulated to resist bursting at the seam during can expansion.
In the case of The Norman Rockwell Commemorative Canisters, introduced in late '01, the main can shape is modeled after a cookie container observed by Comfort Foods' owner and founder, Michael Sullivan. The can, a 28-oz size holding Arabica coffee, has a nostalgic, barber-pole-like shape, and is offered in three designs: "The Runaway," "The Four Freedoms," and "Santa's Good Boys." Gift packs containing six different Norman Rockwell holiday/Santa-themed, straight-wall cans filled with flavored coffees, are available in 3-, 6- and 12-pack combinations.
Cans are printed using four-color process, plus two custom colors, by Can Components. Matching size-502 lids are supplied by Airlite Plastics. Cans are filled on several of the eight lines operating in Comfort Foods' North Andover facility.
Harmony Bay coffee products are distributed primarily in New England groceries and clubstores, with a smattering of distribution throughout the rest of the U.S. Circle No. 240.
Doggone different biscuit packaging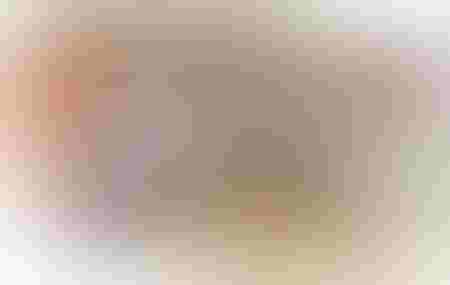 Meant for man's best friend, but appealing to the eyes of his master, the Waggerse Originals line of specialty dog treats from Pet Central, Sylvania, OH, uses packaging of a different breed. Says Michelle Kay-Rood, marketing & sales coordinator for Pet Central, "We wanted to introduce our uniquely made, premium dog treat in a unique package. We like to believe that we think 'outside the box'–box of treats, in this case. So we 'canned' the box idea, and we went for a canister."
Wheatless, meatless and sweetless, respectively, Pet Controls' Hearty Stew beef liver, PB Roundies rolled oat and peanut butter, and Savory Casserole chicken and parmesan Waggers dog biscuits are made from all-natural, human-grade ingredients, offering a "quality that will leave them begging for more!" says the company.
Capitalizing on the healthy, natural makeup of the treats, Pet Control packs them in 8- and 16-oz reusable, composite "Wag Cans," decorated with artwork straight out of classic Americana. Illustrator Brian Rood designed the wraparound label graphics, which depict a young boy in a wagon accompanied by two furry friends, one of which looks longingly at the biscuit in the boy's hand. The seven-color labels use identifying colors for each variety: purple for the PB Roundies, mauve for Savory Casserole, and orange for Hearty Stew. The canisters, supplied by Smurfit-Stone, are spiral-wound paper tubes with tin bottoms and lids.
Also available are five-biscuit trial-size paperboard sleeves, 10-oz bulk boxes of Waggers Originals, and the Lil' Wag sampler, which includes three 8-oz cans of the treats in a custom corrugated display carton.
Pet Central's latest innovation, however, is intended to bring Waggers to the mainstream "pet parent." In May, '02, the company introduced Waggers Grabbers: 16-oz standup pouches that can be resealed to ensure freshness. The bags, which use the same graphics and color schemes as their canister counterparts, are a polyester/PE adhesive lamination flexo-printed in six colors, supplied by Columbus Cello-Poly.
"We wanted to attract both the label-conscious consumer and the average pet parent," explains Kay Rood. "It is our goal to make Waggers an everyday treat–a trusted, premium, healthy treat used everyday as a reward, snack, or even for supplemental feeding."
Adds Rood, "The pouches have been well-received. We have been able to attract new consumer types and satisfy repeat buyers who have collected many canisters and now have a way to fill them."
Pet Central also offers all-natural Hundekiks imported Danish dog treats in collectible, 18-oz tins. Circle No. 241.
Burgers you eat like hot dogs

Providing the perfect complement to hot dogs for foodservice outlets, fully cooked hot-dog-shaped RollerBites™ burgers from Home Market Foods are designed and formed for perfect rollability, so they can be cooked on the roller grills typically used for hot dogs, as well as on flat grills. The individually wrapped burgers, which are produced in 2.5- and 3-oz sizes, are available in a wide variety of flavors, including all beef, cheeseburger, and bacon cheeseburger, as well as pork, beef taco, sausage and many others. Each burger is wrapped and sealed in clear plastic film, and 40 units are packed in a carton.
For another interesting take on the popular hot dog, see sidebar on page 46.
Vacuum-packed chicken breasts are convenient, versatile
Introduced by Hormel® Foods in April and shown for the first time at the FMI show, individual vacuum-packed chicken breasts in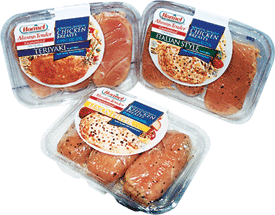 clear plastic clamshell containers offer the ultimate convenience for consumers. Each clamshell contains three of the fresh breasts, which are marketed under Hormel's Always Tender® label, with a total weight of 17 oz. "Consumers told us during market research studies that they wanted individual servings with a convenient storage option," says assoc. marketing manager Steve Modaff. "Based on that, our packaging research people developed a number of different options that we presented to focus groups, and they preferred the clamshell container."
The breasts are packaged in clear laminated film from Cryovac, and are run on Multivac machines. The clamshells are supplied by Ivex Packaging Corp., which also designed the package for Hormel. Says Matt Martinson, packaging engineer at Hormel's R&D facility, "We also have to give credit to Progressive Packaging, which worked with us extensively during this project. They represent Ivex, and actually put us in touch with them when we decided to use the clamshell containers."
The chicken breasts are an expansion of Hormel's Always Tender line of products, which already include pork and beef items. The company introduced vacuum-packed turkey tenderloins and breasts as part of the line at the same time as the chicken breasts. "The Always Tender line of products emphasizes versatility, flavor and convenience for our customers, and the chicken breasts are an extension of that," says Modaff. Circle No. 242.
Creativity in foodservice, too
Ice cream hot dog you top like a sundae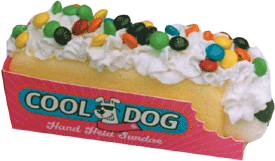 A new hot-dog-shaped ice cream sundae from Cool Dog, Inc. is an easy-to-serve ice cream novelty that requires no scoops, bowls or spoons. Spotted at the National Restaurant Show in mid-May, among the other items below, the 3.04-oz piece of hot-dog-shaped ice cream is wrapped in a sponge cake bun is packed in an open-topped folding carton. Twelve of the Cool Dog® sundaes are packed in a box, and five boxes are packed in a shipping case. Whipped cream and toppings selected by the customer are applied to the product when it is sold. The product is limited to vanilla ice cream and sponge cake at present, but other ice cream flavors and types of cake are in the development stage.
Easy-prep beef patties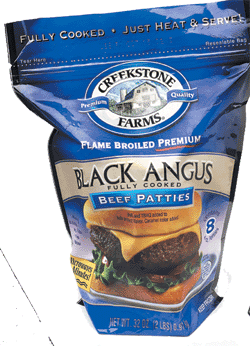 A new line of IQF hamburger patties from Creekstone Farms is precooked at the factory for easy preparation. Produced from company-owned Black Angus cattle, the patties are best heated in a microwave oven for about 11/2 minutes, but can also be warmed on a stove top, grill, griddle or convection oven. The patties are packed in two sizes of a beautiful, vivid-blue standup plastic bag. Eight 1/4-lb patties are packed in a 2-lb bag, while 15 3.2-oz patties are packed in a 3-lb bag. The film for the bag, which is supplied by Nordenia USA, Inc., is a 4.5-mil PET/PE-lamination that is flexo-printed in eight colors. Circle No. 239.

Fun-to-use squeeze pouches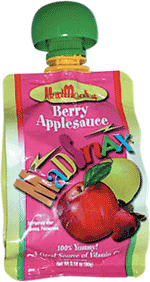 New 3.18-oz squeeze pouches of apple sauce are the perfect on-the-go snack for school lunches, ball games and other events, as well as for school and home. Available in three fruit varieties, the Mad Snax™ pouches, with their brilliant graphics and semi-round screw-cap, provide an eye-catching package. Produced by MadMeals L.L.C., the pouches are sold in a 24-pack display case, with the pouches lined up like little soldiers, and in a sleeved four-pack.

Ready and easy goat cheese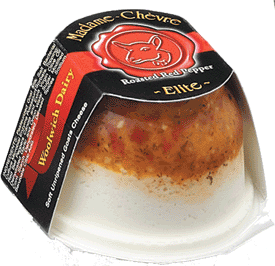 A new rich and creamy goat cheese chevre with gourmet topping is ready-to-use as a sweet or savory centerpiece cheese course. The new 6-oz plastic cup of Madam Chevre Elite goat cheese with toppings, from Woolwich Dairy, is wrapped in an eye-catching paperboard sleeve to promote sales in the refrigerator case. Two toppings are available: roasted red pepper; and cranberry with port.
Sign up for the Packaging Digest News & Insights newsletter.
You May Also Like
---