Tagging up or tapping out: NFC's on-pack future
Tagging up or tapping out: NFC's on-pack future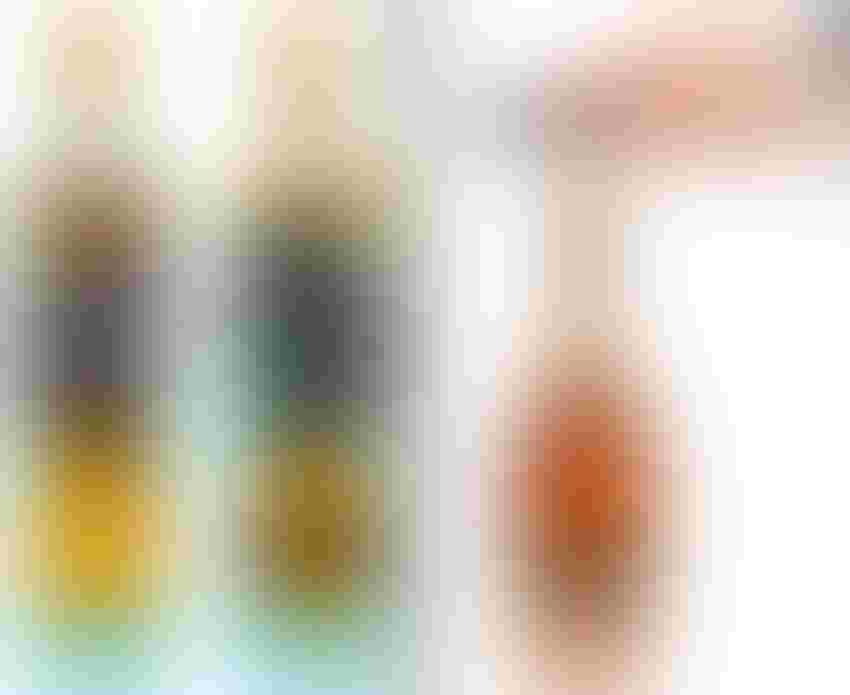 As an example of positive sentiment for the technology, Diageo (left) and Remy Martin have both recently used near-field communication (NFC) tags on their liquor brands.
With so much positive sentiment surrounding the pairing of near field communication (NFC) technology, NFC-enabled smart devices and packaging, the reality is that the talk is, well, mostly just talk. In nearly every conversation, enthusiasm and even promise is tempered with such comments as "pre-commercial" or "potential," "expected shipments" or even "limitless in theory."
Yes, research firm IHS Technology, among others, is predicting that between 2018 and 2020, 1.2 billion NFC-enable smartphones will have been shipped to consumers. The key here is "shipped." According to Enstream and BrandXMobile (BXM), somewhere between 38% and 42% of smartphones globally are currently NFC-enabled—more if you count Apple's recent foray, which frustrated tech-savvy Apple users from the get-go because the NFC application was limited to payments with a proprietary app rather than an open platform that enabled information retrieval or provided a consumer experience.
The number to act on, according to BXM is 23%; that's the current high-water "potential" mark of NFC-enabled device users who might actually use their NFC-enabled devices if the applications, the experience and the payoff are aligned. That percentage is likely even lower, given that few consumers even know if their mobile device is NFC-enabled.
According to the Mintel report, Mobile Phones – US, February 2014, about 65% of U.S. consumers own a smartphone.  No doubt, our mobile phones have become the aggregator and curator of our personal, social and business lives.  We've become a data-driven society that demands tools that help us build a personal dashboard. And that dashboard must be seamless. It must not only be intuitive to use, but it must allow us to access it anywhere we are, and use it across platforms, unencumbered by proprietary, or closed, technologies.
When remembering such "first-generation" connected mobile technologies as quick-response (QR) codes or Short Message Service (SMS) text codes tied to packaging, brands, mobile engagement providers and even public relations and marketing agencies did a horrendous job of recognizing the need and fulfilling the promise. Consumers were most often left asking "Is that all I get?" when non-mobile optimized engagements, lists of products they didn't care about or long-term rewards programs came up on tiny mobile screens.  
What brands failed to understand is that consumers had become hunters rather than surfers. Unlike when they were satisfied with surfing the web and being delighted with whatever they serendipitously stumbled upon, consumers have become "hunters"—using apps, tags and codes to hunt for something specific, such as directions, instantly redeemable coupons or other information that helps them right now, in this time and place.
Consumers, and thankfully, some mobile engagement opportunities, have transitioned mobile content from fun to functional. Brands and mobile engagement platform providers have realized consumers are, indeed, hunters, and they've begun to deliver content that functionally engages rather than crap that marginally entertains.
The challenge NFC now faces is at least two-fold:
1. First is critical mass. Projections for 1.2 billion NFC-enabled phones five years from now means nothing. Five years ago, U.S. consumers couldn't even spell Q-R-code. Today, Mintel's Global New Products Database shows, for example, the use of QR codes on skincare product packaging has declined 53% since 2011. QR codes on alcohol beverage packaging has fallen 66% in the past four years.  This is not to say QR codes are done, but it does point to an interesting fact: by 2018 or even 2020, when NFC-enabled mobile devices reach that 1.2 billion point, will NFC have already become an obsolete, or at best, a tertiary mobile engagement tool? 
2. By the time enough consumers have access to NFC-enable devices (and understand how to use them)—and at the same time brands understand how to effectively exploit mobile technologies and content either at the point of sale or for the delivery of relevant, functional content in secondary or alternative engagement opportunities—will another, easier to access and use technology have already supplanted it? Will Bluetooth Low Energy (BLE) iBeacon technology, which can run on both iOS and Android platforms, have already been delivering hyper-contextual content on a micro-local scale to consumers? Will some other form of a simple text code have the ability to deliver the type of content QR codes cannot now, or which NFC says it will be able to in the future?
The pairing of all types of mobile engagement tools to primary packaging and to point-of-sale displays is a natural evolution of branding, retailing and consumer engagement. There have been examples where product and consumer safety have been demonstrated using mobile technologies. There have been examples where product and consumer engagement have been worlds apart, and where even the slightest hint of entertainment value have been questioned.
What's not in question is that consumers will only depend more on their mobile devices in the coming years as they seek to maximize personal productivity and avoid wasting time, money and other resources. This means that mobile technologies will need to be simplified, and their connection to packaging and retailing more intuitive to use, relevant to the purchase- or use-occasion and, most importantly, available to the masses today, not five years from today.
David Luttenberger is the global packaging director at Mintel. He has 24 years' packaging experience, and has been working with, testing and consulting on mobile marketing for packaging for the past six years. Reach him at [email protected]. Follow him on Twitter at @packaginggeek.
Sign up for the Packaging Digest News & Insights newsletter.
You May Also Like
---