Uncorking custom wine labels
Uncorking custom wine labels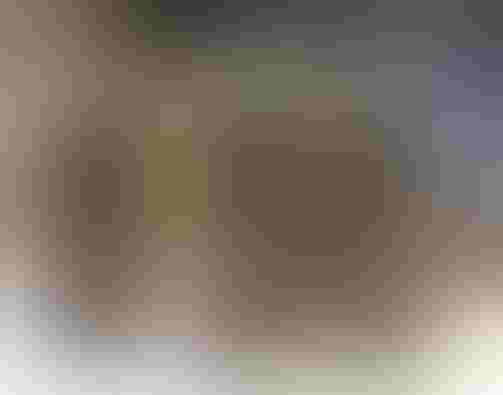 Chalk Creek, a private label wine Windsor
produces for Trader Joe's in California,
features a label that fittingly resembles a matte black chalkboard.

Windsor Vineyards, a private-label winery located in Windsor, CA, is all about customization. In fact, Windsor claims to be America's largest direct-to-consumer winery, offering several red, white, rosé sparkling and dessert wines, wine collections and gift-packs with personalized bottle labels direct to consumers and corporate customers.

Windsor has been creating custom personalized labels for almost 50 years. Most of its wine business is through catalog and personal sales (through a large telephone ordering customer service department and online). At a customer's request, the winery can personalize a label on every bottle purchased. Suitable for giving as gifts with a company logo, an inscription, seasonal artwork, special messages or dates and other unique graphics, a wine from Windsor Vineyards can say a lot about the orderer.
Windsor's website offers a selection of specialty bottle label designs on which customers may add their own inscriptions or graphics so that their creations are truly one-of-a kind. Windsor also has a tasting room in Tiburon, CA, where it sells many small orders of personalized bottles of wine.
For small quantities of one or two bottles, for example, personalized labels are printed on cut sheets using office printers and are then applied semi-automatically. But for its larger-scale production of private-label, on- and off-premise award-winning wines, Windsor now prints the bottle labels in-house at its facility in Windsor, using the Vivo! digital printer from Quick Label Systems (www.quicklabel.com), an Astro-Med Inc., brand. The electrophotographic, four-color digital label printer generates labels on-demand using four imaging drums, as well as cyan, magenta, yellow and black print cartridges and electrophotographic LED array technology, printing directly from a PC. The image drums are specially coated cylinders housed in plastic and preprimed with toner. The LED arrays are located above the imaging drums, and they image the drums with a static charge that allows the drums to "pick up" toner in the charged areas and deposit the toner on a label passing below.
Windsor also uses its Vivo! system for wine labels including "Chalk Creek," a wine brand Windsor sells to Trader Joe's stores in California. The winery designed the Chalk Creek label to resemble a chalkboard with chalk-white, hand-rendered lettering. Corporate clients who order Windsor's many varietals, including Cabernet Sauvignon, Pinot Noir, Chardonnay, Merlot, Sauvignon Blanc, Semillion and more, may want to show appreciation with their own corporate label to thank loyal customers.
Until recently, Windsor relied on creating the labels on legal-size white paper stock and printing them using label stock provided by outside sources, a commercial printer and a form/template database system dropping in artwork created in Photoshop. The finished labels were hand-applied with glue. "With the Vivo!, we are able to provide larger image areas and full-bleed labels," Allen says.
Today, order turnaround time has vastly improved and Windsor has more options, with labels that have a quality, professional look that's making customers take notice of not just the tasty wine, but of a tasteful bottle label.
"In the early years, we were limited to using preprinted label masters and adding only black images or text," recalls Victoria Allen, facilities, inventory and purchasing manager at Windsor. "We used outside sources to provide customers with foil or colored labels, and eventually, we purchased color printers to run both black or colored text and logos, but we still weren't able to produce full-bleed labels in-house."
Today, Windsor raises a glass to its new customizing/printing/applicating technology, which allows the winery to capitalize on its business model by creating labels more quickly than ever before, or allow customers to choose personalized label versions online by choosing from a portfolio of artwork and graphics on the winery's website.
Scott Cruz, Windsor's graphic artist and label designer, operates the Vivo! system. "The Vivo uses self-adhesive labels and toner cartridges, so turnaround is at least twice as fast," he observes. "We wanted something that could print full-bleed, self-adhesive label in various sizes."
Windsor searched for a printing unit that could help it penetrate the retail, restaurant and hospitality markets quickly and cost effectively. "The Vivo! is one of the great enhancements we have added to our custom labeling program," says Jonathan Kesser, senior director of sales at Windsor. "I was introduced to it when we were deciding in our holiday offerings to have something a little bit beyond what we offered in the past. For a number of years, we devoted a small area of the label to customer-specific information and while that was great, we wanted to expand on that idea and have something that would really pop—really give the customer a feeling of owning that label space, if you will. A few customers who may not have ordered found out that we could offer them something more exciting in a label with the Vivo! system. We were able to save those orders and do something unlike anything those customers had seen from us before and really get them excited about it."
Windsor installed the Vivo! in summer, 2007, with the aid of a QuickLabel technical support engineer who trained the winery staff how to use the printer and the Custom QuickLabel photo software.
Speeds turnaround
Kesser says that the system has great helped Windsor with the ability to turn orders around quickly for customers looking for something special. "We recently had an export order going to China in a critical timeframe. It needed to be out to the docks in San Francisco by a certain day. At the very last minute, we got a curveball: There was some verbiage in Chinese that had to be added to the label. So without compromising the label integrity, we went back and very quickly reproduced the label with the additional verbiage in Chinese and got it out in time for the order to be received at the docks and go to China."
Adds Allen, "The printer has the ability to produce a completely different looking label than we could achieve previously and produces it much larger volumes. Since the labels are printed on rolls, we decided to also purchase automatic roll-label applicators."
At the request of corporate and individual clients, Windsor begins designing a new label with their guidance, including color schemes, illustrations or photographic imagery, a choice of label material and texture and then makes a prototype design for the customer to approve in a matter of a few days.
When the customer approves the design, Windsor prints the final design on the flexible Vivo! system using printed rolls of high-gloss, matte paper or textured pressure-sensitive (63# glossy and 66# matte Chromolux C1S label stock from QuickLabel Systems) for front/back, wraparound and single-label application by its fulfillment department. "We are excited to work with the Vivo! folks in creating more stocks," Allen points out.
Facilitates label output
The 8-in.-OD rolls of labels are then applied by two automatic NewTec (www.newteclabelling.it) label applicators or rotary labelers from Kosme S.r.L. of Italy (www.kosme.it). The labeled 750-mL bottles are then hand-packed into 12-count bleached white cases for shipment, and are palletized into loads that are stretch-wrapped and stacked three-high in a warehouse.
A standalone system, the portable Vivo! operates directly from Windsor's PC using a Windows® driver and Photoshop software. Cruz uses these to upload the original designs and add bar codes, sequential numbering, lot numbers and more so that label content can change as the labels are being printed, without slowing the print speed.
Windsor currently prints four label sizes through multiple shifts at rates of about 700/hr. The Vivo! digital printer can output labels at speeds up to 2 in./sec or 1,000 4X6-in. labels/hr at 600 dpi. The printer can also reduce lead times with rapid prototyping of new labels and rapid production of finished labels, which shortens label-development time.
According to Kevin Pizzuti, QuickLabel Systems' district manager for Northern California, the system can also print standard label widths from 3 to 8.5 in. (narrower widths are achieved by printing multiple labels across the web) and lengths from 2 to 50 in. It also produces full-bleed labels in roughly the same sizes (again, narrower widths are achieved by printing multiple labels across).
In Windsor's case, the label-generation process is maximizing output throughout its enterprise, in everything from order taking by phone or website to sending digital label proofs to its customers, and then printing labels. Logos, custom artwork and other special imagery can be scanned into a PC and uploaded to the Vivo! printer in Windsor's fulfillment center, so when the graphics department completes a label design and begins printing finished labels, the labels can be applied to the bottles almost immediately.
Considered by Quick Label Systems to be its top-of-the-line digital color label printer, the Vivo! is designed as a high-volume, photo-quality unit, capable of printing a small "queue" of front/back labels, so that a decorative, "front label" is printed just before a matching "back label," which contains mandatory information such as health warnings, a description of the wine and distribution addresses.
Windsor is quite pleased with the system's ease of use, says Cruz.
"Before, we were so limited as to what we could design. Now, we use the Vivo! printer most days and if so, mostly all day," he adds. Once the label graphics are loaded into the system's interface, they become part of an easily accessible menu via an internal network server. "With the new system, I really have a blank slate," notes Cruz. "I have a lot more freedom and flexibility. I can start with just a white sheet of paper and put the wine information where I want it, the mandatory information where I want it with a graphic as big or as small as I want. It opened up the areas we have to work with. It gives me much more latitude in how I design the labels."
"Before I only had a small section of the label with which I could custom design. This allows me to put things where we like. One nice thing about it is that it produces high quality labels, and as a designer, I like to produce a quality label. So it really works together. You have a great wine, nice labels, and a nice design on those labels. Trader Joe's orders several different wines, and we use this system to create labels for them. We could create the chalkboard design for Chalk Creek Wine because the Vivo! has a setting that I can put to a matte black to look like a real chalkboard with a border around it."
Windsor's front/back wine bottle labels measure 4X3.25 in. and 4X2.25 in. Its single labels measure 4X5.5 in. and a large wraparound label for 750-mL bottles measures 4.2X8.5 in.
"We can proof the labels as they come out of the machine and if it's a very large run, we check the first few labels to make sure the color is consistent and that the label copy is consistent and is aligned properly and we can pretty much walk away," concludes Cruz. "Depending on the amount of labels we have to produce each day, we can be using it almost around the clock or one or two hours a day, but I can't remember a day where we haven't used it at least once a day. I envision having a whole bank of Vivo!s running at the same time, printing several different jobs at a time. It's really one of our workhorse machines."
According to Allen, the winery has already seen a return on its equipment investment. "And within four to six months, we had established new relationships with higher-volume customers," she says.
Sign up for the Packaging Digest News & Insights newsletter.
You May Also Like
---