The case of the bulgy bottle
The case of the bulgy bottle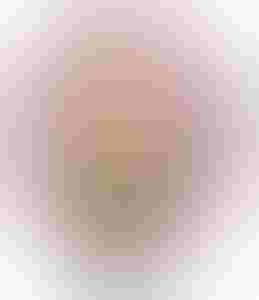 KC Boxbottom, packaging sleuth, is on the case
The text was from Toni: "Call me ASAP!"
I did. She had a question for me:
"How can I apply a pressure-sensitive label on a 2D curve?"
"I thought you were going to ask me a hard question," I replied. "You can't. It is easy to apply a PS label on a flat surface or even simple curve. It'll wrinkle on a 2D curve."
"I guess I'm in a corner, then. How soon can you get over here?"
When I got there she showed me her problem. She was labeling only the cap on her plastic dairy jug until now. Marketing had decided on a full-panel label on the side. When empty, the four sides were flat. When filled, the flimsy plastic bulged in two dimensions.
"We don't have any space on the line to label before filling and if we did, the light weight of the empty bottle would make it hard to handle," she explained.
"Fiddlesticks on bulgy bottles," I told her."The trick is to get rid of the bulge while applying the label. Once it is laid down, it won't wrinkle, even with a bit of curve. Your labeler uses a brush to wipe down the label as it is applied. Replace the brush with a stainless steel plate covered in Teflon tape. Set the plate so that it flattens the bottle as it wipes the label on."
Got milk? If you are one of Toni's customers, now you know what kind.
KC Boxbottom, packaging detective, is on the case to solve tough packaging puzzles. He is the alter-ego of John Henry, CPP. Known as the Changeover Wizard, Henry is the owner of Changeover.com, a consulting firm that helps companies find and fix the causes of inefficiencies in their packaging operations. He produces a free monthly newsletter called Lean Changeover, which contains articles and tips on changeover and related issues. Reach him at [email protected].
Sign up for the Packaging Digest News & Insights newsletter.
You May Also Like
---