Alba steps up hospital footie bagging
Alba steps up hospital footie bagging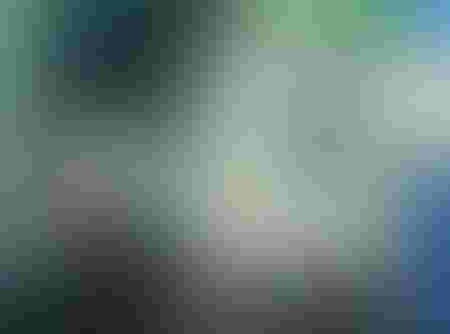 As pairs of oriented, folded footies approach the vertical bagger, a pusher infeed moves them into place into the prefolded film. The additional packaging equipment has cut overall labor by 56 percent, and upped line speeds by 50 percent and productivity by 25 percent.
 
Alba Health has hit the ground running with an improved packaging operation for hospital footie socks called Treads,™ NovaPlus® and Care-Steps®. The Rockwood, TN, health products division of Alba-Waldensian, Inc., produces soft goods health supplies such as footware, stockinettes, dressings, anti-embolism stockings

and many other specialty items for hospital use. Its packaging line running these hospital supply products has been enhanced with nearly $1 million in new equipment, as part of a systematic upgrade. Alba Health earlier this year installed nine new Model 101 vertical L-bar sealer/baggers from Rennco, as well as new footie-handling machinery and downstream machines that have collectively allowed the healthcare marketer to make tracks in production efficiency.
Tying the footie-printing process to automatic bag sealers in workcells has reduced labor, time and material costs. Overall, labor has dropped a total of 56 percent, as the company was able to reassign individuals to other areas of the plant. The move also stepped up productivity by 25 percent and line speeds by as much as 50 percent. "We've made great strides in productivity," echoes plant manager Marty Davidson. "There was a lot of thought that went into selecting and developing this new packaging equipment, being that it handles highly flexible products in flexible bags." In addition, Alba switched bag films and downsized bag dimensions by half, simply by folding the socks prior to bagging. This has cut material costs by at least 38 percent, Davidson says.
The footie-sock business has become a commodities market, he says. Volumes have been growing at the steady rate of 15 percent, so the company knew it had to speed things up. "We had to further automate to stay competitive. It's a global market, too. In order to compete, we had to boost productivity."
About 80 percent of the footie-sock business is packaged on the line. Available in several colors, styles and sizes, the slip-resistant terry cloth socks are screen-printed on the bottom with anti-skid, tread-like designs by proprietary printers before they're automatically transported to nine new workcells by conveyor spurs.
Rennco representative Associated Packaging, the distributor that provided Alba with all of the new equipment, was instrumental in coordinating and interfacing the packaging equipment that, in some instances, replaces existing baggers and automates other manual functions.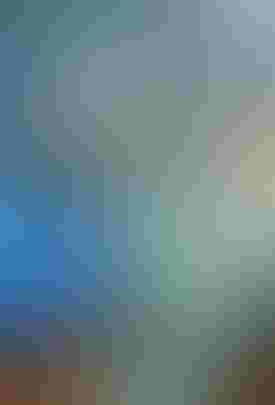 Nine vertical L-bar sealers, top photo, stand in workcells comprising Alba Health's sock-printing operation in Rockwood, TN. As open-topped shipping cases wait to be filled, an L-bar sealer receives socks from a feeder. A single-footie picking device appears to the left.
Automatic transport of the products between packaging stations is a new addition. The operation also includes nine specially equipped NAS linear pick-and-place systems from Nalle Automation Systems that pick the footie-socks and pair, fold and feed them to the bag sealers. A variety of new conveyors including a main roller conveyor, its spurs and cleated belt conveyors were integrated and provided through Advanced Handling Systems, including those from QC Industries. The main conveyor and spurs link each of the nine cells from sock printing to a central packoff station. The conveyor controls, main panel and sensors were designed and programmed by ACS. To keep up with the faster-paced packaging operation, Alba also automated packoff with a Loveshaw Little David standalone Model CF30T shipping case erector and LD2 random case taper, also replacing manual functions.
A foot ahead
The nine workcells of footie-sock printers, baggers and custom handling systems, lined up in a row, were installed at the 258,000-sq-ft plant in February '01. Each printer can prdouce a particular anti-skid pattern. The rest of the packaging line is rather unusual in the hospital supplies category, Davidson points out. "As far as we know, no one else in the industry has such automation. The new equipment was a real change. It has helped our business tremendously. We decided to further automate for cost-reduction purposes as well as to enhance our profitability. We were already familiar and comfortable with the Rennco machines, which made bagging machine selection easier."
Selecting local equipment vendors was also beneficial for a few reasons, Davidson says. "If we had any problems with the machines, the suppliers would be able to get here quickly; and they actually submitted the best plan?not necessarily the lowest-cost?but the most practical. We run this packaging area 24 hours a day, five days a week. Our equipment has to be durable, simple to operate and easy to maintain."
Boost in speeds
The operation previously involved manual tasks such as handling of the footie socks, which had been picked, staged, paired and inserted into a bag, sealed automatically and case-packed by hand, Davidson says. With an average speed of 14 bags/min, per line, or a total of 135 bags/min, Alba now outputs 50-percent more bags.
"Our goal was to automate most of the manual functions. We had Nalle Automation Systems come in and make a three-station system that picks and actually pairs the individual socks, stacks them on top of each other and folds and feeds them into the Rennco baggers. No one else is doing this that we're aware of. It works so well, the whole operation has greatly improved."
The new set of compact 101 vertical L-bar sealer/baggers outputs bags from 2 x 2 in. up to 18 x 24 in. With a 14 x 20-in. sealing assembly, Allen-Bradley MicroLogix 1500 PLC controls, a perforator that perforates the length of each bag so that it can be easily torn open, and film-registration sensing, each of the L-bar sealer/baggers features a constantly heated, coated seal bar assembly for smokeless, odorless performance.
The bagging machines also incorporate dual-pressure, coated and constantly heated seal bars and seal assembly actuators for safety, as well as air-hole evacuators and a host of options, such as print registration devices and bag deflators that prevent the bags from becoming air-filled pillows. Able to accept polyethylene and polyolefin films without the need for changeparts, the machine creates a bag around the socks using centerfolded rollstock. The filmstock travels vertically, so the machines are able to easily wrap odd-sized and shaped products with little waste, Rennco tells PD.
Interfaced with each sealer/bagger, each of the NAS systems includes an automatic vacuum picker that grips individual, freshly printed footie socks that single-file from the print paddles of a screen printer and places them on a conveyor, leading to a system that pairs the socks together, one of top of each other. This is truly innovative, Davidson says. "Getting the equipment to work with the printers involved timing, and it was a challenge to figure out how to remove a sock from the printer and place it on a conveyor to be stacked. Both machines are moving at a certain speed. We finally timed that speed to where all sock sizes can be picked and placed at the proper time. And that was tricky, because our socks range in length from 71/2 to 113/4 in., so they have to be spaced and timed so that they could be picked and placed smoothly. Associated Packaging actually handled the NAS and Rennco coordination of equipment to our printers to our great satisfaction."
Next, the pair is mechanically folded in half and placed onto a conveyor leading to the vacuum head of the NAS unit, which leads a folded pair of vertically oriented footie-socks into the film web on the Rennco bagger. An Allen-Bradley Micro Logix 1500 PLC controls the NAS pick-and-place feeder, stacker and sock folder/infeed. The Treads footies are screen-printed on flat fixtures before they're conveyed on a roller conveyor to the NAS system.
There are three stations comprising the NAS sock-handling system. One removes the printed footies from the conveyor, one at a time, using a gripper and linear movement. A second station, the stacker, uses vacuum to lift every other sock and place it on the next sock travelling on the line, to form a pair. The vacuum device holds the first footie sock up over the conveyor and places it on top of the second sock conveying downline to form a pair as the second sock passes. The stacked pair then discharges from the stacking station and travels a short distance, leveling out on the conveyor after moving up an incline to the third station folder/bagger infeed station.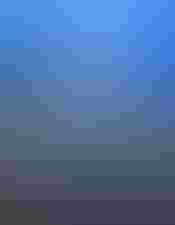 When a single footie sock approaches this pickup device, it's vacuum-picked, held in place and released on top of the next one conveyed into position.
There, a photoeye triggers a pusher arm to push the pair of footie socks off of the conveyor at a right angle and onto a folding device. The pair is then folded in half using rotary motion. The now-folded socks are rotated up by a second rotating /lifting device into a vertical position, where a set of gripper fingers clutches them and inserts them into the web of film being created on the vertical L-bar bagger/sealer.
As bagstock unwinds and indexes through a set of dancer rollers that create the centerfolded web, the gripper device returns to its original position, and the pair of footie socks advance into the web of bag film via a pneumatic slide with bearings. The seal jaws on the vertical L-bar sealer/bagger clamp the footie socks into the film bag and close, sealing the pair of footies inside as the bag lowers through the machine. Buckeye Packaging produces the 1-mil low-density polyethylene bag film on 12-in.-wide rolls, which are supplied to Alba by Associated Packaging. The stock can be printed in two colors or unprinted, depending on customer specifications.
The vertical L-bar sealer emits no smoke or odor and generates minimal film buildup on its Teflon®-coated seal blades that can be wiped off at the end of a run. The bags then discharge onto a cleated incline conveyor below, and the seal assembly opens again to accept another pair of footie socks. Meanwhile, shipping cases are automatically erected and bottom-sealed on the Little David CF30T machine, and make their way down the main conveyor to the bagging workcells.
As the bags reach the end of the conveyor, they fall into an awaiting corrugated shipping case that has indexed to the specific workcell from the main roller conveyor. Programmed sensors count out 48 sealed bags at this location that break a reflecting beam as the bags dispense into the open-topped shipping case. A signal is then given to the conveyor for the filled case to index downline for top sealing as an empty, open-topped case moves into loading position. Traffic control air cylinders allow the filled cases to flow toward a central palletizing area where they're top-sealed on the Little David LD2 semi-automatic sealer. Palletizing is still a manual process, but that could change, too, Davidson says. "Since we can have cases of nine different types of products coming down the line, we have to sort them. Sorting of the cases is still done by operators, but with product demand increasing at full force, we might have to automate that at some point."
Making strides for the future
Alba says its broad-based product line and ever-improving packaging efficiencies will allow it "to continue to compete long-term in the cost-conscious healthcare marketplace." The successful, more streamlined packaging operation runs at a swifter pace, helping to keep the products on even footing, and boosting the number of products produced each day to 36,000-dozen packs, up from a previous average of 25,000-dozen packs, reports Davidson. "As we become more proficient with this kind of packaging equipment, we'll eventually upgrade or add more packaging lines."
More information is available:
Baggers: Rennco, Inc., 800/409-5225. Circle No. 248.
Equipment distributor/representative, PE bag film supplier: Associated Packaging, 864/588-6991. Circle No. 249.
Pick-and-place feeders: Nalle Automation Systems, LLC, 865/691-5072. Circle No. 250.
Conveyor distributor: Advanced Handling Systems, 865/380-0504. Circle No. 251.
Cleated belt conveyors: QC Industries, 513/753-6000. Circle No. 252.
Conveyor controls: ACS, 865/691-0474. Circle No. 253.
Case erectors, tape sealers: Loveshaw Corp., 800/572-3434. Circle No. 254.
PE film: Buckeye Packaging, 330/935-0301. Circle No. 255.
PLCs, controls: Allen-Bradley Co., 414/382-2000. Circle No. 256.
Sign up for the Packaging Digest News & Insights newsletter.
You May Also Like
---