Plastic components showcase P&G skincare
Plastic components showcase P&G skincare
In the world of skincare packaging, it's a given that packagers and marketers must creatively distinguish products amidst fierce competition by offering striking containers with beautiful graphics. For Procter & Gamble (P&G) Cincinnati, which is introducing the new Olay® Regenerist line as a breakthrough in skincare, equally breakthrough packaging that combines science with beauty, functionality and eye appeal.
In mid-March, P&G nationally launched the Olay Regenerist line, which it says signals a new approach to anti-aging skincare. Formulated with an exclusive amino-peptide complex that P&G says is proven to regenerate the skin's appearance, Regenerist works to hydrate the skin and replenish its outer layer, regenerating damaged skin cells to reveal newer skin.
Selling for $17.99 to $18.99, the line includes three formulas bottled in slim, injection-molded polypropylene containers that mesh a sophisticated packaging style with key product information. The products include a 1.7-oz Daily Regenerating Serum–the most concentrated in the line–a 1.7-oz Perfecting Cream, which provides intense hydration, and a 2.5-oz Enhancing Lotion with UV Protection, which provides daily UV protection of SPF 15.
The custom, proprietary bottles have a matte-white finish, glossy black dispensing fitments and smoky-toned plastic overcaps. The primary containers include two tapered pump dispensers and a tall, round jar with a curvaceous disk-top pump for the cream. All three bottles are showcased in a trio of distinctive, clear plastic sleeves created and produced by AGI/Klearfold. Folded, scored and glued into an elliptical shape, the unusually printed clear film sleeves, with their attention to detail and dimensionality, showcase the bottles in a way that's key to the line's substantial shelf-appeal.
Top-shelf look
"Olay redefined anti-aging a few years ago with the Total Effects boutique, and we're continuing that trend with Regenerist, the next step in anti-aging," explains P&G's Noelle Fitzgerald, product development section head for the Olay Regenerist project. "The concepts behind Regenerist include the idea of regeneration, so there's a lot of movement involved in the packaging, with oval designs and other elements that were a challenge to bring to life in a way that's both cost-effective and beautiful, so that they really pop on-shelf. We wanted to highlight the primary containers, because a lot of thought went into their shapes."
Many months in development, the products are, no doubt, high-tech. To effectively capture their unique skin-enhancing and cellular regeneration benefits, P&G engaged the help of Webb Scarlett for structural packaging design input as well as Libby Perszyk Kathman (LPK) to facilitate "brand expression" and graphics. P&G's packaging team says the packaging project took about 12 months to complete, from initial design concepts to production.
Both sleeve structure and bottle graphics make use of elliptical, cellular shapes, which are pervasive throughout the packaging, to represent how the product works to regenerate skin from the inside out, P&G relates. An elliptical shape encircles the Olay Regenerist nomenclature on the bottle labels. The slogan, "regenerates skin's appearance, one cell at a time," is printed at the bottom of each sleeve, reinforcing the restorative message.
For the unique outer sleeves, AGI/Klearfold produces and prints the colorful containers using a glossy, transparent 14-mil amorphous polyethylene terephthalate (APET) rollstock to merge form, color and convenience. The APET was chosen for its rigidity, environmental friendliness and durability. Each sleeve is dimensionally different from the others, in order to accommodate the different bottle sizes and shapes.
The ingenious sleeves look simple enough, but are in fact quite complicated, and make the primary containers appear as if they're floating inside, when they're actually secured by top and bottom plugs molded in the same elliptical shapes. Each is sealed with a pair of friction-fit top and bottom end plugs that not only provides top and bottom closure but also seats the primary containers, preventing them from shifting, and provides a platform on which to stabilize and display them at an optimum height.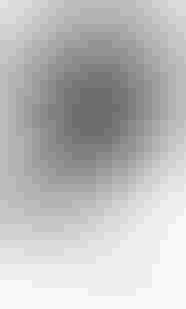 Injection-molded by AGI affiliate Poly-Matrix, the 40-mil plugs are made of a translucent polypropylene that proves not only to be functional and durable but is also cost-competitive with thermoformed inserts. "We also get consistent detail with these injection-molded parts," says Debra Gehring, principal researcher, package development at P&G.
The plugs work with tabs die-cut into the tops and bottoms of the sleeves to release the bottles from the packages. To open the packages, the user grasps the top plug, which is molded to fit over the bottle closure, twists it clockwise and pulls. The sleeves expand and "give," allowing the plugs to release from the package.
Innovative effects
Elliptical and oval shapes abound in the sleeve graphics to convey the product's cellular regeneration theme. Each sleeve's main label panel features a large, clear window through which the primary containers can be seen, but only partially, as an unusual oval-shaped shadow effect hides the bottom half of each bottle inside, adding an air of mystery, yet inviting consumers to look more closely at the packages.
Other bold uses of black, as well as metallic gold and colorful interlinked circle elements are presented both inside and out of the sleeve, as another deep black oval printed on the interior of the sleeve provides a backdrop for the stark, matte-white containers. The Olay Regenerist brand logo is realized on top of the black shadow in gold and is partially encircled with a blue ring, accented by a red dot. The Olay brand icon appears in black and gold in the center of each sleeve, and black bands enhance the reversed-out bright white type below the window.
"The shadow practically hides the bottle labels," says Ty Martin, senior engineer, package development. "We knew the sleeve artwork was going to include branding on the front, with the Olay Regenerist logo, the Olay [Madonna] logo and the oval graphic, so we didn't want the bottle labels to compete with it, as the bottle labels would appear right behind the sleeve artwork so that the oval shadow screen-printed on the front blocks out the bottle label, while the white bottle shows through."
An eye-popping, multicolored circle- pattern design repeated on the front and interior of each of the APET sleeves is sure to lure consumers. The interlinked circle graphic, in warm shades of red, orange, peach and purple, adds a sharp contrast to the opaque black bands, signifying strength and structure, according to LPK's Liz Grubow, global creative director of beauty care, and reinforces the products' tech-savvy positioning. The circle pattern is displayed on the outside face panel and inside the sleeve, on the back panel, above a deep, black oval, that a three-dimensional look.
"Olay Regenerist is rooted in science, but focused on transforming beauty," notes Grubow. "Our design challenge was to communicate the credible scientific aspect of the product, coupled with messages of renewal, beauty and approachability, while leveraging the power of the Olay brand equity."
Fitzgerald emphasizes that P&G and AGI/Klearfold built these elements into the initial design concepts. "The skincare shelves today are a sea of white. This secondary sleeve really pops on the shelf."
Single-pass printing in 11 colors
At its converting facility in Louisa, VA, AGI/Klearfold prints the sleeve material on both sides in a whopping 11 colors with UV inks on an Aquaflex Producer web-fed flexo press, modified to incorporate two rotary screen-printing stations (only one station is used in this project). Combination rotary screen and flexo printing are followed by UV curing after each station.
"We developed a way to pull this together to sequence all of the graphics," explains AGI/Klearfold printing manager Dan Reilly. "We were able to configure a web path to enable us to print by rotary screen and still utilize all ten flexo decks."
Screen printing the sleeve in white provides the opacity and richness P&G was after, while it allows the product copy to jump from the reversed-out rich, deep black flexo printing on the lower main panel and back panel, Reilly explains. "This screening works without influencing the process design on the inside of the package, which shows through to the outside. We use digital flexo plates to get clean, sharp, reversed-out type. We were combining the Madonna icon in the center of the sleeve with the solid black, so we held the screen of the Madonna illustration but used a few tricks to achieve a light screen on the illustration, but still get a dense black around the rest of the package."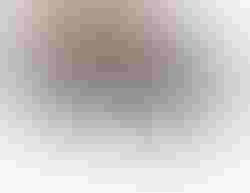 Reilly says black UV inks are somewhat difficult to cure. "We had to use several tricks of the trade to get them to cure and get a smooth wetout on the rotary screen and to prevent halo effects around the reverse type. We worked with several ink companies to get a very dense, solid black, but one that still allows us to run a very thin ink film that would print that shadow effect."
The sleeves are printed on both sides, six-up, before they're transferred to the finishing department to be die-cut, creased and glued in one path. During the folding/gluing process, AGI/Klearfold also applies an anti-theft security tag to the interior of each sleeve. A flap a little more than 1 in. wide that runs the length of the back of each sleeve is then hot melt-glued closed. "There were some technical hurdles," Reilly tells PD. "We had to maintain the integrity of the plastic sheet as it was being printed and converted."
More than just cosmetic
Martin says he's pleased with the results of the 11-color APET sleeve, as APET can sometimes be a challenge to work with, since it can be brittle and somewhat resistant to ink adhesion.
Adds Gehring: "Perhaps the biggest hurdle associated with APET is the generous laydown of ink used in the printing. This may be the first time such an amount of ink has been printed on such a plastic material."
Martin goes on to say while other suppliers can combination-print, AGI/Klearfold was possibly the only rigid-plastic carton converter the company found that could combine crisp UV flexo with rotary screen printing for a total of 11 colors, all in one pass.
"Flexo printing helped keep costs lower while providing the graphics we wanted," Gehring continues. "Despite the technical hurdles, AGI/Klearfold helped surmount them in terms of getting the printing right and ensuring that the sleeve was durable and strong enough to hold up in distribution."
The packages are currently assembled at one North American plant, though P&G says it has recently initiated production for the U.K. in Europe. "Eventually, we will be producing these in Asia as well, so there will be at least three different P&G sites on three continents producing this product," Martin says.
Even though the Olay Regenerist packages state that "Olay Regenerist regenerates skin's appearance without such drastic measures as chemical peels, cosmetic surgery or laser," the lotions and cream do not carry a drastic price tag, compared to other premium creams. What they do have is a department-store look, though the products are conveniently marketed in food, drug and mass-merchandise retail outlets.
Martin says that Olay Regenerist might be premium priced for such distribution, but is worth it. "It warrants the kind of price retailers would be asking. We wanted the appearance to fit with the Olay brand equity and communicate that it's an anti-aging type of product and that it stand out on-shelf as something new and different. We didn't want it to get lost in the mix and look ordinary."
Balancing glamour and high performance, the packaging seems to reflect the products it contains and consumers don't seem to mind paying a premium price point. Sales so far have been good, Fitzgerald points out. "Regenerist is doing well on the market so far. The consumer and market responses so far have been exceptional, definitely a testimony to the primary and secondary packaging and getting the consumers' attention at-shelf. The market response is exceeding expectations at this time."
More information is available:
Outer package: AGI/Klearfold, a MeadWestvaco resource, 877/918-3023. Circle No. 223.
Molded plugs: Poly-Matrix a part of AGI Media Packaging, 413/499-3550. Circle No. 224.
Graphics: Libby Perszyk Kathman, 513/241-6401. Circle No. 225.
Structural assistance: Webb Scarlett, Inc., 312/575-0700. Circle No. 226.
Press: Chromas/Aquaflex, 877/247-6627. Circle No. 227.
Sign up for the Packaging Digest News & Insights newsletter.
You May Also Like
---