Dedicated to fast turnaround
Dedicated to fast turnaround
Steri-Pharma label receiving
Steri-Pharma LLC enjoys all the benefits of an in-house label printing operation without any of the hassles. The contract manufacturer of sterile and non-sterile cephalosporin antibiotics for hospitals and veterinary use has a "close" relationship with its label supplier, HP Mile, who leases space at the company's Syracuse, NY, manufacturing plant.

Site director Mark Sweeney explains the main rewards of fast turnaround on labels: "It's a great convenience having them right here. We don't have the outlay of a lot of equipment. And we have a good working group. It's an interesting process."

But the just-in-time process offers Steri-Pharma several advantages in lower costs and efficiencies: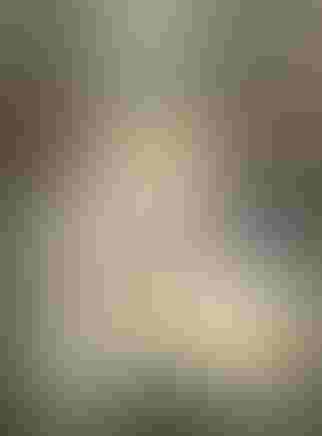 Steri-Pharma vials
• Because the company is able to receive labels on demand, lot numbers and expiration dates are preprinted on all primary pack labels based on the upcoming production schedule. This saves Steri-Pharma from having to add this information during packaging and eliminates the requisite coding and inspection steps (and equipment) on the line, which contributes to fast turnaround for its customers.

• Additionally, the timely process cuts down on label inventory and all its associated costs.

• And the system is sustainable. It curbs material waste and all its financial drain by eliminating obsolete labels. Plus, with both companies in the same building, there's no shipping and labels are delivered in locked rolling cages instead of cases.

• Through on-the-spot consultations with HP Mile, Steri-Pharma is able to quickly produce new label designs, sometimes within hours.

All this adds up, making it easier for Steri-Pharma to quantify its value-added services to customers.

What is the process?
The Netflix of pharmaceutical labeling, HP Mile takes the concept of on demand to the max. It assigns dedicated work cells—people and equipment—to each customer. This enables the ISO 9001:2008-certified and GMP-compliant company to guarantee a turnaround of one to two days on label orders with no up-charge.

A team is comprised of a pressman, two or three inspectors, a supervisor and a customer liaison. According to Michael (Mike) Brady, president of HP Mile, these people make the same labels for the same customer repeatedly. "This ensures consistent quality. The customer liaison gets to know their customer's business and needs very well, often knowing what the customer will need weeks in advance of any orders," Brady says, also noting that ongoing digital communications play a role. "Most of our customers give us visibility into their purchasing systems and/or production schedules."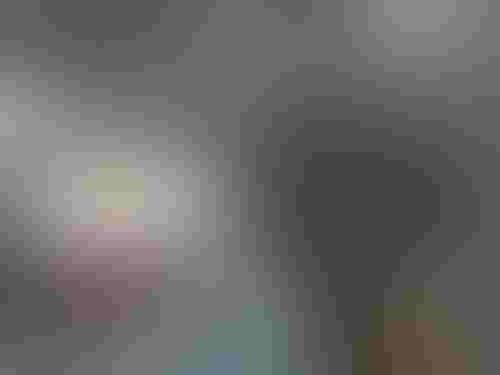 Steri-Pharma labeler
This kind of insight lets HP Mile run a lean shop, too. "We put our vendors onto a tight turnaround, too, so our inventory is low," Brady explains. "We have advance notice of what materials we're going to need, which helps us plan our purchases cost effectively. We have streamlined our purchasing processes, too, which allows us to be more efficient. For example, we have 'run and hold' programs in place with our major paper suppliers where we can typically have material next day when needed."

Because HP Mile runs an efficient operation, customers are not paying for assets to sit there. "Customers have told us they've saved 25 to 30 percent on the cost of labels because of this process and the way we do business," Brady says.

The system is also set up to handle short runs, such as a couple hundred labels. Brady says, "We'll do whatever the customer needs. We've delivered 10 labels. We like the 500,000 label run because it's more efficient, but we will do whatever our customer tells us to do...and when they tell us to do it."

Andy Mather, Steri-Pharma's director of production, admits that this is true. "We tend to throw HP Mile a few curve balls and they always get it done with a smile," Mather says.

Although the Steri-Pharma/HP Mile all-in-one-site situation is nice, distance doesn't really matter. HP Mile gives the same service to all its customers, including a medical-device manufacturer all the way across the country in California. "Ultimately, the situation with Steri-Pharma is the best. There's no shipping because they're right downstairs and we've got complete communication," Brady says. "But it's not necessary. We provide the same level of service via their own dedicated work cell."

How does it work?
Steri-Pharma gets all its finished unit labels from HP Mile. This means labeling for glass vials, syringes, cartons, pails and cases, as well as pallet tags, and ID stickers for material tracking in the warehouse and quality-control release labels.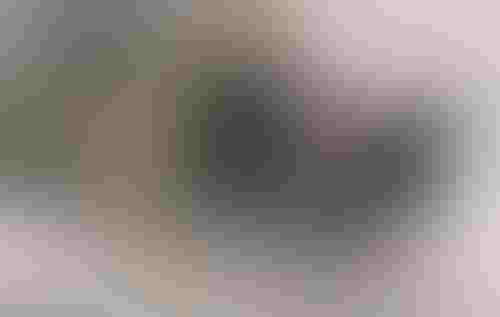 HP Mile flexo printer
HP Mile leases nearly half of the third floor or about 3,000 sq ft for label printing, inspection and finishing. It prints paper and film labels on a Nilpeter FB flexographic 6-color press, using UV or water-based inks, depending on what's needed. Although this equipment is dedicated to running labels for Steri-Pharma, it can be used as a redundant production location for other customers, if needed (a key point for the pharmaceutical market).

As Steri-Pharma prepares for production, it orders labels from HP Mile. Approved artwork files include lot numbers and expiration dates. By printing this data using the flexo press, in-line with all the other copy, Steri-Pharma ensures clear, neat, sharp type.

Mather reiterates, "From a production standpoint, the single most important advancement for cost savings is the preprinted lot and expiration dates. We save all the printing equipment online—and all of the vision systems required to verify that."

HP Mile checks labels immediately after printing using both human and machine inspection. A fleyeVision Pharma Control System on its Omega SR1300 slitter/rewinder from AB Graphic Intl. compares each label to a stored image of a good label at speeds up to 1,000 images/min. As a secondary quality-control step, HP Mile prints sequential numbers on the back liner of each label. "With the labels we produce in the pharmaceutical world, it's either 100 percent or it's a failure," Brady says. "We take the extra steps to ensure that they're 100 percent correct."

Seems like old times
Sweeney remembers that, in the past, a lot of pharmaceutical companies used to have in-house label printing to control the process, but eventually found it was better—fewer headaches and less costly—to contract it out. "We brought it back in-house and have the best of both worlds," Sweeney says.

Mather sums it up this way: "We see all the advantages of in-house printing without the liability.
More information is available:
A B Graphic Intl. Ltd., 909-230-6640.
www.abgint.com
HP Mile, 315-474-0100.
www.hpmile.com
Allen Datagraph Systems Inc., iTech Label Solutions, 800-258-6360.
www.itechlabel.com
Nilpeter, 513-489-4400.
www.nilpeter.com
Steri-Pharma LLC, 315-473-7180.
www.steri-pharma.com

Steri-Pharma's Syracuse stats
Steri-Pharma previously produced its cephalosporin antibiotics in Brazil and Italy for sale in the U.S. Then in 2009, the company bought the Syracuse, NY, plant from Hanford Pharmaceuticals to gain local distribution.

The facility employs 41 people, but Sweeney expects to be up to 50 by the end of this year, "if not more," he says, explaining that more products are going through approvals for a site change. As products are cleared for this location, production will increase and they'll hire the necessary staff to handle the added workload.

The 68,000-sq-ft building is assigned this way: manufacturing, 40,000 sq ft; warehouse, 20,000; laboratory, 1,000; and office/miscellaneous, 7,000. It houses two production lines:

1. The sterile vial line produces 21 SKUs (for now) of injectible antibiotics for hospitals and vet use in a Class 100 filling room. It handles Type 1 or Type 3 glass vials in 10-, 15-, 20-, 50- and 100-mL sizes. The line has an annual capacity of 25 million vials per year per shift, but Steri-Pharma estimates that actual 2011 production for one 8-hr shift will be in the 7 to 8 million range. The company expects that to double in 2012. Vials are packed into cartons, which are then placed into cases. 

2. The non-sterile syringe line currently runs six SKUs of an over-the-counter veterinary product used to treat the cattle infection mastitis in a controlled environment with HEPA air filters. It handles one standard 10-mL HDPE syringe. Annual production capacity is 21 million syringes per year, working one 10-hr shift. Syringes are packed 12 to a carton or, for one customer, 144 to a pail. Mather explains that this veterinary customer asked for a portable bulk package, so they came up with a pail that can be carried to the field, used and reused.

The relatively low number of product SKUs doesn't reflect Steri-Pharma's complex labeling operation, which multiplies with each of its contract customers.

Designed for speed
Streamlined label development gives Steri-Pharma a competitive edge, says Syracuse site director Sweeney. "Using HP [Mile] and our label coordinator, we go to our customers and within hours they can have a design template for their label with all the information they want on there. That's a tremendous advantage we have, being able to turn around label changes so quickly," Sweeney says.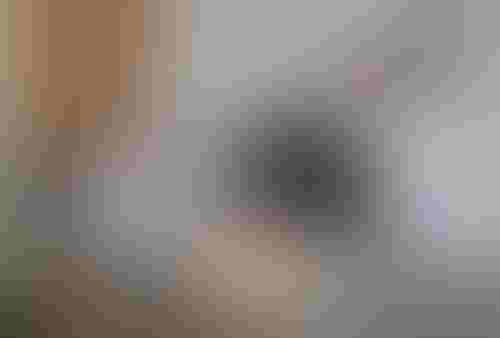 Steri-Pharma label design consultation
Once Steri-Pharma's customer signs off on a design, making sure the label matches the product's filing with the FDA, the final PDF file is sent to HP Mile as the trigger for them to make flexo printing plates and run the order.

Speed and flexibility are essential for short runs. Kyle Bailey, Steri-Pharma's manager of quality assurance, describes a recent project. "We had a situation for a system we use maybe twice a year. So we only needed like 100 labels, which will probably last us for the next 10 years easily. I was able to draw up on piece of paper for Mike's staff what I was looking for. They were able to turn things around in a day or two."

HP Mile's Brady says, "We also make samples for them to approve on our Axxis digital printer. This collaboration leads to quick approvals, and a clear understanding of customer wishes. It eliminates all of the time-wasting back and forth, as well as misunderstandings."

Teamwork allows Steri-Pharma to quickly do more than just vanilla-type projects, as well as special customer requests. For example, when a veterinary customer asked for a label with duplicate Spanish copy, HP Mile modified its equipment upstairs to handle an extended-content design. In the field, migrant workers lift the top ply to read the Spanish text underneath.

They're also able to accommodate requests for variable print with press time on the iTech Label Solutions Axxis digital unit from Allen Datagraph Systems Inc. One customer recently asked for case labels that identified each case in an order (Case 1 of 22, for example).

.
Sign up for the Packaging Digest News & Insights newsletter.
You May Also Like
---