Joint venture for Joint Juice
Joint venture for Joint Juice
Joint Juice, Inc., San Francisco, and Rexam Beverage Can Americas, Chicago, are collaborating to provide a consumer-friendly package for Joint Juice's namesake product, a glucosamine-enhanced dietary supplement formulated to help maintain healthy joints. Designed to offer health-conscious consumers their daily dose of glucosamine, the product is now available in a handy, squat, 8-oz aluminum can that was recently downsized from a premium, 11-oz glass bottle.
The drink packs what Joint Juice, Inc. says is a full day's supply of the joint-strengthening amino derivative?1,500 mg of glucosamine?in every ready-to-drink-from can. To make and decorate the new can, Joint Juice asked Rexam BCA, one of the world's largest, most sophisticated beverage canmakers and a global force in consumer packaging, to flex its converting muscles.
One of six powerful sectors of Rexam PLC, a $5-billion global consumer packaging company, Rexam BCA has truly boned up on its converting strengths. With the only company-owned and integrated Beverage Technology Center and state-of-the-art Graphic Arts/Printing Plate (GAPP) operation, Rexam BCA stands second to none with its substantial prepress expertise and complete engraving and platemaking services, and its cache of design preservation and storage capabilities. Working with beverage can customers big and small, Rexam BCA can provide true partnering services, says Al Bohner, senior vp, manufacturing, research and development, and engineering, for Rexam BCA.
"We have the only company-owned, completely integrated technology operation, complete with a pilot manufacturing line, to set graphic tolerance and color standards confidentially with customers, before mass production," he says.

Stamped aluminum cups travel through the Whitehouse, OH, canmaking operation, left, and head to a series of bodymakers that stretch and shape the aluminum into the small can size configuration. Cans, right, exit the decorator before they?re sent through an oven that bakes and cures the varnish and ink. After the interiors are sprayed, a second oven administers the final cure.
 
That puts Joint Juice in good company. Located in Elk Grove Village, IL, the unique Beverage Tech Center operation has worked with nearly every leading beverage company, setting the standards for such big players as Coca-Cola North America, among others (to learn more about this most impressive center, see PD, May 2002, p. 78 or visit www.packagingdigest.com).
Can size offers opportunities, advantages
Joint Juice's new 8-oz drawn-and-ironed 211/307 can with a 202 end replaces a tall, clear, premium glass bottle that was attractively decorated with a shrink-sleeve label. Multipacked in groups of six, unitized in a colorfully printed SBS carton from Pacific Southwest Container, the cans are produced and four-color litho-printed by Rexam BCA's Whitehouse, OH, canmaking/decorating facility.
The six-pack carton is easier for many target consumers to carry, and the cans themselves are more convenient to handle and drink from, says Joint Juice director of communications/consumer relations, Lance Palumbo. Since the dose of glucosamine is most effective if taken at one time, the contents of the downsized, 8-oz can prove easier to consume than those of the 11-oz bottle, he says.
The former 11-oz bottle was a bit pricey, Palumbo admits. "While the bottle sold for about $1.99, the can retails for approximately ninety-nine cents, though it's actually sold in six-packs for about $5.99. The can is less-expensive all the way around. It's lighter in weight, which saves on freight costs, it's easier to stack, and it opens up all sorts of opportunities we didn't have before."
Introduced in early 2003, the downsized can was one of the first available for a supplement product, Joint Juice, Inc. says. It's also readily recyclable, and holds and retains carbonation and freshness for more than a year, regardless of environmental factors such as refrigeration or storage at ambient temperatures, Palumbo notes. Adds Jack Robertson, Joint Juice's chief operating officer, "Adopting the aluminum can was a natural step for us, as we sought an attractive, economical and versatile package. This [can] is especially useful as the product multipacks allow further stocking and marketing options for retailers and guaranteed freshness and effectiveness for consumers."
Reformulated with the right concentration of glucosamine appropriate for an 8-oz quantity of beverage, the product, in three flavors?lemon iced tea, orange tangerine and tropical?is copacked by the 7-Up Bottling Co. in Modesto, CA, which also filled the earlier Joint Juice bottles. The copacker now runs the cans on a new high-speed line that outputs nearly 1,000 cans/min.
Palumbo says Joint Juice favored the aluminum can over a smaller glass bottle because it, too, was expensive, but also for stackability. "The former glass bottle didn't really pack or stack well," he tells PD. "Supplement buyers may want to purchase larger supplies, say a months' worth of product for example, which was nearly impossible to do with the previous package. The can fits all of our requirements. It's lighter, and the multipack is easy to carry."
Adds Greg Brooke, director of communications for Rexam BCA: "The eight-ounce size is the fastest-growing package we produce. Overall, we've experienced more than fifty-percent growth in this can size from 2003 to 2004. We're seeing a movement with soft drink customers into smaller packages, especially for children and also for new brand kickoffs. It gives beverage marketers a way to offer a quick-taste venue with unlimited shelf life and retail stacking options. Consumers are increasingly finding value in these options, enabling the marketers to secure attractive price points on retail shelves."
State-of-the-art tech center
The bones of the Joint Juice 8-oz can project first started at the state-of-the-art Beverage Technology Center in Elk Grove, where Joint Juice, Inc. worked with Rexam BCA's team of talented personnel and sophisticated prepress equipment to replicate the graphics and brand image for the new aluminum container, setting color standards for the new can within its Graphic Arts/Printing Plate operation. The operation often sets the reproduction standards for a package label, which may be used not only by Rexam BCA's own canmaking facilities, of which there are currently a whopping 14 in the U.S., but also by other can converters. As Brooke explains, "Joint Juice gave the Graphic Arts/Printing Plate center the imagery and existing artwork, and the GAPP then established the exact tolerances for the entire manufacturing network to follow?the perfect reproduction match between color and graphics on millions of aluminum cans in the exact same high-quality way."
The 12,000-sq-ft center in Elk Grove produced the engravings and printing plates for the Joint Juice labels, which are color-coded in berry red, orange/yellow or pink, depending on the different drink flavor. The current graphics also feature a bottom-up gradation of the background color that becomes more transparent as it reaches the neck of the can. The Joint Juice logo appears in black alongside the "double-J" Joint Juice logo and an illustration below of the fruit that flavors the drink.
Creating beverage cans for the project on its one-of-a-kind pilot can production line, the Beverage Tech Center provides customers with small-volume beverage container production runs using a necker/ flanger built in-house and a multicolor decorator that allows customers big and small to fine-tune designs before they go to mass production. "For just about all new label production runs, we offer the customer the opportunity to view the results first on the pilot line," Bohner tells PD. The Beverage Tech Center's comprehensive GAPP operation reproduced the artwork, according to Joint Juice's requirements, computer-matching it to brand and color specifications, with complete prepress, engraving and printing plate services.
Color variances were corrected to prevent color changes during the actual printing process. Separations provided by Joint Juice were sent to the facility for inspection, and separated films were inspected and scrupulously checked for pinholes and trapping accuracy. Inks were also selected and specified, and the center collaborated with ink suppliers to determine the proper formulations for each color in the design.
Digital proofs were made from the artwork, the designs were finalized (designs can be stored digitally both on- and offsite) and upon approval, the plates were created. Printing standards for the finished designs were then communicated to the Rexam BCA manufacturing plant in Whitehouse, within the network that produces and decorates the can.
The final images were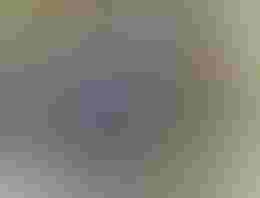 Can bodies, left, are inspected several times to ensure all tolerances, width and size quality levels are met. The squat, 8-oz can is decorated, right, on a six-color press that applies the Joint Juice labels in one of three color schemes.
 
transferred from computer to metal on the pilot line. If a customer desires, the can designs may be reproduced again and again on the pilot line to reach the right results. Should a customer want to modify a design, which Palumbo says will be the case with the Joint Juice packaging graphics in the next few months, it can be done quickly and be back to the canmaking plant the same day, says Lewis.
The 240,000-sq-ft canmaking facility in Whitehouse operates one of Rexam BCA's 8-oz can production lines. Says plant manager, Dave Lewis, "We can be in production within a day of approvals and as soon as we get customer-approved printing plates from the GAPP."
That was the case with Joint Juice, points out Stewart Irving, Joint Juice's vp of operations. Existing artwork adapted from the bottle labels was used for the new cans and was approved quickly. "The center does a great job," he notes. "It's very convenient to work with. We pretty much transferred existing graphics to their art department, and the center made the printing plates and a container sample, and we were ready to go."
One-third of production
While the squat can size seems to be atypical of the larger beverage can sizes the plant has been seeing a demand for within the past several years, from 12 to 24-oz cans. "The major growth today is in the eight-ounce size," Lewis observes. "We can make twelve-ounce cans on that particular converting line, but the volume in the eight-ounce size is really growing quickly. Eight-ounce can production now constitutes nearly one-third of production here."
Bodymaking
The Whitehouse, canmaking/decorating facility produces cans for customers across the country. "We don't serve any one particular region," Lewis points out. "If someone wants an eight-ounce can, we can partner with them to make that happen."
One of three canmaking lines at the facility, the 8-oz line begins production as an ASC double-arm uncoiler unrolls aluminum sheet from either ARCO Aluminum or Alcan into an ASC canstock lubricator, where the stock is prepared for cupping and drawing. Next, the canstock is fed into a Minster Machine 12-out cupping press that stamps or punches the sheet into cups that are then transferred to be stretched and shaped into the desired can configuration by a number of Standun bodymakers from Sequa Can Machinery.
The can bodies are shaped, drawn and ironed through the bodymaking process in much the same way as the 12-oz cans are on the other two lines, Lewis says, except for the fact that they use less metal. The rims are trimmed to the proper height by an Irvin can trimmer from Belvac, and the bottoms are formed using domers from suppliers, including Pride. The scrap is also recycled.
The cans next convey to the upper level of the plant to a multilane conveying table. The multilane conveyor transports the cans through a multistage washing system from Cincinnati Industrial Machinery that preps them for printing. Though they look like they're touching, the cans are evenly spaced on an air table so that the rinser can clean the sides of the formed cans, ridding them of the previously applied lubricant before their outer surfaces are chemically treated to promote ink adhesion and machinability. "We try to keep them moving as tightly as we can so that they don't topple through the washer," Lewis tells PD. "The treatment is actually etching the aluminum slightly, to roughen the surface to ready it for printing."
Throughout production, there are various quality checks that occur to monitor can dimensions, thickness, structural integrity and more. "There are no automated checks at this point," Lewis adds. "The checks are done by operators on the line."
The 8-oz cans then convey to a Rutherford decorator from Sequa, which is equipped with the Joint Juice printing plates (unexposed photopolymer plates provided by Toray are engraved and produced at the Elk Grove Beverage Tech Center/GAPP) and transparent and opaque inks from INX Intl., Inc. The press has the capability of decorating cans in up to six colors before the cans are then overcoated with a durable varnish from PPG that adds gloss and guards the ink from scuffing.
"In this case, the actual print runs are fairly straightforward for the Joint Juice can," Lewis says. "The labels aren't too complicated."
Next, the can bodies are removed from the decorator mandrel by suction cups and are deposited onto a pin chain conveyor to a Ross oven from Ross Air Systems that cures the varnish and the ink. The can interiors are then coated by Rexam-built sprayers to protect the product contents from contacting the aluminum before what's called an inside bake oven, also from Ross, gives the coating and outside varnish a final cure, at temperatures of 400 deg F.
The cans then enter a Rexam-built necker/flanger, which reduces the neck diameter to the 202 size.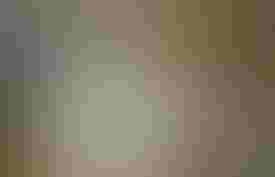 Decorated, varnished can bodies, left, are removed from the decorating mandrel and are deposited onto a pin chain conveyor and through an oven.
 
Wax is applied to the can first, which provides lubrication, and then the metal neck is readied for flanging. The last operation is flangemaking, where the metal rim of the can is bent over, forming a flange to accommodate the can end, which is also furnished by Rexam BCA.
The cans are then transferred to an automatic Borden/Alcoa light tester that detects pinholes, cracks and other imperfections in each can. An image of what the can should look like is further analyzed by an Extractor camera-based inspection system from Pressco Technology that checks the outside of the can for additional problems that would prompt a can to be rejected from the production line. If the can passes inspection, it conveys to the stacking/palletizing area.
Stacking, palletizing, strapping
Finished, decorated cans are palletized by one of three dedicated, high-level palletizers from Goldco Industries, that forms loads holding an amazing 11,281 cans, 29 layers high. The palletizers can palletize loads at speeds of as many as 10 pallets/hr. The 8-oz line currently generates more than six truckloads of decorated aluminum cans daily. Quality checks continue as finished can bodies are inspected before being automatically conveyed en masse to the palletizing system, which stacks them in layers on the pallets, sequencing automatically. When needed, a pallet is raised to the level of an accumulation table, and a stagger arm sweeps a layer of cans onto the pallet. The layer is squared up for a tight fit, as a slipsheet is inserted on top of the layer. The pallet then descends, allowing another layer to be swept on top, until the pallet load is complete.
Lewis points out a few other size advantages of the 8-oz can: "They're shorter, so more of them can be stacked on a pallet, and more can be shipped." The full loads are discharged and capped with a top frame and are then strapped for an extra measure of security by a Cyklop strapping system. Since standard pallet loads of cans are 21 layers high, the extremely tall loads may be vulnerable to sudden movements. To prevent problems, the strapper holds the load in place while wrapping a plastic strap around the load and pulling it tight for a snug fit.
The load is then transferred by forklift to the storage warehouse, which Lewis says is one of the smaller units in the network when it comes to storage space. It can hold approximately 25 million to 27 million cans.
Bubbling with enthusiasm
Joint Juice, Inc. is quite pleased with the work it has done with Rexam BCA, Palumbo says. "We've been most impressed with our collaboration with Rexam BCA. When we soon modify the package graphics in hopes of better defining Joint Juice in the pharmacy category, Rexam BCA will help us do that. From our perspective, we've been thrilled with the work they've done. This was a big [packaging] change for us. We weren't sure what to expect within this fairly small market, but the can has been overwhelmingly successful."
More information is available:
Can converting, engraving, platemaking, can sprayers, conveyors, necker/flangers: Rexam Beverage Can Americas, 773/399-3000. www.rexam.com. Circle No. 224.
Uncoiler, canstock lubricator: ASC Machine Tools, Inc., 509/534-6600. www.ascmt.com. Circle No. 225.
Aluminum: Alcan, Inc., 49 6196 407 143. www.alcan.com. Circle No. 226.
Aluminum: ARCO Aluminum, Inc., 800/662-2726. Circle No. 227.
Cupping press: The Minster Machine Co., 419/628-2331. www.minster.com. Circle No. 228.
Bodymakers, can decorator: Sequa Can Machinery, Inc., 201/343-1122. www.sequacan.com. Circle No. 229.
Can trimmer: Belvac Production Machinery, Inc., 800/423-5822. Circle No. 230.
Domer: Pride Engineering, Inc., 763/427-6250. Circle No. 231.
Washing/rinsing system: Cincinnati Industrial Machinery, 800-677-0076. www.cinind.com. Circle No. 232.
Can varnish: PPG Industries, Inc., 412/434-3934. www.ppg.com. Circle No. 233.
Plates: Toray (Industries) America, 212/697-8150. www.torayusa.com. Circle No. 234.
Ink: INX Intl. Ink Co., 800/631-7956. www.inxinternational.com. Circle No. 235.
Ovens: Ross Air Systems, Inc., 732/356-4555. www.rossairsystems.com. Circle No. 236.
Light tester: Alcoa Packaging Machinery, 303/708-9044. www.apm.alcoa.com. Circle No. 237.
Inspection system: Pressco Technology, Inc., 440/498-2600. www.pressco.com. Circle No. 238.
Palletizers: Goldco Industries, Inc., 970/663-4770. www.goldcointernational.com. Circle No. 239.
Strappers: Cyklop GmbH, 49 22 36 602 00. www.cyklop.com. Circle No. 240.
Bottler: 7-Up Bottling Co., 209/521-1777. Circle No. 241.
Cartons: Pacific Southwest Container, 800/772-0444. www.teampsc.com. Circle No. 242.
Sign up for the Packaging Digest News & Insights newsletter.
You May Also Like
---