Printing solution saves money for World Kitchen
Printing solution saves money for World Kitchen
When an 850,000 sq-ft factory is printing 500,000 bar-code labels per month, there is always room to improve production. For World Kitchen, a manufacturer of bakeware, dinnerware and related kitchen and household items based in Reston, VA, a new solution increased production and profitability. The company was experiencing chargebacks from its retailers due to unreadable labels, so World Kitchen was eager to make a change that would solve this profit-eating problem. The company turned to Peak Technologies (www.Peaktech.com), a systems integrator focused on supply-chain automation and inventory management solutions and services, to help enhance its production line and to also help anticipate retailers' future needs.
Peak's first suggestion to World Kitchen was to switch from glue-based to acrylic-based labels. When Peak provided a demonstration of the acrylic-based labels, it was evident that these labels provided the adhesion and print quality that the company was looking for. World Kitchen's glue-based labels often did not adhere properly due to climate conditions, which would cause the glue to deteriorate. In addition, the glue-based labels would smudge easily. If the label rubbed against the sidewalls of the conveyor system, the ink on the label would often smear and the label would be unreadable.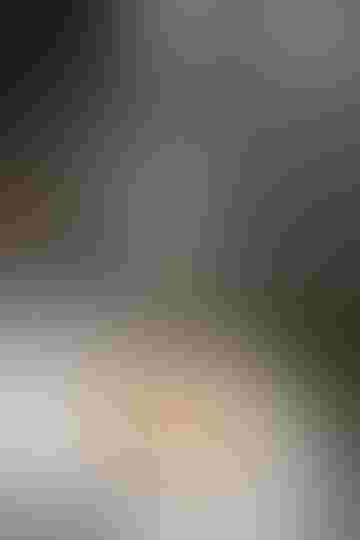 Integrated label and printing solutions achieved with the new labelers enabled World Kitchen to boost its overall cost savings, reduce maintenance and eliminate label-related chargebacks.
Acrylic-based labels offer benefits
With their exceptional print quality and smear resistance on corrugated packaging, the acrylic-based labels are used for a wide variety of applications, including shipping, receiving and box and work-in-process labels. Another benefit of acrylic-based labels is that they are produced from synthetic materials, whereas the glue-based labels are made from natural materials and can be removed with warm water. For World Kitchen, the switch to acrylic-based labels offered stronger adhesion to the company's packaging, relief from print smudging and no temperature requirements. "We were really impressed with the performance of the acrylic-based labels, and we felt that Peak gave us the best overall labeling solution at a competitive price," says Terry Moore, a Level III systems administrator at World Kitchen.
Although the initial switch from glue-based to acrylic-based labels solved the problem of the labels adhering to the packages, chargebacks of $3 per defective label due to print quality and bar-code verification still were an issue. In order to remedy the entire problem, World Kitchen also needed a new printing solution, which Peak addressed with eight new printers with verifiers and radio frequency identification upgradeability. Peak recommended a printed solution that allows World Kitchen to set a minimum bar-code scanability ranging from A to E, where an A grade is the best and an E is almost unreadable. Most major retailers will not accept packages with labels that are below a B. For World Kitchen, grade levels are set at B, but most are printed at A quality. Once the level has been set, a laser reads and grades the bar-code label as it exits the printer. If the label does not meet the set grade level, the printer backtracks and reprints the label. As for print quality, "We don't get a label on our floor that goes below a B. If it's under a B, it gets crossed out and reprinted. Generally, the labels are As," explains Moore.
In addition to the eight printers with bar-code verification, both Peak and World Kitchen anticipated the impending rise of RFID mandates from major retailers. Therefore, the printers provided by Peak were RFID-compliant and only require an upgrade kit for the future incorporation of RFID into World Kitchen's production line. Since the initial installation, World Kitchen has upgraded two of its printers to RFID capability. "We are really very proud of our success with the implementation of RFID," says Moore. "It was incorporated into our system nicely and went over really well with our retailers. It was definitely our biggest success."
Peak also added four print-and-apply labelers to label the company's major bakeware product lines. The print-and-apply systems provide faster, more-accurate label placement, resulting in reduced labor costs and faster production times.
An integrated printing solution
When World Kitchen started implementing the new printers, Peak approached them with a multi-year contract that included the printers, labels and maintenance. The result was a cost savings of about $45,000. "We were locked into one label price for three years, and considering that the cost of labels goes up every year, that was a definite savings," says Moore. World Kitchen also took advantage of Peak's Priority-Gold program, which offers free printheads to any customer that signs a blanket consumables agreement and utilizes Peak for their printer-service contracts. "Print heads cost $700 to $800 each and wear out relatively rapidly, so the decision was an easy one," says Moore.
To date, Peak has provided World Kitchen with an integrated solution that includes 15 label printers, two of which are RFID printers, and four print-and-apply labelers, as well as labels, ribbons, toner and maintenance. There was an added benefit from Peak providing consumables to World Kitchen, because it needed labels of all sizes, as well as toner cartridges. "We have a blanket purchase order, and Peak keeps our inventory fully stocked at all times. The only maintenance we perform is routine tasks, such as replacing print heads," says Moore.
Both types of printers met World Kitchen's needs by boosting overall costsavings, eliminating chargebacks from retailers, reducing maintenance and anticipating retailers' needs to meet RFID mandates. "The thermal printers with RFID capability were exactly what we wanted, says Moore. "It was important that our printers were upgradeable, so that down the road, we could anticipate retailers' changing needs and not have to spend extra money buying all new printers. The extra step was the overall savings by signing a multi-year contract with Peak to be our exclusive supplier.
"Not to mention that the old printers we were using would break down, and we would constantly be changing print heads," explains Moore. "Today, we're able to maintain our production volume, even if we only use half of the printers. The new printers are faster, more user-friendly and require no real maintenance because of their quality." The partnership between World Kitchen and Peak has been successful and continues to be promising.
"We are re-evaluating our need for additional RFID upgradeability," says Moore. "Stock keeping units are getting larger, which means our volume is increasing. In addition, our retailers are adding more distribution centers, so at some point we are going to have to increase the number of printers with RFID capability. We'll definitely be looking to Peak to help us grow."
More information is available:
Sign up for the Packaging Digest News & Insights newsletter.
You May Also Like
---