Quick-change labeler handles bottle variety
Quick-change labeler handles bottle variety
For Preston, WA-based Talking Rain, a producer of bottled water and specialty flavored beverages, the ability to stand out from the crowd is an important key to its success. Quick-changeover labeling equipment from Trine Labelling Systems, an Impaxx company, has enabled Talking Rain to project that dramatic image while still maintaining the production output it needs to satisfy its growing slice of the marketplace.
Located in the foothills of the Cascade Mountains, Talking Rain is blessed with its own mountain spring water source from an aquifer 170 ft below the surface. The water's pure taste is the result of filtration through multiple layers of glacial mineral deposits. The 15-year-old firm delivers this natural product in a dramatic package combining a patented on-the-go Grip® bottle design with eye-catching labels.
"Our packaging is our competitive advantage," states Doug MacLean, president of Talking Rain. "We're fortunate to have great water, but packaging and labeling are our real strengths. We create many innovative, cutting-edge products, and push a bubble that large companies won't jump into right away." Tony Tomlin, vp of operations, says that with the volume of different varieties and sizes, changeovers are his biggest production challenge. "We run anything from 500-mL to 2-L polyethylene terephthalate [PET] bottles with flavors ranging from cranberry to lemon chiffon. That means a significant number of changeovers, and our challenge is to maintain efficiencies, while running all of those different skus."
According to MacLean, that's why Talking Rain recently purchased a second Trine Quick Change 4500 labeler. "When you add up all the bottle sizes, with thirty to thirty-five different labels, ranging from two by six inches to three and a half by nine inches, that's a lot of changes," he says. "One of the beauties of the 4500 labeler is that the control panel is completely touchscreen. We enter the programming for our different labels, and then all the settings are preloaded. When we make a change, we just select what we want depending on what bottle we are running. With this labeler, we can change labels in a minute or less."
Meeting retailer needs
The company produces more than 2 million cases annually at its Preston location, and contracts out production of another 1 million cases for distribution in the Midwest and Eastern U.S. Talking Rain products are sold through distributors in the Western U.S. and to Sam's Club, Wal-Mart and Costco nationwide. Selling to warehouse clubs requires private labeling and special handling to pack a selection of flavors in each case. "We take pride in our operational know-how," MacLean says. "Packing different flavors into one case is done by hand in most companies and is very labor-intensive, but we created an automated 'rainbow' line that packs six flavors in each case."
In addition to its line of bottled still waters, Talking Rain produces a number of other beverages that live up to the innovative look of its packaging. Its sparkling water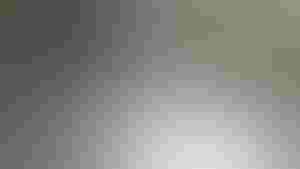 Because of its modular design and quick-release changeparts, the labeler, which runs 35 to 400 containers/min, can be changed over in 30 minutes using only one tool.
is available in a variety of mouth-watering fruit flavors, such as Kiwi-Strawberry and Peach-Nectarine. The exclusive airwater™ beverage line is infused with 100 percent oxygen. A flavored, noncarbonated line called Diet ICE Botanicals™ and Diet ICE Tea Botanicals™ combines the innovative new no-calorie sucrose sweetener Splenda® with fruit flavors and vitamins, minerals and herbal ingredients.
Trine roll-fed labelers can label a wide range of containers from 1/8 in. to 6 in. dia. The speed of the Trine Quick Change 4500 labeler ranges from 35 to 400 containers/min. Because of its modular design and quick-release changeparts, it can be changed over in 30 minutes using only one tool. Its standard electronic registration system means 360-deg graphic registration is accurate every time, regardless of machine speed.
Proven reliability
Trine labelers have been used at Talking Rain since the company was founded in '87. "John Stevens, the company founder, came up with the idea of adding flavors to water, but he did not have a plant, so we worked with a contract bottler," MacLean recalls. "We got acquainted with the labelers through watching their operation."
In the early '90s, a five-acre site in the foothills of the Cascade Mountains became available that had a 55,000-sq-ft warehouse on the property. "It was a perfect opportunity for us to set up our own manufacturing," says MacLean. "We decided to continue using the same equipment and roll-fed labels our contract manufacturer had used, and we bought one of the early generation Quick Change 4500s in '92. We liked the benefit of rapid changeovers because it used to take from two to four hours to switch a large machine."
As time went on, Talking Rain added a wider variety of containers and labels, and they decided that a second machine would be helpful in letting them change lines "virtually on the fly." They chose another Quick Change 4500. "It does a good job, and it's a reliable piece of equipment," says Tomlin. "We got the optional screw feed on the new machine, which synchronizes the infeed and discharge conveyor, so that when the operator changes the line speed, it automatically controls the bottle pressure at the end of the line, which eliminates bottles tipping and jams."
Tomlin adds that the Trine equipment has been extremely reliable. "The machine has performed flawlessly this year," he says. "An hour of downtime can be extremely costly, and these labelers are one of our lesser causes of downtime." However, no matter how good or how well-maintained a piece of equipment is, Tomlin says it eventually could fail. "Being able to fix it is very important," he says. "Once a temperature gauge went out on our 4500, and we were able to quickly locate replacement parts."
MacLean says Talking Rain has found Trine very easy to work with. "Their sales and service personnel are very responsive. If we have had a problem getting a part, they have actually driven it to the airport to get it to us that same day," he says. "I always say that I don't care as much about the equipment as the company behind it. We look for a company that will be very supportive."
More information is available:
Labeler: Trine Labeling Systems, an Impaxx Co., 714/441-1030. Circle No. 201.
Sign up for the Packaging Digest News & Insights newsletter.
You May Also Like
---