Short-run labels deliver big branding
Short-run labels deliver big branding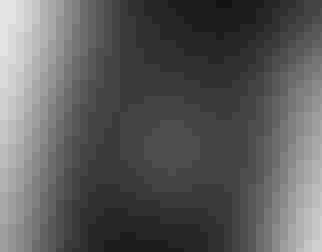 De Los vodka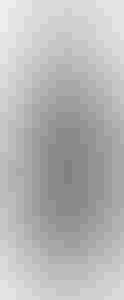 McDowell Label 3
Most Americans know the 21st Amendment best as the amendment that effectively ended prohibition in 1933. But the amendment also proffered great regulatory power over the distribution of alcohol to state governments, and it has been interpreted as giving states broad powers in liquor sales and distribution not only across borders but within.
When the 21st Amendment Enforcement Act, which was introduced on March 9, 1999 by Senator Orrin G. Hatch, was passed, it furthered strengthened the states' abilities to enforce these regulatory powers.
As a result of the amendment, a three-tier system developed that requires many liquor manufacturers to trade first through a wholesaler. It was this amendment that compelled Carlos Guillem to develop sophisticated packaging that would help his hand-crafted vodka get picked up by a wholesaler.
"The 21st Amendment requires us to only sell to a wholesaler, and the wholesaler sells to the liquor store," Guillem, founder of DeLos Vodka, Lewisville, TX. "To get a wholesaler to pick up the label, I designed the name and the black bottle and everything else."
Designing relationships
The liquor originally was distributed in clear glass bottles as gifts for Guillem's friend and family, who played major roles in the development of the brand.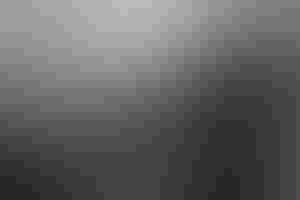 McDowell Label 1
"My wife came up with the idea doing a black bottle that would stand out," Guillem recalls. Clayton Arnold, a friend, used his drafting skills as an architect to create the DeLos logo as a PhotoShop file.
Remembering the one major roadblock in the package design process, Guillem adds, "We looked at buying bottles that are already painted black, and they were just impossible to find." He began researching alternatives and suppliers that could help him explore those options. "I wanted to use somebody local because I knew this was going to be a process working on the details," he remarks.
Local support
One of these suppliers was McDowell Label, a full-service label and package converter that also happened to be a Texas-based business. "We listened to him in detail about his goals and objectives for positioning his brand uniquely independent of the entire category," recalls John McDowell, president of McDowell Label.
McDowell identified three top goals for the job: an overall eye-catching graphic reproduction to maximize shelf presence and branding; opaque, bold whites; and rich, dark blacks. They also discussed the type of decoration that would best help him reach these goals.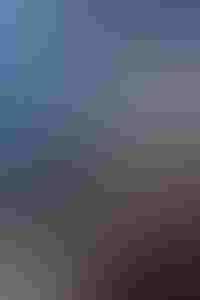 McDowell Label 4
"His initial choice to achieve the design objectives was either painted glass or etching," McDowell recalls. "When he saw the very cost-prohibitive barriers of entry, the inability to achieve the richness in color, and the flexibility to provide velocity to market with various different sizes and various different campaigns, whether it be event marketing, seasonal marketing or adding new flavors to this line, he was very frustrated."
Guillem remarks: "Now we didn't order that much to start, but they treated me like I was putting in a multi-million dollar order. Their customer service is above and beyond anything I've ever seen before. They explained how shrink-labels work and the great things about shrink-labeling."
McDowell Labels also was upfront about some of the reproduction challenges of shrink-label printing. "Blacks have always traditionally been one of the most challenging colors to reproduce," McDowell explains. "Especially with such a dramatic curve like you have from the base of the [DeLos] bottle all the way through, up to the neck. So we did a lot of testing with different types of materials, different grids and actually walked Carlos through a kind of a cradle-to-grave lifecycle of how these materials would perform so that he could identify a bottle shape and size, and a sleeve material that coupled with our printing capability would enable him to have the highest probability of predictability and reproductive success from run to run to run."
The converter then created a prototype package made from Eastman Embrace LV copolymer and printed it using McDowell's proprietary high-density UV printing process. "The very first bottle that they showed me was perfect," Guillem recalls. "The bottle that they presented—the prototype—and what we use today are identical. There have been no changes made."
Material research
Designed to form around highly contoured or complex containers, Eastman Embrace LV copolyster is a halogen-free material that reaches higher early onset temperatures on curves versus those obtained with PVC or OPS while retaining good machine-direction (MD) growth attributes.
"You see companies like DeLos saying, 'I want the glossiest possible label, I want the best print surface, I want a material that grows in the machine direction and I want something that is not frowned upon environmentally,'" Matt Dudas, market development manager at Eastman, remarks. "And you get all those things with Embrace LV."
LV represents a research-and-development investment of two to three years in addition to the research Eastman Chemical had already made for Embrace resin, which launched in 1999. "Until then, people blended PET with PETG and some other materials," Dudas explains. "A lot of people think of PETG film as, let's say, a scrambled egg and Embrace is like an omelet. There are multiple things in Embrace that make it much more valuable than a scrambled egg [PETG], and LV is like omelet supreme, with a more robust characteristic.
"The high shrinkage, up to 70 to 80 percent means not only that you can do high variances between the widest and the narrowest portions of the container but also if you're doing less than 70 to 80 percent, Embrace LV gives you a smoother laydown," he adds. "The LV material also swells in the machine direction, so you use less film." MD growth also helps eliminate smiles and frowns at the tops and bottoms of shrink body labels, he says.
Heart on its sleeve
McDowell uses its all-servo MPS presses with ACTEGA (formerly Water Ink Technology) ink systems to print the Embrace LV sleeve labels. Not only did McDowell Labels get the rich blacks and bold opaque whites that Guillem was looking for, the converter beautifully reproduced the one graphic element most dear to Guillem's heart—a gray ribbon that represents Guillem's family commitment to brain cancer research and support.
"Ten percent of all our profits go to a brain cancer foundation at Children's Medical Center in Dallas that's set up in my niece's name," Guillem explains. "She passed away in 2004 of brain cancer. Her name was Crystal."
Not just for the big guys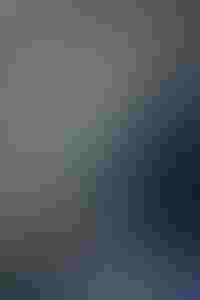 McDowell Label 5
Guilllem placed an order for 25,000 printed shrink-sleeve labels, of which 5,000 would be used immediately on clear 750-mL glass bottles with perforated metal caps, for distribution by Republic National Distribution. "For Carlos, being a hand-crafted boutique distillery at this point in time, he wanted to enter the marketplace with a very national brand look," McDowell explains. "One of our value propositions is to be able to enable someone like Carlos, or perhaps even a larger brand owner who wants to do regional or event branding or introduce a new private brand underneath their umbrella for a family of product."
In this spirit, McDowell Labels provided services beyond just delivering printed shrink labels. "We're a small company, and I didn't have the money to go out and buy a shrink tunnel," Guillem recalls. "So I talked to McDowell, and they said, 'you know, until you get larger volume, we'll be willing to shrink those for you.'"
Sweat equity
DeLos Vodka operators hand place shrink-labeled bottles into a Mori six-head filler, supplied by TCW Equipment. The vacuum-distilled vodka is gravity-fed into the bottles, which are hand-capped with tamper-evident closures. The emptied, plain cases in which the bottles arrive are sold to a local used paperboard company. Boldly printed cases supplied by Texas-based Specialty Container Corp. are used to transport filled bottles to the distributor. Case packing, palletizing and stretch wrapping also are done manually.
"People expect all this fancy equipment when they come to do a tour, but they just see a lot of sweat," Guillem remarks.
Safe landings
According to Guillem, the shrink sleeves not only look good they also are very durable. "It's something we didn't think of when designing the bottle," he recalls. "It freezes well, and we've heard when a bottle is dropped that it doesn't shatter glass everywhere. The broken glass sticks to the label and makes it easier for the bartenders to clean up and throw away." Armed with its boldly designed bottles, shippers and a small but new bottling line, DeLos and distributor Republic National Distribution have been selling the brand throughout northern Texas and plans to expand sales statewide soon.
Sign up for the Packaging Digest News & Insights newsletter.
You May Also Like
---