Brand revival decorating
Brand revival decorating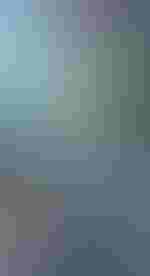 Tubular rollstock labels feed down the applicator to containers and then pass through a shrink tunnel.
Defying the normal lifespan arc in product marketing, Johanna Foods is launching an ambitious program for its yogurt product line. In the vastly expanded plant space of its Flemington, NJ, home base, the dairy products and juice company includes its La Yogurt revival as the latest step in a multimillion-dollar expansion program to help it achieve pre-eminence in all of its markets.
Launched in January after Yuletide installation of the equipment that upgrades in-house package decorating, the new look for the reformulated yogurt series of 40 stockkeeping units includes lowfat and nonfat varieties, as well as the more exotic La Yogurt Sabor Latino products for a growing Spanish-speaking segment, being packaged during PD's recent visit to the plant. "The startup was easily the most efficient I've seen for equipment that's called on to do so much," comments Melinda L. Champion, Johanna Foods' vp of marketing. There's a lot of equipment, too, to do the job. On each of three mirror-image packaging lines, new labels are applied by fully automated machines from American Fuji Seal, which also converts the labels. The applicators are customized Intersleeve® Model 3200-DE machines–"DE" designating full-body decoration capability–that complete the job with integral shrink tunnels.
Capturing the appetizing images of the design system by Cornerstone Strategic Branding is the 50-micron vinyl film that American Fuji Seal reverse-prints in up to seven colors via rotogravure. The tubular rollstock is applied in register to the proprietary tapered, necked-in cups, fired out of a battery of five Windsor Model HIS 130 injection/blow-molding machines from Cincinnati Milacron. These are molded in an isolated area, organized by Pace Omni-line Model 350 unscramblers, and diverted through a wall aperture to the three labelers by powered conveyors.

At the rotary volumetric filler where product flows, top, from an overhead hopper, containers receive die-cut lids that are heat-sealed. The three lines converge, above, at double-track conveyors for automated loading into eight-pack carriers, shipper filling and palletizing.
Following labeling, the cups pass ink-jet coders to receive vertical data from a Videojet Excel 2000 printer from Marconi Data Systems. Along with sell-by date, lot and control information is printed in a five-unit alphanumeric set. The containers then convey to rotary volumetric machines, Remy Volumeter 50 fillers acquired from Geosaf and now reportedly sold by Sidel. Integrated into the rotary format of each machine is a lidding station, which die-cuts the film from rollstock, a 44-micron, two-color flexographically printed aluminum foil, converted by Winpak Heat Seal Packaging. Color coding the foil in two colors with heat-resistant inks, Winpak also inside coats it with a proprietary heat-sealable layer that brings the structure to a 4-mil gauge.
In situations where all three lines are packaging the same product, the containers converge into two double channels as they travel downstream. "I especially like this kind of flexibility," Melinda Champion comments. "Where we have short runs of our own yogurts, we can split production for more efficient fulfillment. Everything takes less time now."
The containers gain impact and numerical strength at the next stations, where they accumulate for multipacking. Special-end eight-pack carriers produced by Malnove of .022 solid unbleached sulfate are printed by one of the company's recently installed seven-color Planeta offset presses in four or six colors with in-line acrylic protective coating. Carriers are loaded by Adco Manufacturing's Model 14CL-90-SS cartoners, acquired through Malnove, that each generate a 90/min output for a total potential 360/min rate, PD learns from Paul Kessock, president of Malnove's packaging systems group. Multisourced corrugated RSC shippers receive the carriers.
Following automated packoff, these are loaded onto wooden skids by an automated palletizer, HK Systems' Model SPLX, purchased through East Coast Conveyors. Pallet loads are wrapped on a Lantech Model S-1503 wrapper acquired through Viking Criterion, which also supplies a multilayer polyethylene-based stretch film coextruded by Pliant's Huntsman. Champion believes the improved output of La Yogurt packages will enhance the brand's position in the retail grocery stores from New England through Florida. "It already enjoys a leading market share in the New York metropolitan market," she adds. The vibrant new image and color coding "will allow consumers to quickly, easily identify their favorite style and flavor."
And that's what it's all about.
More information is available:
Label, applicator: American Fuji Seal, 502/348-9211. Circle No. 231.
Design: Cornerstone Strategic Branding, 212/686-6046. Circle No. 232.
Container molding: Cincinnati Milacron, 513/536-2622. Circle No. 233.
Unscrambers: Pace Packaging Corp., 800/867-2726. Circle No. 234.
Ink-jet coders: Marconi Data Systems, Inc., 800/654-4663. Circle No. 235.
Filler/lidder: Geosaf, 514/331-4147. Circle No. 236.
Filler/lidder: Sidel, 770/449-8058. Circle No. 237.
Lidstock: Winpak Heat Seal Packaging, 800/841-2600. Circle No. 238.
Carrier/cartoner representative: Malnove, 402/330-1100. Circle No. 239.
Cartoner: Adco Manufacturing, 559/875-5563. Circle No. 240.
Press: Planeta North America, 516/486-3900. Circle No. 241.
Palletizer: HK Systems, 800/457-9783. Circle No. 242.
Palletizer representative: East Coast Conveyors, 732/863-4790. Circle No. 243.
Pallet wrapper: Lantech, 800/866-0322. Circle No. 244.
Film:Pliant Corp., 866/878-6188. Circle No. 245.
Pallet wrapper/film rep: Viking Criterion, 718/392-7400. Circle No. 246.
Sign up for the Packaging Digest News & Insights newsletter.
You May Also Like
---