Cannabis-edibles packaging assures safety without sacrificing brand pizzazz
Cannabis-edibles packaging assures safety without sacrificing brand pizzazz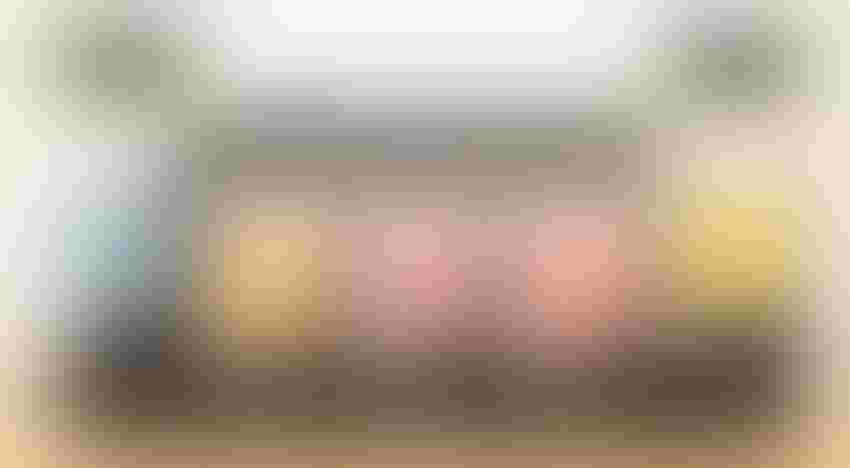 Snacks infused with medicinal marijuana convey an elegant image in upscale packaging.
Auntie Dolores gourmet marijuana-infused edibles, which are medicine in the form of food, pose a packaging design challenge—the solution to which incorporates both healthcare and food packaging techniques.
The company's packaging is child-resistant, and dosage information is clearly stated on the front of each paperboard canister. But the visual effect is far from medicinal. Thanks to upscale, color-coded graphics, the black-lidded canisters convey an elegant brand image.
Auntie Dolores' products, which are made from scratch and preservative free, include Savory Pretzels, Cheese Biscuits, Glazed Pecans, Cocoa Sparkle Cookies and Caramel Corn.
Julianna Carella, founder and CEO of California-based Auntie Dolores, discusses the brand and her company's packaging.
How does the Auntie Dolores package design communicate the artisanal quality of the products?
Carella: Our packaging is vibrant with color and description, and stands apart from other cannabis edibles on the shelves in dispensaries. We use clearly branded packaging with sleek, clean design and concise dosing. Our ingredients and recipes include savory options and other flavor palates for the sophisticated consumer.
What is the significance of the black-and-white background on your packaging?
Carella: When we first got our start in this very gray, quasi-legal market, it was important to me to have something bold in black and white to counter that perception. I also like the other interesting colors against the black and white, as it makes all the colors of each product emblem pop more!
Are your products sold only in California? If so, your target market, at least for now, is strictly medical-cannabis patients, right?
Carella: Yes, our products are currently sold in medical-cannabis dispensaries in California, but we will be expanding to other legal states and into medical as well as recreational/adult-use markets. In other states, we follow whatever the regulations require. We love being involved in the medical-cannabis movement, as we got our start there, but actually feel our products are just as well suited for the adult-use market. We look forward to when California has these laws in place, so that we can accommodate the many enthusiasts who want our products.
Is there strong demand for artisanal cannabis-infused edibles in California?
Carella: There is a strong demand for anything that helps develop this industry, so that the products match the consumers in caliber and quality. For many years, the products available did not reflect the community of sophisticated consumers. But we feel there is a growing niche in California and everywhere, as cannabis enthusiasts seek out products with delicious flavor, quality ingredients and consistency.
What is the price range for your products?
Carella: Retail prices range from $4 to $40.
What package structures do you use? Are they custom or stock?
Carella: All of our packaging is 100% custom. Our products are packaged in child-proof plastic inside a recyclable, reusable cardboard canister. All of the components satisfy the various requirements in our industry while being as eco-conscious as possible.
Please describe the child-resistant features on your packaging.
Carella: The inner plastic bag, along with the plastic seal and stickers on the outside of the cardboard canister, all meet the child-proof requirements in California. There are many steps to opening the package, and small hands have difficulty.
How do your labels explain the cannabis dosing of the products?
Carella: One dose equals 10 mg THC. All of our products are labelled according to milligram content, how many 10-mg doses are included, and what one dose constitutes. In the case of our savory pretzels, for example, one dose is two to three pretzels, with 12 doses in the package, and this is indicated on the outer canister.
Did you work with an outside packaging design firm?
Carella: We created the designs internally, although hiring an outside firm is advised, as the process of designing new packaging is long, time sensitive and very detail oriented. Unless you have talented designers on staff to carry this out effectively, hiring an outside firm can actually save your company money in the end.
Sign up for the Packaging Digest News & Insights newsletter.
You May Also Like
---