O-I campaign promotes use of glass packaging
O-I campaign promotes use of glass packaging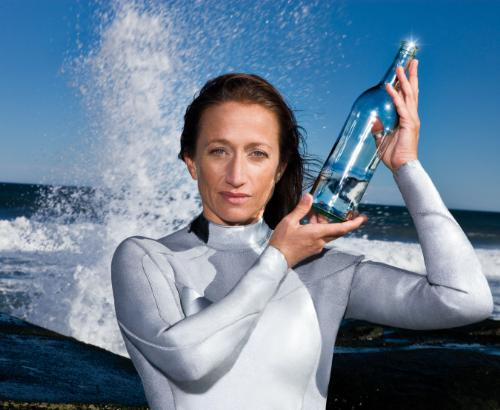 Celine Cousteau
Owens-Illinois, Inc.,  the world's largest glass container manufacturer, announced the launch of Glass Is Life. This ground breaking marketing campaign is designed to showcase the unique and unmatched qualities of glass packaging to build successful food and beverage brands. A first-ever global initiative, O-I's Glass Is Life campaign also highlights the inherent love consumers have for glass.
"O-I's extensive research shows a strong demand for glass among consumers, but the marketplace does not adequately reflect this interest. We aim to influence the food and beverage industry's packaging decisions by showing the power of glass," said Al Stroucken, Chairman and CEO of O-I. "As the leading maker of the purest and most sustainable packaging, O-I is excited to spearhead a movement that demonstrates the unique attributes of glass packaging and brings brands back into glass."
Voices for Glass
CEOs, brand managers, environmentalists, designers, parents and other thought leaders around the world have rallied behind the campaign to share their passion for glass.
These voices for glass include:
•Sanpellegrino S.p.A. Chairman and CEO Stefano Agostini, who says glass showcases the quality of the S. Pellegrino brand.

•Monini Olive Oil CEO Zefferino Monini, who chooses glass because it best preserves the flavor of the product.

•Environmentalist Celine Cousteau, granddaughter of Jacques Cousteau, who prefers glass because it is natural, healthy and sustainable.

•true fruits Co-Founder Nic Lecloux, who says glass demonstrates the quality and sophistication of his premium product.

•Bundaberg Brewed Drinks CEO John McLean, who bottles his drinks in glass so it stands out on the shelf. 

•Agua del Nacimiento CEO Juan Gabriel Gonzalez, who says glass is the only packaging that shows the clarity and purity of Colombia's best water.

Consumers Know Glass is Better
Based on years of extensive business and consumer research, O-I has determined that taste, quality, health and sustainability represent the glass attributes that resonate most strongly with consumers around the world.
In a global study first commissioned by O-I in November 2008, consumers said that when faced with the option between glass and other packaging, they will choose glass first and would like to see more glass packaging options. For example, in the food category, 91 percent of consumers around the globe indicated they prefer glass, but only about 10 percent of foods are packaged in glass. O-I is working closely with customers around the world to increase the availability of food and beverage products in glass.
In the U.S., as recently as April 2011, nearly 70 percent of 1,000 Americans surveyed said that if they could purchase their favorite food or beverage in any container, they would choose glass. Additionally, 90 percent said they agree with the statement that glass is the healthiest packaging available because it does not leach into the product. And 85 percent said food and beverages taste better when packaged in glass containers.
"It's time to tell the world about the benefits of glass," said Erasmo Schutzer, vice president and chief marketing officer for O-I. "The thought leaders featured in O-I's Glass Is Life campaign are instrumental in helping us launch a more aggressive marketing strategy. Together we'll show how glass preserves flavor, maintains health, enhances quality, protects the environment and builds brands."
Glass Delivers for Top Brands
O-I has been manufacturing iconic glass containers for leading consumer brands like Coca-Cola, PepsiCo, Heinz, Anheuser-Busch InBev, Nestle, Pernod Ricard and SABMiller since 1903. Today, O-I provides the highest quality glass packaging materials to companies in more than 80 countries.
This month, O-I's Glass Is Life advertisements will launch in 12 countries and seven languages. To view videos, infographics and images, or to join the glass conversation on Facebook and Twitter, visit www.GlassIsLife.com.
Sign up for the Packaging Digest News & Insights newsletter.
You May Also Like
---