Out of This World Bourbon Bottle
Out of This World Bourbon Bottle
Mystic Galactic Bourbon will journey to space to create an ultra-luxury taste profile. Bottles with custom "capsule" closures will be released to buyers in a custom flight case for $75K each package.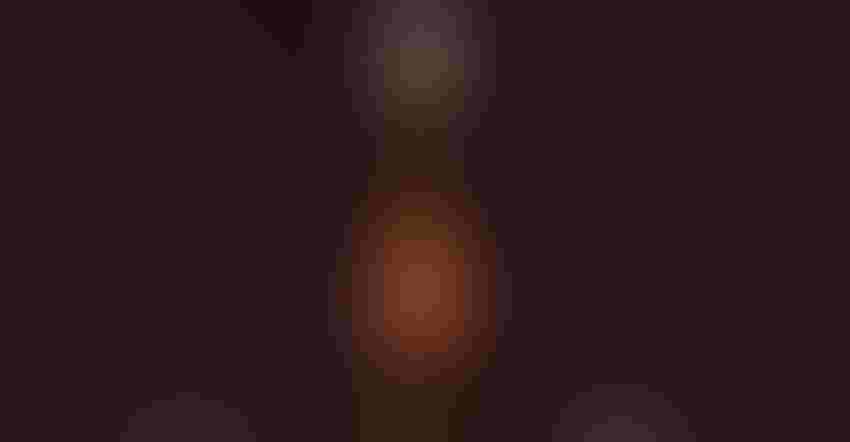 Every bourbon is aged to create unique flavor nuances but only one is heading to space for its otherworldly taste profile. Hailed as "a liquid expression of the spirit of discovery," small batch, ultra-luxury Mystic Galactic Bourbon from Mystic Farm & Distillery is first aged in Appalachian oak casks for three years in North Carolina's Piedmont region and then will take a year-long trip into Low Earth Orbit, a celestial journey dubbed Mission One. The official launch date is still to be determined.
"We're redefining what it means to make a rare spirit," says Jonathan Blitz, co-owner of Mystic. "Only about 1,300 people on the planet will ever have the opportunity to taste and own this piece of whiskey history. It's the height of luxury and exclusivity, not to mention the first commercial product manufactured in space."
After arriving back on Earth, the Mystic Galactic bourbon will be filled into 750ml bottles produced by Saverglass that showcase the Galactic name via individually laser cut stainless steel letters that are inset into laser etched recesses on the bottle shoulder.
The bottles are topped with an aerospace grade, machined aluminum cap with a synthetic closure that the company worked with TAPI and Xometry to produce. Looking like a space capsule, these caps feature laser-etched accents and stainless-steel lettering, which Mystic performs in-house.
Bottles additionally bear a QR code linking to a transferrable, bottle-specific nonfungible token (NFT) to prove authenticity — and ownership. The NFT also provides access to the launch and reentry celebrations, as well as a Mission One app that gives purchasers exclusive access to the design and engineering of every aspect of the spirit, the orbiters, the packaging, and the journey.
While a limited amount of the spirit is slated to take the trip to space, the company says barrels of the same spirit will remain on Earth to age conventionally and will be released under a "Ground Control" label, making it possible to compare the flavor profile of Mystic Galactic alongside the company's conventionally aged bourbon.
Intrepid purchasers of the Mystic Galactic will receive a 750ml bottle of the bourbon packaged in a custom flight case (which you can see in the video) plus a 50ml sample of Mystic Galactic, a piece of one of the barrels from orbit, a proprietary tool for opening the 750ml bottle, and two commemorative tasting glasses.
The Mission One journey to space brings with it a unique set of complex unknowns. For instance, bourbons typically lose between 10 and 15 gallons due to "angel's share" evaporation during barrel aging and the company expects the barrels it sends to space to return with an angel's share of at least 7%. The company is currently working with spaceflight contractors and aeronautical engineers, as well as electrical engineering and computer scientists at NC State to help sort out the complexities barrels might potentially experience during launch, orbit, and reentry.
Bottles of Mystic Galactic bourbon are being presold for a $75,000 purchase deposit. The purchase deposits will be held in an FDIC-insured account until the bourbon returns to Earth for bottling. Bottles must be picked up in person, with the blockchain-verified NFT providing proof of ownership.
Sign up for the Packaging Digest News & Insights newsletter.
You May Also Like
---