Sales sprout with new fertilizer pail
Sales sprout with new fertilizer pail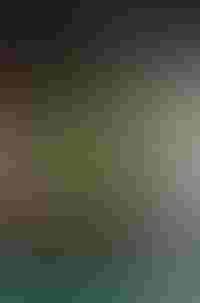 Four molded containers are removed from the 1,000-ton injection-molding machine by a robotic arm.
The bloom is on the rose when it comes to new packaging created for the 3.75-lb version of The Scotts Co.'s popular Miracle-Gro® plant-food product. Replacing a nondescript stock pail previously used to hold four different varieties of the water-soluble plant-food formula, a new container, custom-engineered and molded by the Reedsville, PA, arm of Unimark Plastics, has caused sales of the fertilizer to flourish.
Says George Hill, manager, rigid packaging development for Scotts, "I think we had the best year ever last year with our pail sales."
Introduced in mid-2001, the compact, sturdy pail comes in a bouquet of four vibrant colors and includes several unique features that enhance stackability, visibility, consumer ease of use, product protection and brand recognition.
Stock packaging needs pruning
Blossoming 131 years ago in the time of buggies and farm seeds, Marysville, OH-based Scotts Co. today is a world leader in consumer products for the do-it-yourself lawn and garden care market, and offers a range of solutions for the professional horticulture sector, as well. Scotts says its brands are formulated to give both beginning and expert gardeners all they need to create thick, green lawns, beautiful indoor and outdoor gardens, and delicious vegetables and fruits, as well as keep their homes safe and sound from pests.
In the U.S., Scotts' flagship consumer product line, Miracle-Gro, includes more than 30 plant-food products. Depending upon the targeted use, Miracle-Gro is offered in a water-soluble solid form, a slow-release solid, and a liquid, as well as in a fertilizer-spike format.
The granular, water-soluble version of Miracle-Gro can be used in two ways. A 11/4-lb portion can be poured into the Miracle-Gro Garden Feeder, which attaches to a garden hose to apply the plant food over 500 sq ft of foliage in approximately 12 min. Or, it can be measured out in 1-tbsp quantities/1 gal of water for distribution via a watering can.
While most of Scott's water-soluble Miracle-Gro products are offered in fade- and moisture-resistant cartons (see PD, April, '02, p. 48), in sizes ranging anywhere from 8 oz to 15 lb, depending upon variety, four of the plant-food selections are also packaged in a handy, 3.75-lb pail. The pail holds three 11/4-lb flexible film bags, or "Feeder Packets," of plant food, premeasured for use with the Garden Feeder.
Several years ago, Scotts decided that it needed a more distinctive, premium look to its plant-food pail than was possible with the stock container it was using. "We wanted to go into something custom," explains Hill, "with our own look and presentation."
Scotts required that the new pail incorporate the company's logo, have a lid that was easily removable, and be sized to fit a 20 x 24-in. pallet – a standard size used in the industry for displays, says Hill. Scotts also hoped that by altering the pail design to make it stackable and nestable, the company could prune its costs, as extra components, such as corrugated dividers and layer pads, would no longer be needed to prevent the pails from toppling during display. "The corrugated components were also not very good for outdoor display," adds Hill.
New pail design bears fruit
Headquartered in Greenville, SC, Unimark Plastics, an Alltrista Plastics corp., took on the challenge of creating a pail that met Scotts' specifications. Designing the bucket with input from Scotts was Innovative Solutions, a research and design firm of Alltrista Plastics, in conjunction with Unimark's Reedsville, PA, manufacturing group.
According to Bill Torris, Unimark's director of engineering, other issues considered during the design phase included the bucket's aesthetic appearance, its water-resistance and its cost.
"Scotts' products sell on retail store shelves, so the look of the packaging has a big influence on the person purchasing the product," he says. "Scotts wanted to improve the appearance of its bucket to make it look stronger, sturdier and more high quality."
Since the plant food is water-soluble and is often displayed outside in home improvement stores, extra emphasis was placed on making the lid domed, to shed water easily, and to make the package watertight. "Scotts did not want a package with dirt and water on the lid or inside the pail," relates Torris.
The last, and possibly greatest, challenge, Torris concludes, was to "add value to the package without adding cost." He says: "We had to design, develop and build parts that were easier to use, looked better and performed better than the existing product for less cost."
What Unimark ultimately created was an eye-catching lid-and-pail combination, injection-molded from polypropylene, that protects the product's integrity, while presenting a bloom of vibrant color, and neatly stacks on a standard pallet display. The pail, which measures approximately 61/2 in. wide and 61/8 in. high, is tapered at the bottom, where it measures 5 in. deep, and widens to a depth 51/2 in. at the top. The edges of the 0.035-in.-thick PP container are rounded, and the complementary snap-on lid is prominently molded on top with a Miracle-Gro logo.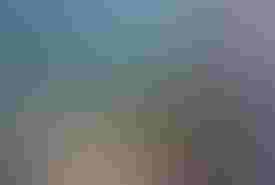 Labeling of the containers with front and back p-s labels is perfomed by a dual-head label applicator in-line within the assembly cell.
Pail and lid color combinations in the U.S. include, respectively, green and yellow for All Purpose Plant Food; pink and blue for Azalea, Camellia, Rhododendron Plant Food; yellow and green for Bloom Booster® Plant Food; and red and yellow for Rose Plant Food.
Buckets carry front and back pressure-sensitive labels, brightly printed with illustrations of the plants for which the food inside is targeted. Labels are converted by York Tape & Label. Movable metal carry handles, made from galvanized 0.92-in. wire, rotate to both sides for convenience.
Container functionality flowers
Besides looking good enough to pick, Scotts' new Miracle-Gro plant-food pails include several features specially engineered by Unimark to meet Scotts' functional requirements. Addressing stackability and nestability, the pails are molded on the bottom with a square indentation, while lids have a raised area of the same dimension. This allows the buckets to be stacked one on top of another, with each lid fitting into the bottom of the pail on top of it. Not only does this prevent pails from toppling during display, but it also minimizes shipping costs and maximizes shelf space in the store.
As for the bucket's stability, according to Torris, the composition of the lid allows it to bend but not break. "These assemblies are stacked six-high on the store shelf," he tells PD. "We needed a lid that could support the weight without cracking or taking a permanent set. It had to pop back up when the weight was removed."
Easy removal of the snap-on lid is made possible by an indentation on the front of the pail, where the pail meets the lid, that allows the user to slip his or her thumb or finger in and grasp the lid.
The decision to mold the Miracle-Gro logo onto the pail lid, rather than use labels or direct printing, was made because of molding's permanence. "Labels or pad printing can scratch or be removed," says Torris. As the pail is perfectly suited for reuse as a versatile storage container for household odds and ends, having a molded logo on the pail top extends the Miracle-Gro message.
Custom assembly cell sows volume
Manufacturing of the buckets, as well as label application, is done at Unimark's Reedsville operation, which occupies two buildings, each one with a white room and a Class 100K cleanroom. Within the two plants' combined 76,000 sq ft of space are housed 44 injection-molding machines, used to produce both thin-wall and close-tolerance packaging, and to manufacture and assemble sophisticated medical device packaging.
The Unimark Reedsville operations were the first plants established in what is now a multiple-location injection-molding division of Alltrista Plastics. According to Brad Davis, Unimark's marketing coordinator, all locations use a synergistic plant layout, logistics plan and equipment. "It's a contingency plan for our customers," he explains. "If we have a catastrophe in one of these facilities, we can relocate our tools, which are stored in fireproof vaults, to another location."
In addition to producing packaging for the lawn and garden market, Unimark Plastics also has a large presence in the medical, precision consumer and recreational sport industries. Some of its highest-volume products include disposable contact lens cases, suture trays and shotgun wads. Says Davis, "We have the privilege of being a moderately sized company that is the sole supplier to some of the largest Fortune 500 companies in the world."
To keep pace with a constant demand for Scotts' Miracle-Gro product, Reedsville installed a dedicated assembly cell, custom-designed and built by Unimark and Progressive Automation & Mfg., within which buckets are continuously molded, fitted with a handle, labeled and packed-out 24 hours a day, seven days a week. According to Torris, the Engel ES 1000, a 1,000-ton clamp-force injection molder from Engel Machinery, was selected to mold the buckets due to the machine's good repeatability and accuracy in molding. "And, the mold size and cavitation of the pail required the 1,000-ton machine," he adds.
To ensure repeatability and accuracy, the machine uses a traditional, five-point toggle clamp system. The efficient geometry of the this mechanism makes ideal moving-platen motion possible, allowing for high speed through the majority of the stroke and automatic deceleration near the end of the clamping movement. In the closed position, the clamp is self-locking, and mold-opening forces are inherently high.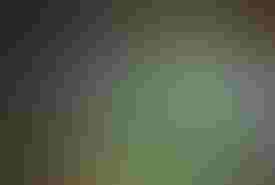 Pails are molded, receive metal handles, are labeled on front and back and are stacked for palletization all within an integrated assembly cell.
The ES 1000 is controlled by an Engel CC100 controller, which offers 32-bit RISC-based processing and digital signal transmission to drive the entire assembly cell.
Using the Engel machine, Unimark molds four pails/cycle out of PP resin. (Resin is an Atofina product distributed by Amco Plastic Materials.) After a cycle is complete, the four pails are removed by a robotic arm from the machine. The arm then positions the pails out of the molding area and places them onto a custom nest, which has four posts and an area into which the open end of the pail sits, in the standalone assembly equipment. For now, pails are temporarily removed from the system manually to give them time to cool before being labeled. After cooling, the are replaced on the nests. Mounted to a motor-driven belt system, the nests then move through the assembly cell.
In the cell, handles are attached to the pail as pneumatic grippers grab the wire-handle components from a magazine, and pneumatic cylinders push them into place on the pail. Front and back p-s labels are applied by a proprietary dual-head labeler.
Finished pails are picked up and stacked in predetermined stack sizes by vacuum grippers, and are indexed out of the cell, after which they are manually loaded onto pallets.
Applications pop up like weeds
For Scotts, the grass has definitely been greener on the other side of this successful repackaging project. Says Unimark's Torris, "Our package outsold the old bucket, as Scotts phased the previous one out."
Scotts' George Hill relates that the package is ideal for many of Scotts' products, given there is enough volume to justify the custom tooling for the unique, proprietary container. One likely candidate is grass seeds. In the meantime, he promises, two new stockkeeping units will soon be budding in retail channels nationwide.
More information is available:
Injection molder: Unimark Plastics Co., an Alltrista Plastics corp., 864/879-8132. Circle No. 229.
Container design: Innovative Solutions, an Alltrista Plastics corp., 864/879-8132. Circle No. 230.
Labels: York Tape & Label, 717/266-9675. Circle No. 231.
Assembly cell integration: Progressive Automation & Manufacturing, Inc., 519/748-5756. Circle No. 232.
Injection molder: Engel Machinery, Inc., 717/764-6818. Circle No. 233.
PP resin: Atofina Chemicals, Inc., 215/419-7000. Circle No. 234.
PP resin distributor: Amco Plastic Materials, Inc., 800/262-6685. Circle No. 235.
Sign up for the Packaging Digest News & Insights newsletter.
You May Also Like
---