Sweet package makes Country Time Lemonade easy to prepare
Sweet package makes Country Time Lemonade easy to prepare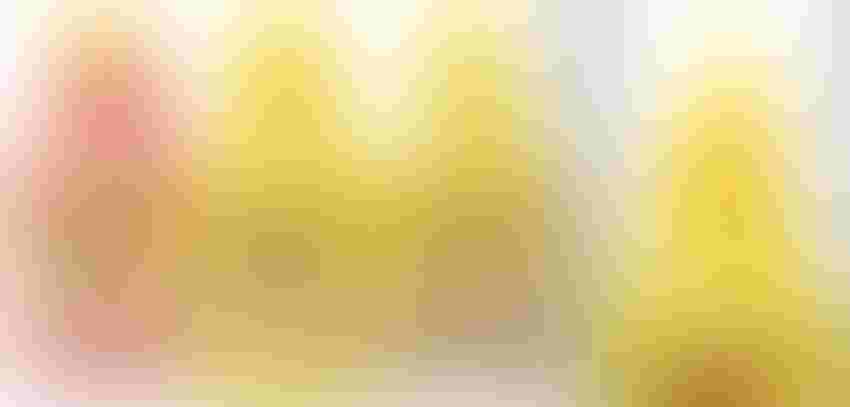 Making lemonade by the pitcher, or the glass, just got faster and easier, with Kraft Foods' introduction of Country Time Lemonade Starter. The product, a liquid concentrate, comes in a rigid container with an easy-to-grip shape. The packaging design features a flip-top closure with built-in spout, for ease of product preparation, and full-body labeling, for brand appeal on-shelf.
The design takes the Country Time brand, and beverage packaging generally, in a fresh direction, offering a smaller format than ready-to-drink, multi-serve bottles and features that make the package easy to handle and pour from. Each 18.2-oz Country Time Lemonade Starter bottle makes 24 8-oz glasses or three pitchers of lemonade.
Kraft offers the product in three flavors: Classic Lemonade, Berry Lemonade, and Half Lemonade & Half Iced Tea. To make a little or a lot, the consumer flips open the bottle's closure, pours the specified amount of concentrate into a glass or pitcher, adds water and stirs to mix. Instructions and concentrate/water amounts are printed on the label's back panel.
Jason Braun, R&D packaging spokesperson for Country Time, shares a few details about the package.
This bottle has an unusual shape. Is it a proprietary structural design?
Braun: The Country Time Lemonade Starter bottle is a custom-designed, proprietary bottle and is patent pending.
Why is the bottle shaped this way—for easy grip, easy pouring? Other reasons?
Braun: We designed the bottle in this way for a few reasons. Importantly, because this is a new product in a new form, and to differentiate from ready-to-drink offerings, we formatted the bottle structure to be reminiscent of a modern pitcher/carafe to cue consumers that this is a product you should pour, not drink directly out of the bottle. Other contributing factors included ease of grip and use in preparation, and a contemporary, premium look and feel.
How do consumers measure the product? Or is it like MiO Liquid Water Enhancer, where you add as much flavor as you want?
Braun: There are on-pack preparation instructions and a clear view strip on the side of the bottle to help guide consumers through [the] pitcher-preparation process. 
What plastics are the bottle and closure made from? 
Braun: The bottle is made from high-density polyethylene, and the closure is made from polypropylene.
Was the flip-top closure, with spout, a custom-designed component?
Braun: The sloped back, flip-top closure with integrated pour spout was custom designed to seamlessly flow into the bottle structure. The spout was designed to provide consumers with no-drip, no-mess preparation.
Who designed this package?
Braun: The structural design was a collaborative effort by Kraft Foods, in conjunction with Graham Packaging in York, Pa. Graphical design was led by Landor Associates, in close collaboration with Kraft Foods.
Does the package have a full-body shrink label?
Braun: Yes, the label is a full-body shrink that goes over the closure to maximize graphic space and to provide a tamper-evident feature. The shrink label is perforated for ease of opening.
Who are the packaging suppliers for this product?
Braun: Our material partners are Graham Packaging Co. (bottle), Aptar Group (closure), Selig Group (induction seal) and American Fuji Seal (label).
Sign up for the Packaging Digest News & Insights newsletter.
You May Also Like
---