How thermoforming could bring diagnosis to the point of care
How thermoforming could bring diagnosis to the point of care
Lab-on-a-chip technology promises to speed up disease diagnosis and bring it to the point of patient care. These "labs" are actually disks designed with microsized channels and chambers that are prefilled with small amounts of diagnostic reagents. The consumable disks are placed into tabletop centrifuge systems where they are filled with patient fluid samples or swab samples; as the fluids pass through the channels and into chambers, the system optically detects positive or negative test results.
Hahn-Schickard has been manufacturing lab-on-a-chip systems since 2007, calling the technology a "pocket lab."  
Some of the company's projects are funded by either the European Union, the German government (BMBF), or the state of Baden-Wuerttemberg, reports Dr. Daniel Mark, Associate Director of Hahn-Schickard, to PMP News. "Additionally, we perform development for and funded by industry," he says.
While the company has been using injection-molded microfluidic disks, it decided to investigate an alternative: inexpensive plastic test elements produced by thermoforming polymer films with chambers and channels. 
"There is a clear benefit [to] thin-walled disks for fast PCR applications, due to the better heat transfer through the thinner polymer walls compared to injection molded disks," says Mark. "Additionally, we see the potential for inexpensive mass-manufacturing in the future based on a fast roll-to-roll process." 
For these thin-walled polymer disks, Hahn-Schickard is employing thermoforming technology from Rohrer AG. "Rohrer has been an excellent partner in the last years in the process of upscaling our prototyping-level thermoforming process to an industrial, automated process," says Mark.
Albert Birkicht, General Manager, Rohrer Processing & Packaging Technology, tells PMP News that "Hahn-Schickard wanted to bring diagnostics to markets that had not had them before and to look into alternatives for a low-cost approach." The use of point-of-care diagnostics is especially appealing for markets that lack "personnel and a dedicated infrastructure for handling and transporting blood," he adds.  
In addition, "the company didn't want to use the traditional injection-molded approach because it is extremely expensive," he continues. "Each tooling run and modification can be about $50,000, so it's prohibitive to do a few iterations on a design." 
The project was perfect for Rohrer. Birkicht says that his company is known for innovation and taking on small, very specialized projects. "We concentrate on specialty projects that generally require modifications to a proven standardized blister machine. We have a modular approach to building machinery, and we rarely build finalized machines the same way."
Hahn-Schickard and Rohrer began working together to develop the project using a specific machine, Rohrer's R760, and Rohrer handled tooling design and engineering. 
Rohrer modified its R760 blister-forming machine to thermoform disks with channels down to 50 microns deep. "The system has to apply the right amount of pressure and precision in heating during the forming process," Birkicht says. "We also had to design the system so that there would be absolutely no air bubbles under the film or foil when forming. And the cooling system had to extract heat at the right point during the cooling process so we wouldn't destroy the formed disk." Critical geometry parameters of the thermoformed disk are optically verified using sophisticated measurement equipment. 
Typical blister thermoforming lines produce between 20 and 100 cycles per minute, but because of the manufacturing precision needed for the disks, this modified machine is capable of producing one cycle per minute. The cycle time, however, is competitive with that of injection molding, Birkicht says. With an in-house, dedicated R760 machine, the team is working to get the cycle time even lower.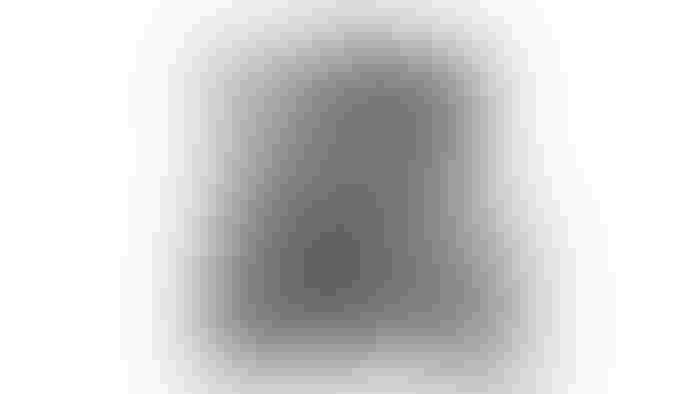 Above: The R760S from Rohrer
Birkicht says that the project needed a material that turns "almost liquid" during thermoforming "without getting destroyed." The material needed to be durable enough to withstand exposure to high pressure during the forming and vacuum process.
The team identified a 10-mil-thick cyclic olefin polymer (COP) as the ideal material. In addition to being suitable for the high-temperature, high-pressure thermoforming process, Mark from Hahn-Schickard says that "for us, COP (and COC) proved compatible to the optical and biochemical requirements for most of our applications." 
Adds Birkicht: "Because the specimen extractions are read optically, the disk has to be transparent. The very thin, transparent material offered a huge advantage."
When asked how Rohrer's thermoforming technology played a role in enabling Hahn-Schickard's innovations, Mark says that "as [we are an] R&D service provider 'from visions to products,' it is very important for us to supply our customers with a perspective beyond the prototype."
"With the new, industrial fabrication process for thermoformed disks, our customers can perform trials [and] clinical studies and are also ready for market entry with the prototypes we develop together with our partners," he says. 
Hahn-Schickard is "currently entering discussions with our customers to bring first products to market in the near future," concludes Mark. "As a creative R&D service provider, we still have many ideas for improvements to make the products of our customers more powerful and even easier to manufacture. Rohrer has an excellent technology background to support these ideas and bring them to industrial fabrication levels."
Sign up for the Packaging Digest News & Insights newsletter.
You May Also Like
---