Printable Thermochromic Ink Helps Ensure Safety of Pharma Products and Vaccines
Printable Thermochromic Ink Helps Ensure Safety of Pharma Products and Vaccines
BlindSpotz indicators from Chromatic Technologies Inc. can detect temperature changes that could jeopardize pharmaceutical products and vaccines.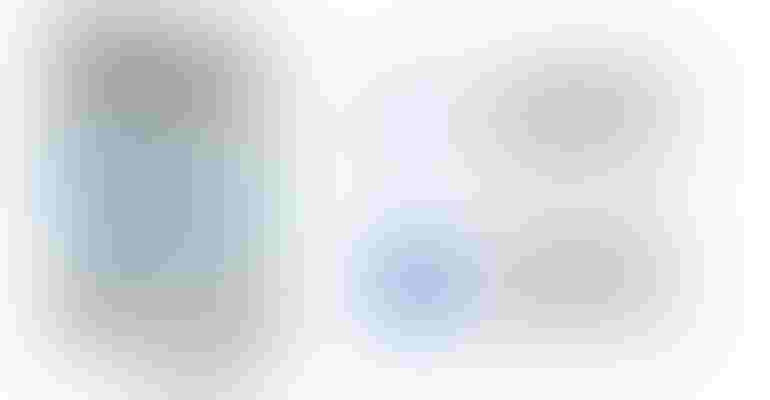 BlindSpotz indicators change color when exposed to temperatures outside of a certain range.
Image courtesy of CTI
COVID-19 has put the supply chain for pharmaceutical and medical products in the spotlight like never before. Although maintaining the cold chain, preventing tampering, and ensuring the authentication of such products has always been important, these factors are especially critical at a time when the global supply chain is also enduring the stress of a pandemic.  
A new offering from Chromatic Technologies Inc. (CTI) can help address those challenges in the form of printable sensors that detect freezing, thawing, gradual warming, and tampering, as well as provide authentication.
The Colorado Springs, CO–based company's BlindSpotz technology can be used on packaging for products such as vaccines that are sensitive to freezing or insulin, which needs to reach a certain temperature before it can be injected comfortably. BlindSpotz indicators changes color when temperatures dip below or exceed a certain range.  
BlindSpotz indicators can be printed across all print formats, including those that require solvent-based inks, involve printing on metal decoration, and high-speed offsets. The inks are also free of Bisphenol A, F, and S, a request CTI says it received from many customers.
"The combinations of ingredients and manufacturing techniques to make something like a BlindSpotz technology work and pass all other requirements make it as much art as chemistry," says CTI Product Director Barry McCann. "Most companies probably don't want to make the investment required to serve a niche market like this."
BlindSpotz is also a lower-cost solution than competing technologies.
"Most importantly, CTI delivers printable technology for a tenth of the cost of many devices because it's a technology delivered through an ink, printed in-line with the normal printed packaging materials, such as labels, wraps and film barriers," McCann says.
The technology is available in paste and liquid ink formulations. "We do not have digital and ink-jet versions commercialized yet, but we support inline techniques with digital printing, such as coating units with plates and aniloxes," McCann adds.
Product varieties either available or in development include options with freeze, thaw, warming, and high-temperature alerts; freeze and heat tamper alerts; security/authentication alerts; cold chain compliance indicators; and high-pressure pasteurization indicators for food applications. Color options range from standard colors, such as green-to-yellow and charcoal-to-red, to invisible-to-fluorescing colors for authentication inks. CTI can also develop new colors upon customers' request.
Sign up for the Packaging Digest News & Insights newsletter.
You May Also Like
---