A shining move to sustainability 1650
A shining move to sustainability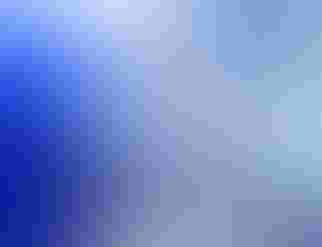 aquafresh_metallic_v2
When it comes to producing packaging that jumps off the shelf, GlaxoSmithKline (GSK), Moon Township, PA, sets high standards for itself. The company makes sure that those standards apply not only to shelf appeal but also to packaging that's environmentally friendly and recyclable.
As packaging development manager, Michael Larocca identifies new technologies and packaging concepts that deliver benefits to GSK's products and packaging. "That's important to us and our customers," he says.
Recently, GSK succeeded on all of those fronts when it gave the carton for Aquafresh® White & Shine toothpaste a visual brushing-up. The carton now has a high-end, holographic look, without the use of a metallized film lamination, and is more sustainable, since it was transitioned to a process created by converter Specialized Packaging Group (SPG) that combines Henkel North America's MiraFoil® metallic coating with its own proprietary HoloBrite™ filmless holographic press technology and a hybrid printing press. "We wanted a more sustainable, lower-cost technology than traditional laminated holograms [could offer]," Larocca says. "SPG is a printing partner of ours and MiraFoil was one of the print technologies we explored during the development phase. SPG has experience using MiraFoil."
Specializing in folding carton converting and paperboard packaging, design, engineering and manufacturing, SPG, with Henkel's help, was able to come up with the right sustainable fit for GSK's metallic carton alternative. SPG's HoloBrite technology is a press-applied effect that uses micro-embossing to create holographic patterns in-line, on-press. The process eliminates the need to send paperboard out for laminating with a holographic film and then overprinting the board, explains Laura Gustin, director of strategic customer development at SPG. "The results add flexibility to the design," she says. "HoloBrite can be applied in spot applications and takes advantage of the artwork provided and of the paperboard itself."
In GSK's case, HoloBrite was used in conjunction with the MiraFoil coating to duplicate the effects of a metallized holographic lamination. MiraFoil provides the metallic portion, while HoloBrite provides the holographic effects. Both are generated on the same printing press.
Fits the focus
"We center on a platform of affordable innovation," Gustin points out. "There's an increasing emphasis on sustainability, and Henkel has been an ongoing technical partner of ours, introducing new technologies and helping us integrate their products into our processes." Aquafresh White & Shine, a minty, sparkling gel formulation said to clean and polish teeth as it fights plaque, also keeps gums healthy and promotes whiter, shinier teeth. The packaging has to play the part of showing off the bright, shiny results, and must also grab attention at retail stores. Replacing the carton's earlier metallized holographic polyester film lamination, the new coating, which contains aluminum flakes, shines just as brightly for the toothpaste's packaging, and has more sustainable attributes. While Henkel's color selection guide for the coating shows 1,176 colors, just about any color can be applied over MiraFoil. In GSK's case, all six carton panels are covered with graphics that communicate the White & Shine story and the toothpaste's attributes.
In the first quarter of 2008, Larocca initiated a joint development program with SPG to evaluate its coating and print capabilities, challenging the converter on-press with various graphics. "Holographic laminations tend to dominate categories such as oral care, smoking control products and high-end personal care products," Larocca says. "We wanted to find a more sustainable, lower-cost option to traditional holographic packaging for Aquafresh White & Shine. With the range of finishes and value-added technologies for paperboard folding cartons, SPG was able to offer an excellent alternative [for Aquafresh]."
Because GSK produces and packages the toothpaste in-house, the new carton had to meet all of its specification requirements for high-speed automation. GSK evaluated the pros and cons of different options, Larocca recalls, and looked at SPG's impact on recycling, where it sources its materials, the overall supply chain, leadtimes and finishing costs. "A key requirement was that the end result on the shelf had to be comparable esthetically to a metallized lamination so that the carton would have a premium appearance for our brand," he says. When SPG presented the MiraFoil and HoloBrite technologies to GSK, Larocca says that GSK liked their sustainability aspects. "After several months of development work, we determined that the MiraFoil/HoloBrite combination of technologies would be a fit for the Aquafresh White & Shine carton."
'Enviro-friendly' effects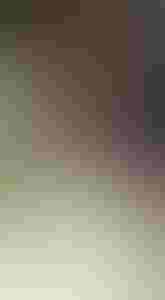 Classic Color press  operator Tim Burke checks a MiraFoil-
coated promotion for color consistency. Classic Color printed PD's cover using
MiraFoil (see sidebar).
Dennis Drummond, key account manager at Henkel Technologies, points out that Henkel designed MiraFoil to preclude the need for foil-laminated board. "Typical leadtimes associated with [converting] foil board can be often measured in weeks whereas MiraFoil can be printed on-demand," he says.
SPG used Henkel's MiraFoil coating on the same basic SBS carton structure. Adding sheen and brilliance to the toothpaste carton surface, the liquid coating is applied before the cartons are printed in a single pass to help reduce costs. SPG declines to identify specifics about HoloBrite or the printing process, as they are part of its proprietary manufacturing process, Gustin says. She also says that, "The benefits of using in-line, press-applied effects versus a laminated paperboard include a significant cost savings, improved sustainability and a much shorter supply chain as the separate laminating process is eliminated."
Echoes Drummond, "MiraFoil is designed to be applied in a coating unit at thicknesses higher than typically used with inks. It's less expensive than most foil board and foil stamping, depending on the coverage rate."
Cartons produced using MiraFoil can be recycled and are repulpable through the de-inking process. The coating forms on the surface of the paperboard in such a way that it won't interfere with radio-frequency identification tags and other methods used to deter package theft, according to Henkel, allowing for 100-percent-readability in RFID and electronic article surveillance (EAS) applications. SPG offers multiple combinations of press technologies that work well with MiraFoil, including HoloBrite. "All of them are modular and accomplished in-line with our hybrid press," says Gustin. "We have been commercially using MiraFoil for the last year, and GSK is one of the first commercial applications. We will have other rollouts in the next few months."
Combination of technologies
During the investigative phase, Larocca and the GSK team determined that a combination of Henkel's MiraFoil and HoloBrite technologies was an ideal replacement for GSK's earlier holographic lamination. The MiraFoil coating has a metallic look without the use of foil. It can be applied selectively—or pattern-applied—as-needed, and at normal printing speeds. Designed as an alternative to foil board laminating and hot foil stamping, the coating is suitable for labels, paperboard folding cartons, mailers and other packaging applications. MiraFoil enhances the brilliance of GSK's Aquafresh White & Shine printed cartons for less of an investment and with less leadtime.
Henkel says the glimmering appearance is as shiny or shinier than many metallic inks and the coating is UV-curable. "We were able to duplicate our Aquafresh White & Shine toothpaste carton through the combination of press technologies," Larocca explains.
"MiraFoil is used on the silver areas of the carton graphics for a vibrant metallic effect, and SPG's HoloBrite technology creates the holographic pattern, eliminating the need for film lamination. This is the first package in its category to combine both MiraFoil and HoloBrite, replacing a conventional holographic lamination with inks and coatings to capture a comparable look."
GSK transitioned from the metallized holographic lamination for the Aquafresh carton earlier this year. "By switching to this new technology, we successfully cut weeks off the supply chain and reduced costs overall by moving to the technology," Larocca says. "The biggest challenge along the way was achieving a comparable look on the store shelf. We don't want to surprise consumers. We don't want consumers to notice any change whatsoever. "So we made some adjustments to the artwork for the carton graphics, adapting it to the technology, because the toothpaste carton is produced in a new way. We no longer need white ink printed over a lamination, for example. But there's no real difference graphically on the shelf," he says.
Benefits you can't see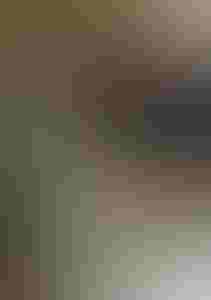 Dennis Drummond, key account manager at
Henkel Technologies,
shows how shiny the
liquid coating looks
straight from the can.
The real differences are those that the consumer can't see, he says. "The most notable difference is the impact on the environment. The new carton eliminates the challenges of recycling paperboard cartons that contain polyester film laminations."
It has also resulted in a simplified supply chain. The combination of technologies that SPG has on its hybrid press supports shorter leadtimes and cost-effectiveness. And, because there aren't multiple steps and outside companies involved—it's all produced under one roof—SPG has a faster response time to produce and makes changes when needed. The new package also meets GSK's specification requirements for high-speed automation.
According to Larocca, further analysis would also show the processes offer significant benefits in total carbon emissions. "And we're effectively cutting out a big portion of the supply chain," he acknowledges.
But the esthetics are really the big advantage to the specialized processes. Larocca and his team are very satisfied, he says. "The whites are brighter and the colors are more vibrant, too, because the printing is directly on a white substrate instead of a metallized lamination." Key reasons why packagers choose MiraFoil over other metallic options is its sparkling look and its economics. But MiraFoil coatings are increasingly being used in offset, flexo and screen-printing applications for various benefits, reports Alexandria Symos, market development manager at Henkel. "The coatings protect designs from in-use failures, such as ruboff, cracking, peeling, warp and poor ink adhesion that can occur with foil board, foil stamping and silver ink," she says.
Toothy smiles all around
SPG produces and prints the Aquafresh cartons at its facility in London, ON, and has the ability to work with MiraFoil coatings in its Radisson, NY and Greensboro, NC facilities as well. The new toothpaste carton started phasing into retail outlets in June '09. "The value equation is a win-win for everyone," Gustin sums up. "The marketing and brand teams like the shelf presence. The packaging and production teams like the fact it reduces costs. And consumers like the recyclability."
Larocca is also all smiles. "MiraFoil offers a premium appearance more cost effectively than some metallic inks. We consider this a real success in meeting our objectives," he says. "As a result, we're considering the coating for other GSK packages."
Sign up for the Packaging Digest News & Insights newsletter.
You May Also Like
---