Yesterday's promising 'green' materials: Where are they now?
Yesterday's promising 'green' materials: Where are they now?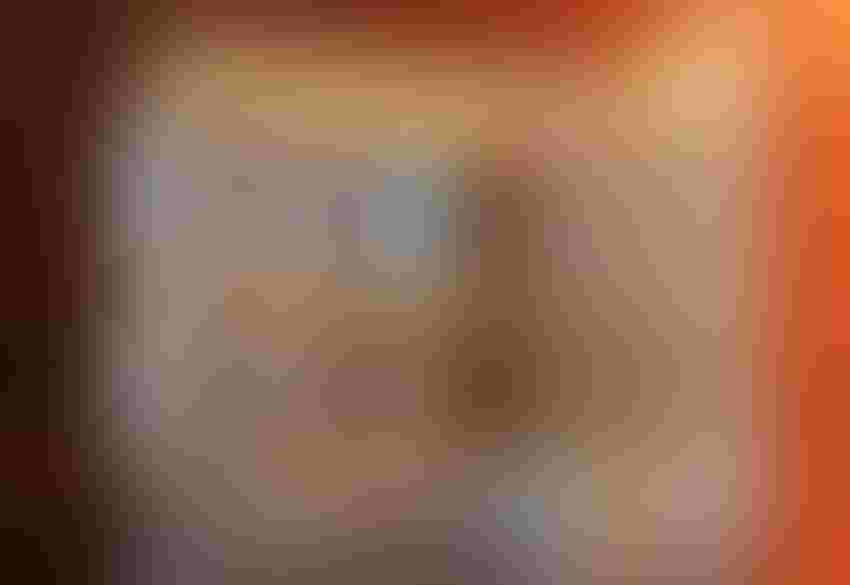 What's new with PLA, PHA, algae plastics and more?
A "Then & Now" comparison of sustainable packaging materials for thermoforming applications demonstrates the shift from an interest in biodegradation to an emphasis on performance.
During the Wild Wild West of bioplastics—this was 2009, before the Federal Trade Commission (FTC) revised the Green Guides on environmental marketing claims and before the cost of oil plummeted—everyone was looking for an alternative to non-renewable plastics; everyone seemed excited by the idea of biodegradability; and everyone had a magical material to sell.
To respond to this excitement, Dordan created its Bio Resin Show N Tell, which attempted to cut through the fluff by sampling and profiling the available biodegradable materials on environmental performance, technical properties and cost. What started with just a handful of compostable materials in 2010 grew to a collection of more than nine bio-based, biodegradable and otherwise green plastics by 2013.
But then nothing happened.
While we presented the Show N Tell annually at Pack Expo and in meetings with clients and prospects, we never produced any thermoformed packaging in any of these non-traditional resins. This was for a myriad of reasons but, in a nutshell, because most materials were not up to snuff from a performance or cost perspective. 
We retired our Show N Tell in 2014, as most clients indicated interest in recycled, as opposed to "biodegradable," thermoformed packaging solutions.
And then I saw a presentation at SustPack15 in Orlando from Dr. Molly Morse, CEO and co-founder of methane-based PHA producer Mango Materials. She and her team of researchers from Stanford found a way to use methane, as oppose to sugar, as the feedstock for bioplastic PHA (polyhydroxy alkanoate).
PHA has been historically expensive and hard to find as it is made using ecoli and feeding the bacteria sugar. By feeding the bacteria methane instead of sugar, it was discovered that the cost of PHA production could be significantly reduced. PHA is unique in that it can biodegrade in any end-of-life disposal environment and withstand high temperatures, properties its sister bioplastic polylactic acid (PLA) does not share without the addition of modifiers.
I was inspired by Mango Materials' innovation in bioplastic production; I wanted to learn more. What happened to all the materials profiled in Dordan's Bio Resin Show N Tell? Is our experience with non-traditional resins for thermoforming representative of other's in the industry? In short, what is the market today for "green" plastics in thermoforming?
What follows is a "Then & Now" comparison of the materials sampled in Dordan's Bio Resin Show N Tell. While some suppliers declined interview, many had interesting stories to tell about their experiences in this ever-changing market. These narratives are intended to paint a portrait of the landscape of sustainable plastics for thermoforming, demonstrating the shift in rhetoric on bioplastics from biodegradation to an emphasis on performance.
Next: We start with foamed rPET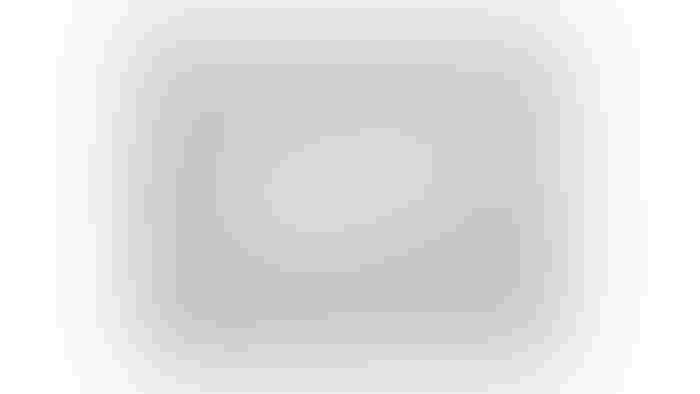 Aeris InCycle (then)
Material: Foamed recycled polyethylene terephthalate (rPET)
Brand Name: Aeris InCycle
Supplier: Microgreen Polymers
Status: No longer available
Description: A moisture proof and printable foamed rPET sheet.
Physical Properties: Aeris InCycle improves rPET's functionality in terms of temperature range, insulation, flexibility and impact strength. Available in a variety of finishes, including high- and semi-gloss, matte and satin; available in 22 to 60 mil thicknesses. Acceptable for use in direct food contact applications.
Environmental Performance: Made from recycled PET, which is expanded to reduce the amount of material needed per application.
Story: Microgreen Polymers was started by a young engineer right out of college who came up with the idea of expanding rPET using air, not a foaming agent. This created a lighter weight product with all the integrity of the polymer.
With the focus on replacing expanded polystyrene (EPS) hot serve cups, the company was able to reduce the amount of resin needed per application due to the incorporation of air: "One cup would go into four cups," former company rep Theresa Vanna explains; "it was a great idea."
Microgreen Polymers closed its doors in April of this year. A company that thought it was going to take the thermoform packaging world by storm struggled with funding and the complexities of bring a new material to market. While the material was embraced by airlines—the company reportedly producing two million foamed rPET cups a day—it just wasn't able to make the business model work. 
Next: Algae and polypropylene (PP) blend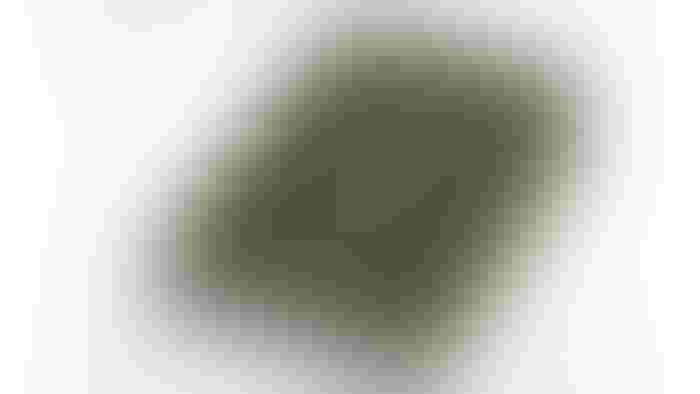 Algae and PP blend (then)
Material (2010): Algae and polypropylene (PP) blend
Supplier: Algix and Interfacial Solutions
Status: No longer available
Physical Properties: 15% algae, 85% PP; algae acts as a "mineral filler," reducing the amount of plastic needed for the same application. Material omits an odor akin to algae and has the appearance of algae.
Environmental Performance: Algae feedstock derived from wastewater treatment facilities in the "carpet belt" of Georgia. When combined with PP, algae allows for the replacement of petroleum-based material with an industrial waste product.
Story: The material was formulated by Algix, Bogart, GA., which partnered with the University of Georgia and Kimberly Clark to commercialize the cultivation of aquatic biomass, like algae, as the feedstock for bioplastics. When oil prices began to fall, however, the algae/PP blend was no longer competitive in the market.
Next: Algae and PS film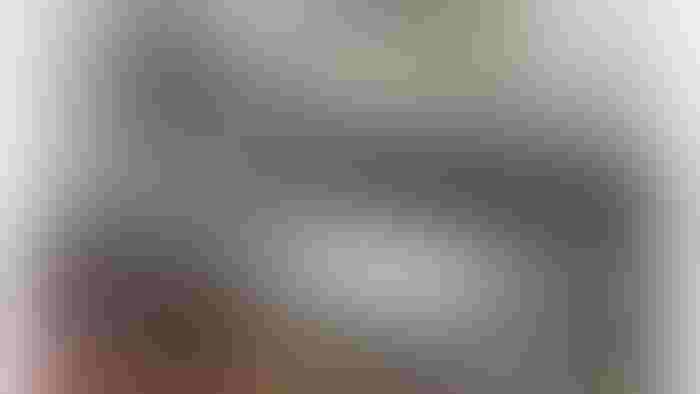 Algae & PS film (now)
Material (2015): Algae and polystyrene (PS) film
Status: Available to sample
Physical Properties: 30% algae "core" sandwiched between PS "skin"; this skin helps absorb the odor of the algae while reducing its ability to absorb moisture. Material available in white and blue.
Environmental Performance: Algae core is an industrial waste product; repurposing it as a bioplastic is a waste management solution.
Story: Algae is hydroscopic, so the biggest challenge with this material for thermoforming is moisture absorption. While the PS skin helps repel moisture absorption from the environment, if the material is left for several days in a humid warehouse, it becomes unusable. Algix is now producing PLA and algae 3D printing filaments via Algix 3Dfuel LLC. The company is also in the process of partnering with a Chinese compounder to provide a foamed algae plastic for application in shoe wear.
Next: DPET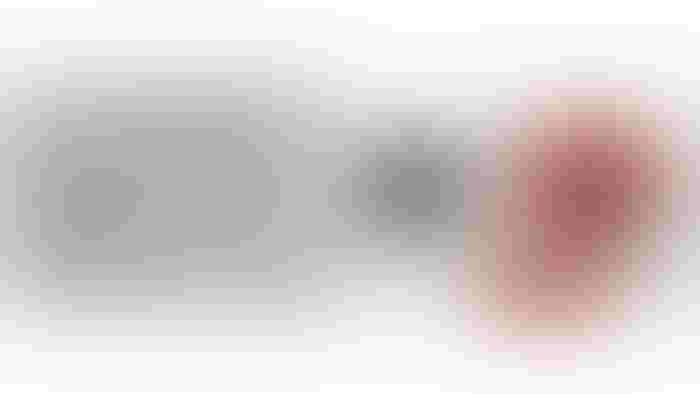 DPET then (left) and now
Material: DPET
Supplier: Octal
Status: Available
Physical Properties: DPET is direct-to-sheet polyester sheet, maintaining a lot of the physical properties of traditional PET, though enhanced. Because five stages of conventional PET sheet production are eliminated in the production of this material, it has enhanced optical and mechanical properties. Octal's DPET sheet is characterized as having increased throughput, tight gauge control allowing for maximum down gauging opportunities and better material distribution in the mold due to its high intrinsic viscosity (IV) and reduced degradation during manufacturing.
Environmental Performance: DPET consumes 67% less electrical energy during production than traditional PET; it can be recycled with PET.
Story: "Octal wanted to do for clear rigid packaging what the fiber guys did for fabrics," Octal COO and evp William Barenberg explains.
Fifty years ago, only 4% to 5% of fabric was all PET; now it is more than 70%. Finding a way to produce fiber directly from PET resin in one step, without stopping, changed the economics and availability of PET fiber in the market.
Likewise, Octal wants to use its direct-to-sheet PET technology to change the equation insofar as PET performance, economics and availability is concerned. The company seeks to drive wholesale conversion of entire market segments from other materials like oriented polystyrene (OPS) and polyvinyl chlorine (PVC) into PET.
Octal's DPET complex is based in Oman for access to raw materials and global shipping channels, though its largest market for DPET sheet is North America. This direct-to-sheet technology lends itself best to operations of scale, which is why the company is focusing on the food and agricultural thermoformed packaging markets.
"We are not a two-day turnaround, small-run company," Barenberg explains. Octal has a new facility in Cincinnati that collects DPET regrind from its North American customers and re-extrudes it; the post-industrial material reportedly boasting a highly sought-after reputation for its performance and cost.
The company has every intention of putting a DPET complex in North America, and is currently scouting sites and securing financing.
Next: PHA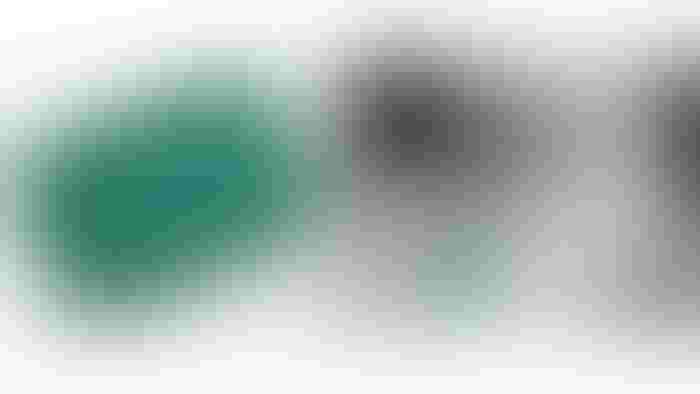 Mirel PHA then (left) and now
Material (2010): Mirel PHA
Supplier: Metabolix Inc.
Status: Available
Physical Properties: PHA polymer made through a patented process for microbial fermentation of plant-derived sugar; only class of polymers that are converted directly by microorganisms from feedstock through polymetric form. PHA is a durable material that is heat and moisture resistant.
Environmental Performance: PHA complies with EN 13432 and ASTM D6400 Standards for industrial biodegradability and compostability; ASTM D7081 Standard for marine biodegradation; and it received Vincotte OK Compost Home certification and Vincotte OK Biodegradable in Soil certification.
Story: In 2010, Metabolix was focused on marketing PHA as a bio-based and biodegradable replacement for commodity plastic. Since 2012, the company has focused on the performance attributes of its PHA materials, including the new amorphous PHA.
Prior to 2012, Metabolix's focus was on providing customers with 100% PHA-based solutions. Today, there is a diverse range of applications accessible using PHA as a modifier for PVC and PLA. According to Lynne Brum, vp of marketing and corporate communications at Metabolix, "We have reshaped the business to focus on PHA as a 'specialty' material."
The company is still providing PHA to those looking for a solution that delivers high bio content and a broad biodegradation profile; though, more focus is on functionality and features where it can deliver performance advantages. Barrier coatings for paper, product packaging film and injection-molded articles for packaging are among Metabolix's target markets for its specialty PHA products.
See also this May 2015 interview with Metabolix: Bioplastics boost packaging film and paper barrier and performance.
Next: PLA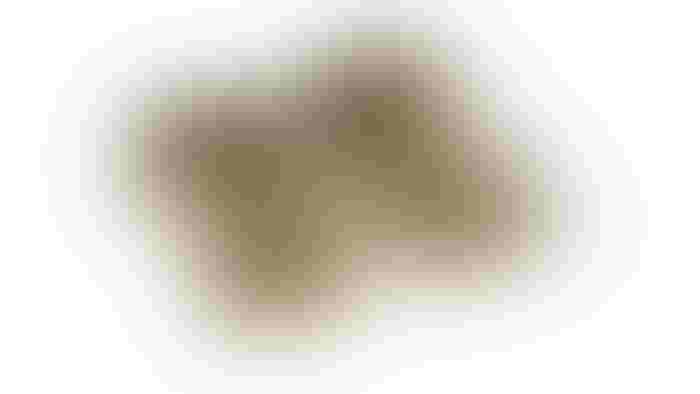 Ingeo PLA (now)
Material (2010): PLA 
Brand Name: Ingeo PLA biopolymer
Supplier: NatureWorks / Extech
Status: Available 
Physical Properties (2010): Good clarity but can haze with introduction of stress; PLA sheet is relatively brittle at room temperature. PLA requires modified thermoforming processes due to lower softening temperature and thermal conductivity when compared to PET or PS. Exposure to high temperatures and humidity during shipping and storage can adversely affect the performance of the resin. Material acceptable for use in direct contact food packaging.
Environmental Performance: Polylactide or polylactic acid is a synthetic, aliphatic polyester from lactic acid; lactic acid can be industrially produced from a number of starch or sugar containing agricultural products. PLA resin complies with EN 13432 and ASTM D6400 Standards for Industrial Biodegradability and Compostability.
Story: Due to challenges surrounding impact strength and low heat deflection temperature, PLA found application in foodservice, rather than retail, thermoformed packaging applications.
Next: Enhanced PLA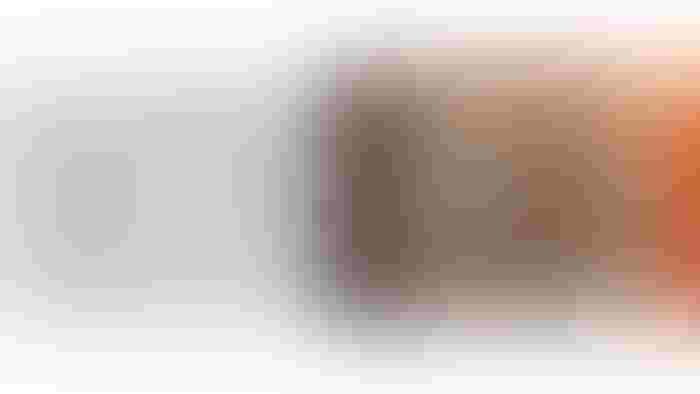 PLA then (left) and now
Material (2015): Enhanced PLA 
Brand Name: Traverse TF 4000
Status: Available 
Physical Properties (2015): Lower specific gravity and improved yield allows users to downgauge, reducing the amount of material needed for the same application; material has better impact strength and a higher heat deflection temperature than 2010 PLA, withstanding temperatures up to 130 degrees F. and meeting ISTA 2A shipping and drop test conditions. Material can be used on existing thermoforming lines with no process modifications required and works with radio frequency (RF) and heat-sealing operations.
Environmental Performance: ASTM D6866 certified for 46% bio-based content.
Story: PLA resin producer NatureWorks now offers 21 different grades of PLA focusing on six different end markets: rigid packaging, flexible packaging, durables, fibers, textiles, business incubator (3D printing) and foodservice ware.
Solegear has modified NatureWorks' PLA material for thermoforming and through its partnership with extruder Extech Plastics LLC, offers an enhanced PLA for retail thermoform packaging applications. This combats the historic issues of impact strength and heat deflection.
A perspective echoed by all interviewed is of the changing value proposition of PLA over the last 15 years: first heralded as a compostable material looking to reduce litter and landfill accumulation; then encouraged for its bio-based and therefore renewable feedstock; PLA is now endorsed for its performance and price.
NatureWorks is currently investigating how to use methane as the feedstock for PLA building block lactic acid, as opposed to sugar. This will radically change the supply chain, eliminating costs associated with sugar fermentation.
Chandler Slavin is the sustainability coordinator and marketing manager at custom thermoforming company Dordan Manufacturing. Privately held and family owned and operated since 1962, Dordan is an engineering-based designer and manufacturer of plastic clamshells, blisters, trays and thermoformed components. Follow Slavin on Twitter @DordanMfg.
Sign up for the Packaging Digest News & Insights newsletter.
You May Also Like
---